Torreya jackii / Jack's nutmeg-yew
Torreya jackii, as described in 1925 by Woon Young Chun (1890 – 1971), in Journal of the Arnold Arboretum, 6th edition, is commonly known as Jack's nutmeg-yew, or as 长叶榧树 (chang ye fei shu, literally literally: "longleaf torreya") in the Chinese language. The species name honors Canadian-born American botanist, John J. Jack (1861 - 1949), who was Woon Chun's graduate supervisor at Arnold Arboretum, Massachusetts.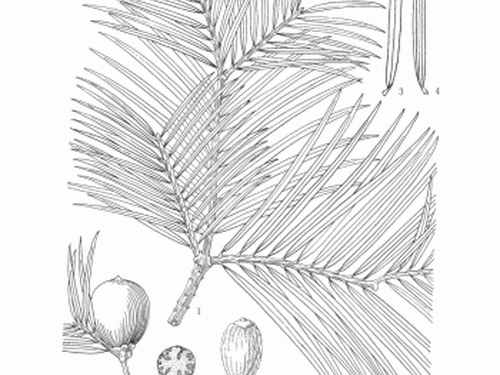 Description. Jack's nutmeg-yew is an evergreen coniferous species of tree which will grow to mature heights of 40 feet (12 m) tall with a broad open crown and slender ascending, spreading branches with paired long, slender, spreading or drooping branchlets.
Branchlets are green in color at first, later becoming a lustrous reddish brown after the first year.
The terminal foliar buds are quite small.
The leaves are of a lustrous green color and are quite aromatic when crushed. Needles are stiff and leathery, mostly drooping, ridged on either side of the midrib and sharply pointed with a cuspidate tip. Indivdual needles have a linear to linear-lanceolate outline, and are straight or slightly sickle-shaped. They measure 1 to 3.6 inches (2.5 - 9 cm) long and 0.1 to 0.16 inch (2.5 - 4 mm) wide, with a short twisted stalk, measuring 0.02 to 0.04 inch (0.5 - 1 mm) long. Stomatal bands are abaxial (undersides), and silvery gray in color, measuring 0.02 to 0.05 inch (0.5 - 1.4 mm) wide, separated by a midrib 0.04 to 0.05 inch (1 - 1.2 mm) wide, and bordered by flat margins 0.02 to 0.03 inch (0.5 - 0.7 mm) wide.
The pollen cones measure 0.2 to 0.32 inch (5 - 8 mm) long and 0.18 to 0.2 inch (4.5 - 5 mm) broad, borne solitary in the leaf axils, forming short rows under the leaves.
The seed cones are solitary, paired or clustered, sessile, and globose. They measure 0.8 to 1.2 inches (20 - 30 mm) long and 0.6 to 1 inch (15 - 25 mm) broad, with a fleshy whitish or glaucous aril that turns reddish-yellow when mature.
Distribution
. This species is native to China — northern Fujian, northeastern Jiangxi, and southern Zhejiang provinces growing at elevations of 1,300 to 3,200 feet (400 - 1,000 m) above sea level, found growing in mixed forests. It occurs scattered in the understory of warm temperate to subtropical biomes with an average yearly rainfall of 53 to 63 inches (1,350 - 1,600 mm).
Hardy to UDSA Zone 8 — cold hardiness limit between 10° and 20°F (-12.1° and -6.7°C).
Torreya jackii has the longest needles of any of the nutmeg-yews and is also the most consistently shrubby. It inhabits the driest habitat of the Asian torreyas and the older trunks often die from the tips and are replaced by basal shoots, resulting in clumps of slender trunks. It is thought that the long, narrow needles are an adaptation to drier climates. Both wood and leaves are very fragrant. The wood is used to make agricultural implements, utensils, and handicrafts.
Attribution from: James E. Eckenwalder; Conifers of the World: The Complete Reference. ©1999, Timber Press, Portland, Oregon.