Taxus wallichiana / Himalayan yew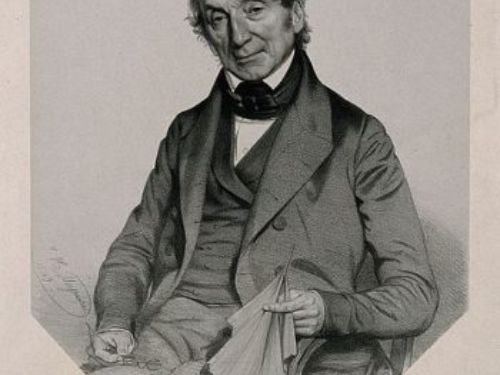 Taxus wallichiana, as described in 1843 by Joseph Gerhard Zuccarini (1790–1848), in Abhandlungen der Mathematisch-Physikalischen Classe der Königlich Bayerischen Akademie der Wissenschaften, 3rd edition, is commonly known as Himalayan yew; as well as Birmi in Kashmiri; as Thuner in Hindi; as Tcheiragulab in Napalese; as 喜马拉雅红豆杉 (Xi ma la ya hong dou shan) in Chinese; and as Kyauk-tinye in Burmese. The species name honors Nathaniel Wallich (1786 - 1954), a Danish botanist who collected and described many Himalayan plants during his tenure at the Calcutta Botanic Institute.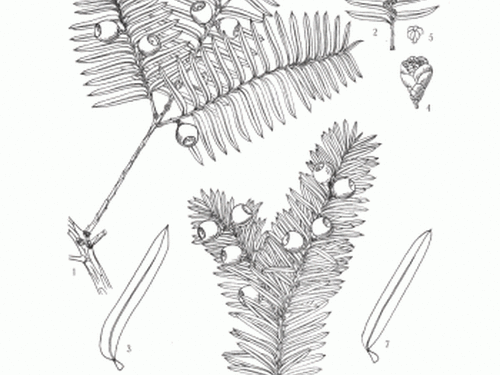 Description. Himalayan yew is a large evergreen shrub or small tree that grows to mature heights of 100 feet (30 m) tall with a trunk up to 4.5 feet (1.5 m) in diameter, measured at breast height. Trees tend to be more shrubby if growing in exposed rocky conditions. This is a dioecious conifer with seed and pollen cones growing on separate trees.
The tree's crown is rounded to pyramidal with dense, erect, then spreading branches.
Bark is variably colored, grayish brownish, reddish, or purplish; peeling off in strips or cracking and falling off as thin scales.
Winter bud scales are early deciduous or some persistent at base of branchlets. They are triangular-ovate shaped, with or without abaxial longitudinal ridges .
Leaves are linear to lanceolate shaped and lustrous dark-green in color. Individual needles measure (15 - 35 mm) long and (2 - 4 mm) broad and gradually taper to a acuminate or cuspidate tip.
Pollen cones are ovate-shaped, measuring 0.16 to 0.24 inch (4 - 6 mm) long.
Seed cones are ovoid or slightly flattened, measuring 0.2 to 032 inch (5 - 8) mm long and 0.12 to 0.16 inch (3 - 4 mm) broad with a red or orange aril.
Distribution
. This species is native to southwestern China, southern Anhui, Fujian, southern Gansu, northern Guangdong, northern Guangxi, Guizhou, western Henan, western Hubei, Hunan, Jiangxi, southern Shaanxi, Sichuan, Taiwan, southeastern Xizang, Yunnan, and Zhejiang provinces; as well as in Bhutan, northern India, Laos, Myanmar, Sikkim, and Vietnam. It can be found growing in broad-leaved, coniferous, and mixed forests, thickets, deforested rocks, and open slopes at elevations of 330 to 11,500 feet (100 - 3,500 m) above sea level.
Hardy to UDSA Zone 8 — cold hardiness limit between 10° and 20°F (-12.1° and -6.7°C).
Ethnobotany. Can be used within its native range for afforestation. The wood is an excellent building material, and is also used in making vehicles, agricultural implements, furniture, and stationery. A compound recently isolated from the leaves may prove promising as an antitumor agent.
Attribution from: Flora of China website; www.efloras.com