Taxus globosa / Mexican yew
Taxus globosa, as described in 1838 by Diederich Franz Leonhard von Schlechtendal (1794–1866), in Linnaea 12th edition, is commonly known as Mexican yew; as well as Ciprecillo colorado, Pinabete colorado in the Spanish language. The species name, globosa, refers to the shape of the immature seed.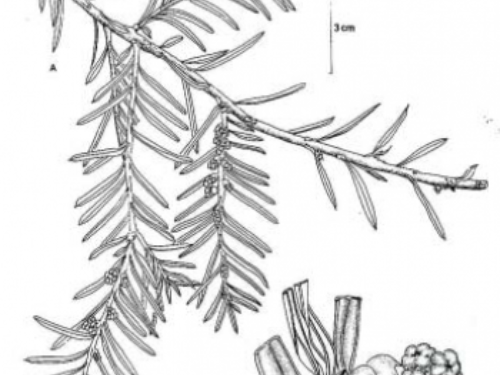 Description. Mexican yew is a small evergreen, coniferous species of tree that grows to mature heights of 50 feet (15 m) tall, with a trunk measuring up to 32 inches (80 cm) in diameter, measured at breast height.
Branches grow spreading or ascending branches forming a rounded or irregular crown.
Bark is reddish in color, turning purple-brown and exfoliating in scales.
Twigs are slender, with an angular to round cross-section, yellowish to orange in color, turning brown with maturity, with bud scales persistent at the base of each year's growth.
Leaves develop in 2 ranks, spreading at 50° to 80° from the shoot, mostly linear and slightly curved, each measuring 0.8 to 1.2 inches (20 - 30 mm) long and 0.08 to 0.1 inch (2 - 2.5mm) broad, with concave or revolute margins, mucronate to cuspidate needle tips, and leathery texture. Needle color is shiny green above and pale green below, due to two stomatal bands, with a raised upper midrib from base to mid-leaf, and raised to the tip on the lower side. Papillae are present on lower midribs (diagnostic characters).
Pollen cones develop axillary and solitary, in rows on either side of fertile shoots. They have an ovoid shape, measuring 0.12 to 0.16 inch (3 - 4 mm) in diameter, with 8 to 12 microsporophylls. Pollen cone color is cream to pale yellow.
Seed cones develop axillary and solitary on the undersides of twigs, arils are green at first, covering lower half of seed, later turning orange or red, and swelling to cover the seed. Arils have a globose shape, measuring 0.36 to 0.48 inch (9 - 12 mm) in diameter.
Seeds are ovoid shaped and slightly flattened, each measuring 0.24 to 0.28 inch (6 - 7 long) and 0.2 to 0.24 inch (5 - 6 mm) broad.
The half-length upper midrib is a character distinctive to the New World yews, and the papillae along the lower midrib is a character unique to this species.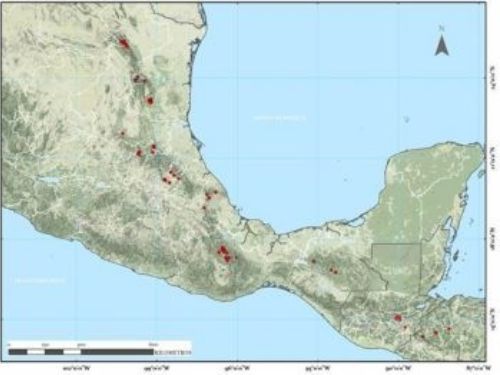 Distribution. This species is native to Mexico, the states of Nuevo León, Tamaulipas, San Luis Potosí, Veracruz, Querétaro, Hidalgo, Tlaxcala, Puebla, Oaxaca; and is also know to exist in Guatemala; Honduras; and El Salvador. It is usually found growing elevation of 6,400 to 9,600 feet (2,000 - 3,000 m) above sea level in subtropical to tropical cloud forests. In El Salvador and Honduras, Mexican yew is limited to elevations above 8,000 feet (2,500 m), with companion conifers including Abies guatemalensis and Cupressus lusitanica; in Mexico, cloud forest covers a broader elevation band and broadleaf trees enter the mix, including species of Quercus, Magnolia, Liquidambar, Platanus, Ulmus, Carpinus, Fagus, and Acer as well as the conifers Pinus chiapensis and Podocarpus matudae; at the northern range limits in Nuevo Leon it is an understory tree in Abies-Picea forests.
Ethnobotany. Since this species contains taxanes, including paclitaxel, it was subject to some exploitation in the mid-1990's, but the market has since moved to plantation-based production.
Attribution from: Aljos Farjon; A Handbook of the World's Conifers; ©2010, Brill Academic Publishers, Leiden, The Netherlands.