Taxus cuspidata / Japanese yew
Taxus cuspidata, as described in 1846 by Philipp Franz von Siebold (1796–1866) and Joseph Gerhard Zuccarini (1790–1848) is commonly known as Japanese yew, and as 市井 (ichii) in the Japanese language. The species name is derived from the Latin term, cuspidatus; in this case, describing foliage having a cusp, tip or point; cusped, pointed.
There are two recognized varieties:

Taxus cuspidata var. cuspidata, the typical species which is described here.

Taxus cuspidata var. nana, Please follow this link for pictures and description.
Ethnobotany. This conifer is a common ornamental in Japan (particularly var. nana) and also in the west since its introduction to the U.S. in 1833. It is easily shaped into hedges and topiary, and said to be the hardiest, fastest-growing and easiest to cultivate of all yews. In Japan, it was formerly valued for piles and foundations, cabinetry, finished carpentry, woodcarving, water tanks, pails, bathtubs, trays, chopsticks, clogs, and for bows (for which it was also used by the Ainu). Medicinally it was used as an abortifascient and antidiabetic. Commercial use has greatly declined in recent decades due to over-exploitation.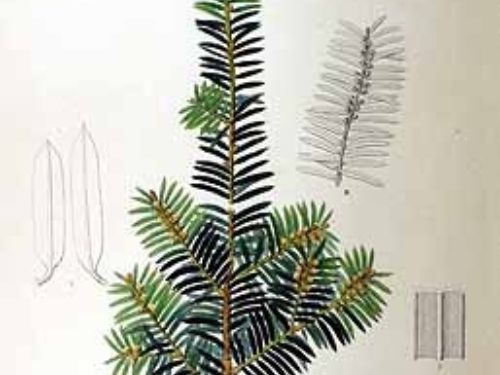 Description. Japanese yew is an evergreen coniferous shrub or small tree which will grow to mature heights of 30 to 60 feet (10 – 18 m) tall, with a trunk up to 24 inches (60 cm) in diameter, measured at breast height.

The tree's crown is dense and rounded.
Branches grow spreading to ascending Shoots are red-brown in color.

Leaves are lanceolate shaped, flat and dark green in color. Individual needles measure 0.4 to 1.2 inches (1 – 3 cm) long and 0.08 to 0.12 inch (2 – 3 mm) broad, arranged spirally on the stem, but with the leaf bases twisted to align the leaves into two flattish rows on either side of the stem except on erect leading shoots where the spiral arrangement is more obvious.

Pollen cones are globose, measuring 0.12 inch (3 mm) in diameter.

Seed cones are highly modified, with each cone containing a single seed measuring 0.16 to 0.32 inch (4 – 8 mm) long, partly surrounded by a modified scale that develops into a soft, bright red berry-like structure called an aril, 0.32 to 0.48 inch (8 – 12 mm) long and wide and open at the end. The arils mature 6 to 9 months after pollination. Seeds are ovoid shaped, measuring 0.2 to 0.24 inch (5 - 6 mm) long and 0.16 to 0.18 inch (4 - 4.5 mm) broad.
Distribution. This species is native to Japan — the islands of Hokkaido, Honshu, Shikoku and Kyushu; North Korea; northeastern China —Heilonjiang, Jilin, Nei Mongol, Liaoning, Hebei, Shaanxi, and Shanxi provinces and the extreme southeast of Russia — from the Amur river basin including Sakhalin island and the Kurile islands.
Hardy to USDA Zone 4 (cold hardiness limit between -30º and -20ºF (-34.3 and -28.9°C).
Attribution from: Hal Hartzell Jr; The yew tree: a Thousand Whispers; ©1991, Hulogosi Press, Eugene, Oregon.