Taxus contorta / West Himalayan yew
Taxus contorta, as described in 1848 by William Griffith (1810–1845), a British doctor and naturalist, in Itinerary Notes of Plants Collected in the Khasyah and Bootan Mountains 351st edition. This conifer is commonly known as West Himalayan yew; as well as Thuner in the Hindi language; as postil in Kashmiri; as 命叶红豆杉 (miye hongdoushan) in Chinese; as luith, luinth, lautho, lauth, or laudo in Nepali; and as sang ga xing in Tibetan.
Griffith collected type in 1840, on the second year of his botanical expedition to Afghanistan. The epithet means "contorted" but Griffith does not state why. Note that in his 1848 description, Griffith does not name the species, calling it simply "Taxus ?"; the name is assigned in the published illustration, which appeared in 1854. Both sources were published posthumously following his untimely death in 1845 from a tropical parasitic disease.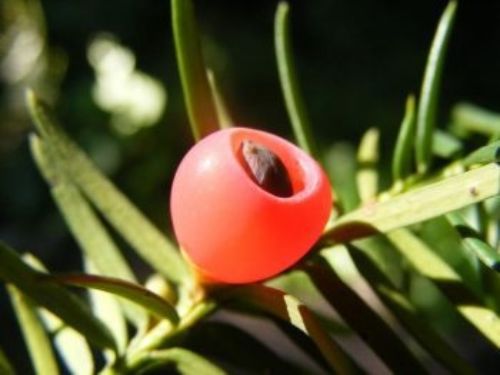 Description. West Himalayan yew is an evergreen, coniferous species of tree that grows to mature heights of 65 feet (20 m) tall, with a trunk up to 10 feet (300 cm) in diameter, measured at breast height. Trees grow single- or multi-stemmed, with very large specimens usually hollow with regeneration inside the bole; often coppicing from a stump (characters shared with T. baccata).
Branches are numerous, forming a rounded or pyramidal crown.
Bark is thin and red-brown in color, exfoliating in large flakes.
Twigs develop alternate along branches. They are slender, round, and finely grooved along leaf bases, colored green, turning yellow-brown or gray with maturity.
Leaves are spirally inserted but arranged in a V-formation, growing linearly and slightly twisted at the short-petiolate base. Individual needles measure 0.6 to 1.2 inches (15 - 40 mm) long and 0.06 to 0.1 inch (1.5 - 2.5 mm) broad, with revolute margins and a cuspidate apex. Midribs are raised, measuring 0.08 inch (0.2 mm) wide, and is continuous to flat apices on upper surfaces that are 0.08 inch (0.2 mm) wide, and are also continuous on lower surface.
Leaves are dark green in color with two pale yellow stomatal bands on lower surface, and randomly distributed stomata .
Pollen cones appear axially and solitary, appearing in rows along both sides of cone-bearing twigs. They have an ovoid shape and measure 0.24 to 0.32 inch (6 - 8 mm) in diameter, colored pink when ripe, turning brown before being shed.
Seed cones appear axially and solitary, with a thin green aril that ripens to a succulent red. Arils measure 0.32 to 0.48 inch (9 - 12 mm) long and 0.28 to 0.36 inch (7 - 9 mm) broad.
Seeds are oblong shaped and slightly flattened, each measuring 0.24 to 0.28 inch (6 - 7 mm) long and 0.16 to 0.2 inch (4 - 5 mm) broad, colored green turning dark brown at maturity.
Distribution
. This species is native to southwestern Tibet (Jilong region); central and western Nepal. In India it is found in Himachal Pradesh, Jammu & Kashmir, Uttar Pradesh. Also native to northern Pakistan and Afghanistan.
In Tibet, it occurs at elevations of 8,000 to 10,800 feet (2,500 - 3,400 m) above sea level, growing in pine forests or mixed conifer-hardwood forests, usually as a sub-canopy tree or shrub. In Afghanistan, T. contorta has been recorded as a minor component of conifer forests at elevations of 7,700 to 9,300 feet (2,400 - 2,900 m) above sea level in the northeastern Hindu Kush. In Pakistan, its distribution is also restricted to a relatively narrow altitudinal band of 6,400 to 9,900 feet (2,000 - 3,100 m) in the Northwest Frontier Province, the Federally Administered Tribal Area and the Pakistan territory of Kashmir, where it occurs in mixed conifer forests with species such as Cedrus deodara, Abies pindrow, Picea smithiana and Pinus wallichiana, usually on north facing slopes. In northwestern India, it occurs in small scattered populations, usually along streams within conifer forests at elevations of 5,500 to 8,400 feet (1,700 - 2,600 m) above sea level. In western and central Nepal (west of longitude 83.5° E) T. contorta occurs in similar situations as in India.
Hardy to UDSA Zone 8 — cold hardiness limit between 10° and 20°F (-12.1° and -6.7°C).