Taxus chinensis / Chinese yew
Taxus chinensis, as described in 1919 by [Robert Knud Friedrich Pilger (1876–1953)] Alfred Rehder (1863–1949), in Journal of the Arnold Arboretum, is commonly known as Chinese yew, as well as 紅豆杉 (hong dou shan) in the Chinese language and Thông đỏ bắc in Vietnamese. The epithet chinensis refers to China, where this species was discovered to science in 1885 or 1886 by the prolific collector Augustine Henry (1857-1930), a Scotsman and a doctor who managed to survive his collecting forays (not always easy among 19th Century botanists) and live to a ripe old age in Great Britain [account by Chris J. Earle at conifers.org]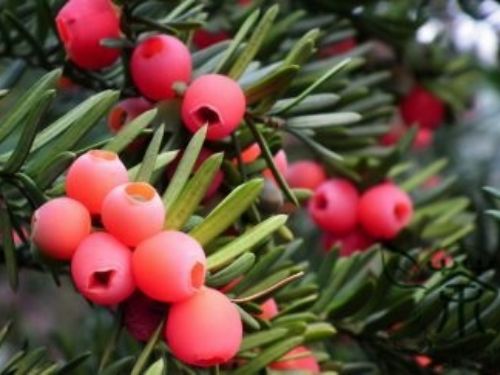 Description. Chinese yew is an evergreen, coniferous shrubs or small tree that grows to mature heights of 60 feet (20 m) tall, with a trunk up to 60 inches (150 cm) in diameter, measured at breast height. It grows with a rounded or pyramidal crown of numerous, ascending to erect branches.
Bark is thin, red- or purple-brown to gray in color, exfoliating in strips or flakes.
Twigs are slender, round, finely and grooved along the leaf bases.
Foliage is variously colored dark green, yellow-green or bronzed.
Leaves (needles) are distichous, flat (not revolute), with a short-lanceolate to oblong shape, measuring 0.6 to 0.8 inch (15 - 20 mm) long and 0.08 to 0.13 inch (2 - 3.2 mm) broad, growing twisted at the short-petiolate base, thick. The needles are leathery and convex, with an obtuse to mucronate apex and a raised midrib on the upper surface. Midribs on lower surfaces are flat but densely papillate, measuring 0.12 to 0.16 inch (0.3 - 0.4 mm) wide, continuous to apex. Stomata are densely distributed in a random pattern within two bands on the lower leaf surfaces.
Pollen cones grow axillary and solitary, with an ovoid shape, measuring 0.2 to 0.24 inch (5 - 6 mm) long and 0.12 to 0.16 inch (3 - 4 mm) broad, each with 8 to 14 microsporophylls; the are very pale yellow at maturity.
Seed cones grow axillary, and mostly solitary, with a sessile stem attachment. Arils are green when young, maturing red or orange, measuring 0.4 to 0.52 inch (10 - 13 mm) and 0.28 to 0.4 inch (7 - 10 mm) broad.
Seeds are slightly flattened ovoid in shape, measuring 0.2 to 0.32 inch (5 - 8 mm) long and 0.14 to 0.2 inch (3.5 - 5 mm) broad, colored green when young turning dark brown at maturity.
The short, thick, flat leaves and papillae on the lower midrib serve to distinguish this species from all other Chinese Taxus; it also has relatively short, stubby leaves.
Distribution. This species is native to Vietnam; and China: Anhui, Chongqing, Fujian, southern Gansu, northern Guangxi, Guizhou, western Hubei, northeastern Hunan, southern Shaanxi, Sichuan, eastern Yunnan, and Zhejiang provinces. In China, found growing at elevations of 3,500 to 8,500 feet (1,100 - 2,700 m) above sea level in evergreen and deciduous broadleaf forest, often along streams, and often in areas with understory bamboo thickets. In Vietnam, it is found on steep karst limestone slopes and ridges in evergreen fog forests at elevations of 2,800 to 4,800 feet (900 to 1,500 m) above sea level.
Hardy to USDA Zone 6 — cold hardiness limit between -10° and 0°F (-23.2° and -17.8°C).
Ethnobotany. The wood of Taxus chinensis is used in China for construction, cooperage, furniture, and for wood carving and turning. In Vietnam it is also used for irrigation paddles in rice fields. Extracts of many parts of the plant (roots, wood, bark and leaves) are used in traditional medicine, while in modern times it has been used as a source of anti-cancer drugs such as Taxol, derived from the bark and leaves. The seeds contain oils that are also extracted, but treatment is necessary to neutralize the poisonous alkaloids. In horticulture it has been used in bonsai and to a limited extent as a garden shrub. It is doubtful whether this species is in cultivation outside China and Vietnam, though it can be found in a few botanical gardens.
Attribution from: Aljos Farjon; A Handbook of the World's Conifers; ©2010, Brill Academic Publishers, Leiden, The Netherlands.