Taxus brevifolia / Western yew
Taxus brevifolia, first described in 1849, by Thomas Nuttall (1786-1859), is commonly known as Western yew or Pacific yew. The epithet is derived from the Latin brevis, meaning short or small, in reference to the leaves. Historically, native American peoples have used the strong, hard wood for bows, canoe paddles, fish spears, harpoons, and war clubs. More recently, the bark has been used as a natural source of taxol, a drug for treating ovarian, breast, and lung cancers. Collection of this species for medical use came close to threatening it in the wild, but acceptable substitutes are now prepared from the foliage of cultivated Taxus baccata (English Yew).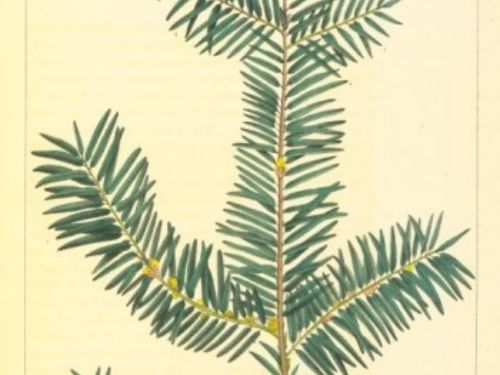 Description. Western yew is a small to medium tree that will grow to mature heights of 3 to 50 feet (1 - 15 m) tall, depending on environment, it can be either single-trunked or low-branched with a mat-like, spreading habit. The crown is dome shaped. Taxus brevifolia is generally dioecious (but rarely monoecious), with pollen cones and seed cones on separate plants.
Needle-like leaves are two-ranked and narrowly linear, measuring 0.4 to 0.8 inches (10 - 20 mm) long, and 0.06 to 0.12 inches (1.5 - 3 mm) broad. The leaves are dark yellowish green above and lighter beneath, featuring two lighter stomatal bands on the underside.
Foliar buds are inconspicuous.
Branches vary from ascendant to drooping. First year shoots are entirely green, while older stems are reddish brown.
Pollen cones are ovoid, measuring 0.08 to 0.16 inches (2 - 4 mm) in diameter, shedding their pollen in early Spring.
Seed cones consist of a 0.2 inch (5 mm) seed within a 0.4 inch (10 mm) diameter soft, bright red aril, which mature 6 to 9 months after pollination.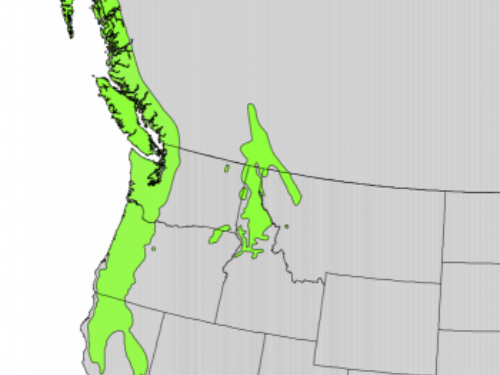 Distribution. This species is native to the USA and Canada — Alaska, Washington, Oregon, California, Montana, Idaho, British Columbia, and Alberta; found growing at elevations of 0 to 7,200 feet (0 - 2,200 m) above sea level in open to dense forests, along streams, moist flats, slopes, deep ravines, and coves. Through most of its range, it grows as an understory tree in closed forest canopy settings beneath Pseudotsuga menziesii and Tsuga heterophylla, and consequently is highly shade tolerant. However in drier, open forest settings such as the Eastern Cascade Range in Washington, it adopts a shrubbier habit, forming spreading mats, several times wider than tall.
Attribution from: Chris Earle; The Gymnosperm Database; ©2013