Taxodium distichum / bald cypress
Its deciduous foliage is arranged in two flat flanks, similar to Taxus with a delicate, feathery appearance. The fresh, yellow-green needles in spring darken for summer and then turn russet in fall. The roots develop cypress knees when grown near water, or with plenty of moisture.
[ Sandra McLean Cutler, in Dwarf & Unusual Conifers Coming of Age A Guide to Mature Garden Conifers ] Requiring full sun but tolerant of part shade, it is fast-growing but not a dwarf. The form is narrow when young; pyramidal as it matures with long level branches. Growth is 2-4'/yr, 16 H/8 W, 60'/UH; found in Z5 southeastern USA, New Jersey to Texas.
Taxodium distichum, as described in 1810 by (Linnaeus) Louis Claude Marie Richard (1754 – 1821), in Annales du Muséum National d'Histoire Naturelle vol.16 no.298, is commonly known as bald cypress, cypress, or swamp cypress. The species name is derived from the word distichous, meaning arranged alternately in two opposite vertical rows, describing the nature of the foliar arrangement. Bald cypress is the state tree of Louisiana.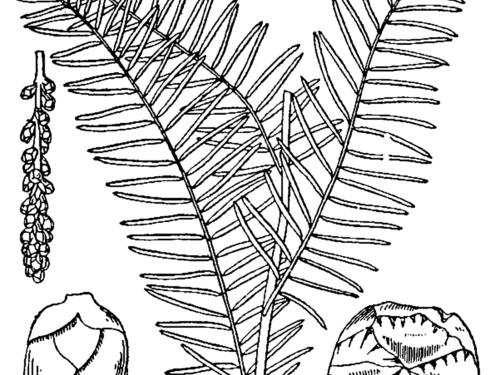 Description. Bald cypress is a deciduous, coniferous species of tree that grows to mature heights of 125 feet (40 m) tall, with a trunk up to 10 feet (3 m) in diameter, measured at breast height; usually with a single straight trunk, a broad base, and often with brown, woody "knees" projecting up to 40 inches (1 m) from the ground nearby; forming a pyramidal crown that flattens in old trees.
Bark is light brown in color, turning gray, exfoliating in long, thin strips.

Foliar shoots are dimorphic and slender, colored green to light brown, with each year's growth consisting
of a single indeterminate long shoot with multiple determinate lateral short shoots.

Leaves are variably deciduous (with the shoot, as is general in Cupressaceae) depending on location (short or long shoots) and climate; winter-deciduous in temperate areas, but lasting a year or more in subtropical areas. Leaves grow in 2 ranks, measuring 0.4 to 0.68 inch (10 - 17 mm) long.
Pollen cones measure 0.08 to 0.12 inch (2 - 3 mm) long growing from the ends of reproductive shoots that measure up to 10 inches (25 cm) long.

Seed cones are round, measuring 0.6 to 2.4 inches (1.5 - 4 cm) in diameter. They are green and fleshy when young, and brown and woody at maturity. Seed cones consist of 5 to 10 seed scales.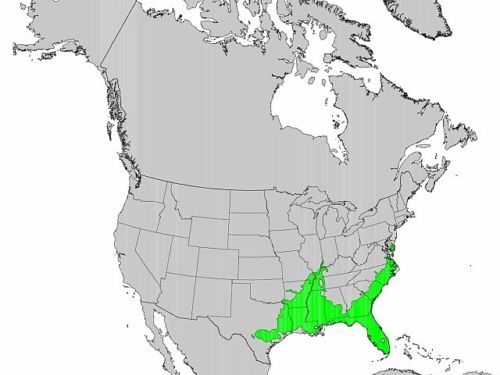 Distribution. This species is native to USA — Alabama, Arkansas, Delaware, Florida, Georgia, Illinois, Indiana, Louisiana, Mississippi, Missouri, Kentucky, Maryland, North Carolina, Oklahoma, South Carolina, Tennessee, Texas, and Virginia; Mexico; and Guatemala; where it can be easily found growing in riparian and wetland habitats.

Hardy to USDA Zone 5 (-10 to -20°F / -23.3 to -28.9°C).
Attribution from: Frank D. Watson; Taxodiaceae. Flora of North America Editorial Committee (editors.): Flora of North America North of Mexico, Vol. 2. ©1993. Oxford University Press.