Taiwania cryptomerioides / Chinese coffin tree
Taiwania cryptomerioides, as described in 1906 byBunzō Hayata, in Journal of the Linnean Society, Botany vol. 37, is commonly known as taiwania, or Chinese coffin tree. In the Latin language, the species name cryptomerioides, literally translates into "resembling Cryptomeria." Young specimens indeed recall Cryptomeria (Japanese cedar).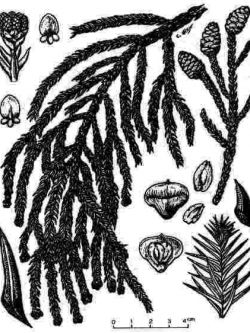 Description. Chinese coffin tree is an evergreen, coniferous species of tree that grows to mature heights of 250 feet (80 m) tall and with a trunk up to 12 feet (4 m) in diameter above buttressed base.

Bark is grayish red brown to grayish white in color, and is longitudinally fissured, with flattened ridges that are more or less interlacing, and exfoliating in longitudinal narrow thin pieces
Leaves are needle- or awl-like and measure 0.32 to 0.6 inch (8 – 15 mm) long on young trees up to about 100 years
old, then gradually becoming more scale-like, 0.12 to 0.28 inch (3 – 7mm) long, on mature trees.
Seed cones are small, measuring 0.6 to 1 inch (15 – 25 mm) long, with about 15 to 30 thin, fragile cones scales,
each scale with two seeds.
Records
to 260 feet (80 m) tall and 31 feet (9.5 m) in the wild
59 feet (18 m) tall and 3.8 feet (1.15 m) wide in San Marino, California, measured in 1993
40 feet (12.2 m) tall and 2.9 feet (90 cm) wide in Berkeley, CA, measured in 1993, planted in 1974
29 feet (8.8 m) tall and 10.5 inches (3.2 m) wide in Seattle, WA, measured in 1994, planted in 1969)
Distribution. This species is native to Myanmar; Vietnam — Lao Cai; and Taiwan — the western slopes of Mt. Morrison. It occurs at elevations of 1,650 to 9,200 feet (500 - 2,800 m) above sea level elevation in coniferous, broad-leaved, or mixed evergreen valley forests on acid, red, or brown soils in warm or warm temperate regions with high summer and autumn rainfall but drier winters, usually scattered and associated with Chamaecyparis formosensis, C. obtusa var. formosana, Cunninghamia lanceolata, Pinus wallichiana, or Tsuga dumosa, but sometimes forming pure stands.

Hardy to USDA Zone 7 — cold hardiness limit between 0° and 10°F (-17.7° and -12.2°C); and well suited for culture in semi-tropical climate zones.
In 1918 E. Wilson sent 4 plants to the Arnold Arboretum. To this day, it is exceedingly rare; virtually never seen in commerce.

Attribution from: Fu Liguo, Yu Yongfu, and Robert R. Miller; Taxodiaceae; in Wu Zheng-yi and Peter H. Raven (editors); Flora of China, Volume 4. ©1999. Beijing: Science Press; St. Louis: Missouri Botanical Garden.