Red Butte Garden and Arboretum
Utah: Red Butte Garden and Arboretum
300 Wakara Way , Salt Lake City, UT 84108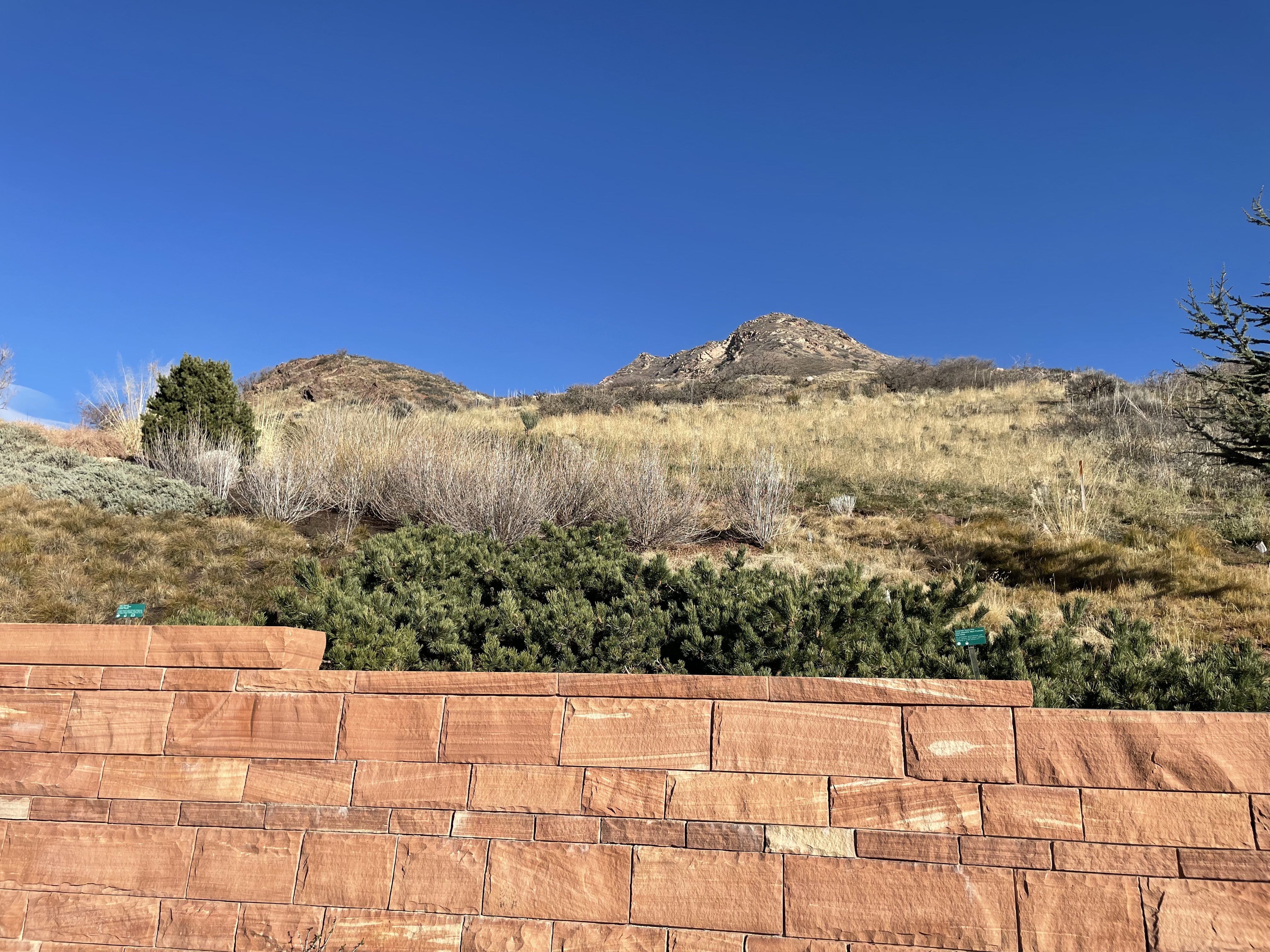 This article was written by Marita Tewes, of Red Butte Garden and Arboretum.
In the spring of 2017, Red Butte Garden and Arboretum became the ninth reference garden in the American Conifer Society's Western Region.
Nestled on the east edge of Salt Lake City, in the foothills of the beautiful Wasatch Range, Red Butte Garden is the largest botanical garden in the Intermountain West. Red Butte Garden is a department of the University of Utah, and jointly holds the State Arboretum, comprised of over 12,000 deciduous and coniferous trees. Open to the public since the early 1980's, the Garden includes 21 acres of developed gardens, including 11 themed gardens, and 79 acres of natural area. Conifers have always been one of our primary living plant collections. Our collection of over 230 different taxa is focused on displaying a wide variety of conifer and other gymnosperm taxa, emphasizing the diversity of size, form, color, and texture. As we continue to expand our collection, we will increase the diversity of Utah native species, water-wise species, unusual or rare forms, and miniature and dwarf varieties. We believe our collection is vital to show our guests the nearly endless variation of conifers that not only perform well in Utah, but also are an important part of any well-designed landscape.

Conifers can and should be used in a variety of ways, such as focal points, backdrop, groundcovers, or in mass. Red Butte Garden's Conifer Collection is located throughout our themed gardens including the Courtyard, Four Seasons, Floral Walk, Herb, Medicinal, Fragrance, Children's, Water Pavilion, Rose, Amphitheatre and our newest Garden, the Water Conservation Garden. In addition, several Utah native conifer species are found within the Garden's Natural Area. The collection currently includes over 1,450 accessions from six families and 22 genera.
The local climate is considered a semi-desert steppe, with the Salt Lake City area typically averaging 16.5" inches of precipitation per year. The foothills, where the Garden is located, can receive slightly more moisture. The summers are hot and dry, and the winters are cold, sometimes with persistent snow cover, but recent years have had dry periods that can be tough on conifers and shallow-rooted trees. Much of the precipitation occurs from fall to spring, and often in the form of snow. In addition, many Utah soils are high in alkalinity and sometimes high in salts. Red Butte Garden staff research potential acquisitions of select species we believe should perform well in our climate and soils. Staff also carefully selects sites that are best suited to each new planting, making wise use of the Garden's many microclimates to assure the best success of our conifers. Because of this, many conifers that were previously thought to not do well in Utah have flourished at the Garden!

The plantings along the north perimeter are among the oldest at Red Butte Garden. This area has mature specimens of white fir (Abies concolor), Austrian pine (Pinus nigra), blue spruce (Picea pungens), incense cedar (Calocedrus decurrens) and also a giant sequoia (Sequoiadendron giganteum) and Himalayan pine (Pinus wallichiana). More recent plantings in the area include Swiss stone pine cultivars (Pinus cembra 'Chalet' and 'Silver Sheen'), and birds nest spruce (Picea abies 'Nidiformis'), a low shrub form. Farther east, along the shore of our upper pond, a new planting includes Western redcedar (Thuja plicata 'Virescens') and bald cypress cultivars (Taxodium distichum 'Shawnee Brave'). Finding a nursery source that hadn't limbed up the base branches of the bald cypress was a challenge, but worth it!
The Rose Garden is not a traditional rose garden, in that it was designed with many companion plants, including conifers. The conifers serve not only to enclose spaces and provide a backdrop for the roses, but also to bring their own beauty and diversity of form and texture to the space. Conifers in this garden include Bosnian pine (Pinus heldreichii 'Iseli Fastigiate'), Oriental spruce (Picea orientalis 'Gowdy'), yew (Taxus cuspidata 'Amersfoort'),bald cypress (Taxodium distichum 'Cascade Falls'), weeping juniper (Juniperus scopulorum 'Tolleson's Weeping Blue'), larch (Larix decidua) and Japanese red pine (Pinus densiflora 'Golden Ghost'), to name a few..
Mature conifers are worth preserving and protecting. A favorite Garden specimen is a deodar cedar (Cedrus deodara 'Cream Puff'). It was part of the Garden's original plantings, but had to be removed and stored while the Rose Garden was constructed. The tree was root pruned by staff several months before being moved using a 90" tree spade, the largest we could find in Utah at the time. Its rootball was secured in a large wire basket and stored in the ground for over a year during construction. Before progress in the Rose Garden limited access to heavy equipment, the tree was lifted from its temporary spot using the wire basket and placed in its new home, where construction and planting resumed around it. After being tied up for almost two years to protect it from damage, garden staff spent over a year training every single branch of the Deodar Cedar to obtain the beautiful habit it has today!

Another new space for conifers is the Water Conservation Garden, a three-acre showcase of low water use plants. This new garden allowed us to expand the Conifer Collection to include several Utah natives, cultivars of Utah natives, and non-native water-wise taxa. Plantings include prostrate Scots pine cultivars, Pinus sylvestris 'Albyn Prostrate' and 'Hillside Creeper', planted adjacent to each other so our guests can observe their differences. A bristlecone pine cultivar, (Pinus aristata 'Joe's Bess') is used as a hedge, and massings of Japanese stone pine (Pinus pumila 'Dwarf Blue'), white fir (Abies concolor 'Charming Chub'), and ponderosa pine (Pinus ponderosa 'Mary Ann Heacock') cultivars highlight their forms. Other conifers in the Water Conservation Garden include bristlecone pine (Pinus aristata 'Blue Bear'), pinon pine (Pinus edulis 'Farmy'), jack pine (Pinus banksiana 'Uncle Fogy'), singleleaf pinon (Pinus monophylla), and Rocky Mountain juniper (Juniperus scopulorum 'Woodward'). The use of conifers in the Water Conservation Garden shows our guests that conifers are a smart choice for low water landscapes and sites exposed to sun and wind.
An iconic juniper deer topiary announces the entrance to the Children's Garden where the branches of a weeping blue Atlas cedar (Cedrus atlantica 'Glauca Pendula') gracefully envelope the framework of the entrance arbor. This garden also holds mature bristlecone pines (Pinus aristata), pinon pines (Pinus edulis), and a dwarf giant sequoia (Sequoiadendron giganteum 'Von Martin'). Recent plantings in the Children's Garden include a selection of dwarf conifers, such as Spanish fir (Abies pinsapo 'Horstmann Nana'), Scots pine (Pinus sylvestris 'Little Brolly'), Bosnian pine (Pinus heldreichii 'Banderica') and hinoki cypress (Chamaecyparis obtusa 'Dainty Doll'). These are planted on tiered slopes with large boulders that provide ideal nooks and landings for dwarf and miniature conifers. Dwarf conifers are also heavily used in the Garden's stunning outdoor containers, particularly for winter container displays.
Other Garden favorites include a gorgeous specimen Arizona cypress cultivar (Cupressus arizonica 'Blue Pyramid'), weeping Western white pine (Pinus monticola 'Pendula') being trained on a sandstone wall, a bunya tree (Araucaria bidwilii) that is happy living indoors in our Visitor Center, a blue-leafed giant sequoia (Sequoiadendron giganteum 'Powder Blue'), weeping nootka cypress (Cupressus nootkatensis' Pendula'), lacebark pine (Pinus bungeana 'Rowe Arboretum'), red pine (Pinus resinosa 'Don Smith'), creeping cedar of Lebanon (Cedrus libani 'Sargentii'), Japanese umbrella pine (Sciadopitys verticillata 'Gruene Kugel') and a weeping white spruce (Picea glauca 'Pendula') that once saw a US Olympic Committee party canopy overhead during the 2002 Winter Olympics and is the tree featured on the Plant Select website.
Red Butte Garden is well worth the visit, not only for our ever-expanding and diverse Conifer Collection, but also for our beautiful gardens with views of the Wasatch Mountains and the Salt Lake valley, and our other fabulous living plant collections!
For more information on our Conifer Collection, as well as other living plant collections, see http://www.redbuttegarden.org/plant-collections/
Red Butte Garden and Arboretum
300 Wakara Way
Salt Lake City, UT 84108
(801) 585-0556
Open year round