Pseudotsuga sinensis / Huang shan
Pseudotsuga sinensis, first described by Dode in 1912 is commonly known as 黄杉 (Huang shan) in the Chinese language. There are two recognized varieties:
P. sinensis var. sinensis which is synonymous with P. gaussenii (Flous 1936), P. xichangensis (Kuan & Zhou 1983), P. shaanxiensis (Qu and Wang 1988), and P. sinensis var. gaussenii .
P. sinensis var. wilsoniana, described by (Hayata) Fu & Li in 1997, which is synonymous with P. wilsoniana (Hayata 1915) and P. salvadorii (Flous 1936).
The varieties are distinguished by the color of the stomatal bands, and by geography; the type variety has whitish stomatal bands and is native to the mainland, while var.
wilsoniana
has gray-green stomatal bands and is native to Taiwan.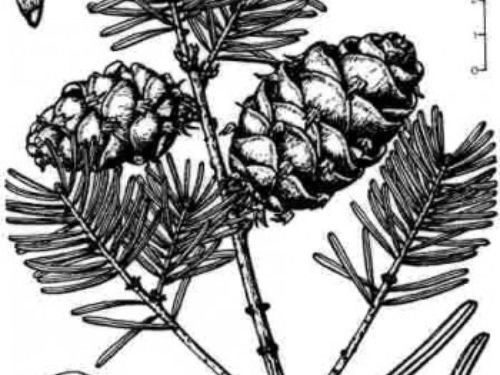 Description. Pseudotsuga sinensis is an evergreen coniferous tree, growing to 150 feet (50 m tall). Its bark is gray or dark gray, irregularly and thickly scaly, and corky. Branchlets are initially pale yellow or yellowish gray, aging gray, usually glabrous or slightly pubescent on main branchlets and densely pubescent on lateral branchlets. Leaves pectinately arranged, linear, 0.8 to inch (2 - 2.5) cm long by ca. 0.08 inch (2 mm) wide. Stomatal bands are abaxial, whitish or gray-green, base broadly cuneate, apex emarginate. Seed cones pale purple, glaucous, maturing purplish brown, ovoid to ellipsoid-or conical-ovoid, 1.5 to 3.2 inches (3.5 -8 cm) long by 0.8 to 1.8 inches (2 - 4.5 cm) broad. Seed scales at middle of the cones are semiorbicular, flabellate, or reniform, 1 to 1.2 inches (2.5 - 3 cm) long by 1.25 to 2 inches (3.2 - 5 cm) wide, rusty brown in color, pubescent abaxially, with a broadly cuneate base or almost truncate, and concave at sides. Bracts are reflexed, with a narrowly triangular cusp with an obtuse apex. Seeds are irregularly brown-spotted abaxially, triangular-ovoid, slightly depressed, densely rusty brown pubescent adaxially; wing obliquely ovate or semitrullate, 0.6 to 0.8 inch(1.5 - 2 cm) long including wing. Pollination occurs in April, seed maturity following in October and November.
Distribution. This type species is native to China — southern Anhui, northern Fujian, northern Guizhou, western Hubei, northwestern Hunan, northeastern Jiangxi, southern Shaanxi, southeastern Sichuan, central and northeastern Yunnan, and Zhejiang provinces. It is typically found at elevations of 1,800 to 9,000 feet (600 - 2,800 m) in China, usually in evergreen broadleaf forests.
Var. wilsoniana; is native to Taiwan and Vietnam (Cao Bang, Ha Giang, Lang Son provinces) where it is scarce, scattered in the island at elevations of 2,500 to 8,000 feet (800 - 2500 m), usually mixing with other trees on exposed rocky slopes.
Attribution from: Wu Zheng-yi and Peter H. Raven (eds.). © 1999. Flora of China, Volume 4. Beijing: Science Press; St. Louis: Missouri Botanical Garden.