Pseudotsuga menziesii / Douglas-fir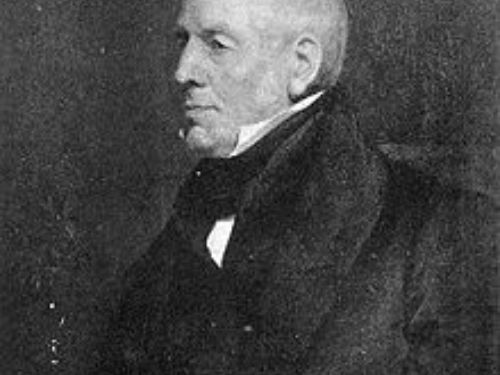 Pseudotsuga menziesii, as described in 1950 by (Mirbel) João Manuel Antonio do Amaral Franco (born 1921), in the second series of Boletim da Sociedade Broteriana, is commonly known as Douglas-fir; Douglas, yellow or red spruce; Oregon pine, sapin de Douglas in the French language and Abeto de Douglas or piño Oregon in Spanish. The specific name, menziesii, honors Archibald Menzies, a Scottish physician and rival naturalist to David Douglas after whom the genus is named. Menzies first documented this conifer on Vancouver Island, British Columbia, Canada in 1791. Colloquially, the species is also known simply as Doug-fir or as Douglas pine.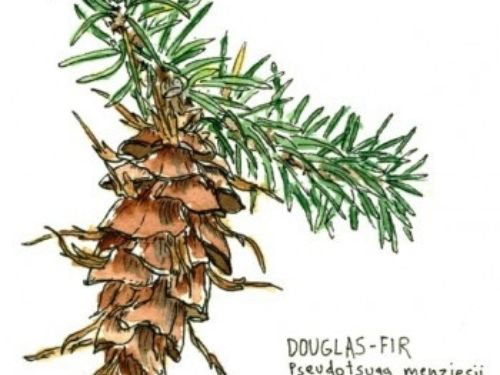 Description. Coastal Douglas-fir is currently the second-tallest conifer in the world (after coast redwood). Extant coastal Douglas- fir trees grow to mature heights of 200 to 250 feet (60 – 75 m) or more tall, with trunks up 5 to 6.5 feet (1.5 – 2 m) in diameter, measured at breast, are common in old-growth stands. Exceptional specimens are known to achieve maximum heights of 350 to 400 feet (100 – 120 m), with trunk diameters up to 15 to 20 feet (4.5 – 6 m). The tallest known living specimen is the "Doerner Fir", previously known as the Brummit Fir, which is 326 feet (99.4 m) tall, at East Fork of Brummit Creek in Coos County, Oregon, the stoutest is the "Queets Fir", which is 15.9 feet (4.85 m) in diameter, in the Queets River valley of Olympic National Park in Washington. Douglas-firs commonly live more than 500 years and occasionally more than 1,000 years.
Bark on young trees is thin, smooth, gray, and contains numerous resin blisters. On mature trees, it is thick and corky.

Shoots are brown to olive-green in color, turning gray-brown with age, with a smooth texture, though not as smooth as fir shoots; and finely pubescent with short, dark hairs.

Foliar buds are a very distinctive — narrow, with an acute conic shape, measuring 0.16 to 0.32 inch (4 – 8 mm) long, with red-brown bud scales.

Leaves are spirally arranged, but slightly twisted at the base to lie flattish on either side of the shoot. They needle-like, measuring 0.8 to 1.4 inches (2 – 3.5 cm) long, green adaxially with no stomata, and with two whitish stomatal bands abaxially. Unlike the Rocky Mountain Douglas-fir, coastal Douglas-fir foliage has a noticeable sweet fruity-resinous scent, particularly if crushed.
Pollen cones measure 0.8 to 1.2 inches (2 – 3 cm) long, dispersing yellow pollen in spring.

Seed cones are pendent when mature and measure 2 to 3 inches (5 – 8 cm) long, and 0.8 to 1.2 inches (2 –3 cm) broad when closed, opening to 1.6 inches (4 cm) broad. They are produced in spring, colored green at first, maturing orange-brown in the autumn 6 to 7 months later.

Seeds measure 0.2 to 0.24 inch (5 – 6 mm) long and 0.12 to 0.16 inch (3 – 4 mm) broad, with a 0.48 to 0.6 inch (12 – 15-mm) wing.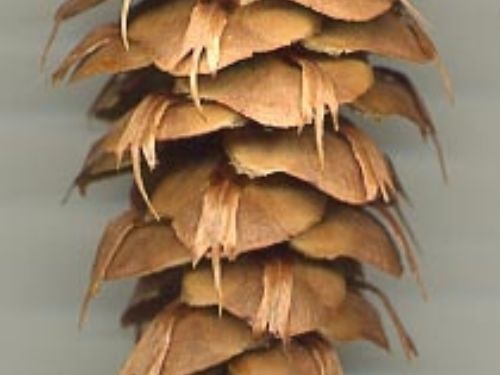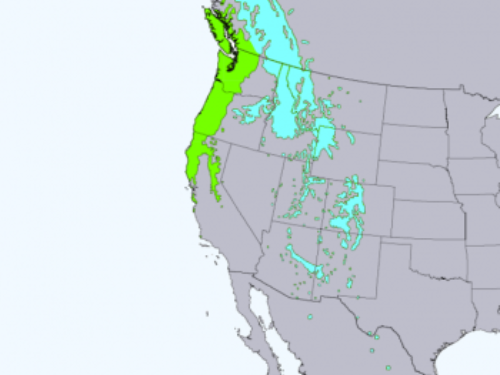 Distribution. The typical variety, coastal Douglas-fir (Pseudotsuga menziesii var. menziesii), grows in the coastal regions, from west-central British Columbia southward to central California. In Oregon and Washington, its range is continuous from the eastern edge of the Cascade mountains west to the Pacific Coast Ranges and Pacific Ocean. In California, it is found in the Klamath and California Coast Ranges as far south as the Santa Lucia Range, with a small stand as far south as the Purisima Hills in Santa Barbara County. In the Sierra Nevada, it ranges as far south as the Yosemite region. It occurs from near sea level along the coast to elevations of 5,900 feet (1,800 m) above sea level in the California mountains.
Further inland, coastal Douglas-fir is replaced by another variety, Rocky Mountain or interior Douglas-fir (Ps. menziesii var. glauca). Interior Douglas fir intergrades with coast Douglas fir in the Cascades of northern Washington and southern British Columbia, and from there ranges northward to central British Columbia and southeastward to the Mexican border, becoming increasingly disjunct as latitude decreases and its altitudinal limits increase. Mexican Douglas-fir (P. lindleyana), which ranges as far south as Oaxaca, is often considered part of Ps. menziesii.
Attribution from: Wikipedia, The Free Encyclopedia