Pseudotsuga macrocarpa / Bigcone Douglas-fir
Pseudotsuga macrocarpa, as described in 1889 by (Vasey) Ernst Heinrich Friedrich Meyer (1791 – 1858), in Wald Nordamerica, is commonly known as the Bigcone Douglas-fir; as well as Bigcone spruce, which is the name one often hears when traveling in this tree's native range. This name should be avoided because this tree is not a spruce in any way whatsoever. The species name describes the largest cones seen in this genus.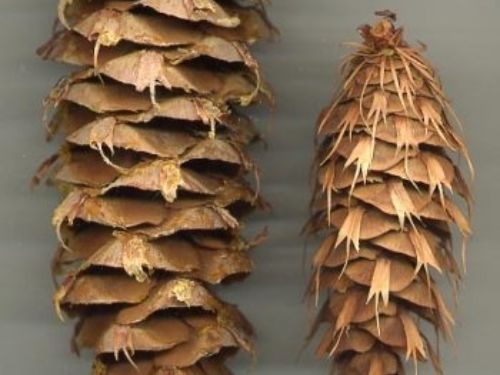 Description. Bigcone Douglas-fir is an evergreen, coniferous species of tree that grows to mature heights of 50 to 100 feet (15 – 30 m); with a trunk up to 20 to 60 inches (0.5 - 1.5 m) in diameter, measured at breast height. The growth form is straight, with a conical crown from 40 to 100 feet (12 – 30 m) broad, and a strong, spreading root system.
Bark is deeply ridged, composed of thin, wood-like plates separating heavy layers of cork; bark of trees with trunks over 3 feet (1 m) in diameter can be from 6 to 8 inches (15 – 20 cm) thick.
Main branches are long and spreading with pendulous side shoots.
Leaves are needle-like, measuring 1 to 2 inches (2.5 –5 cm) long, and are shed at about 5 years of age.
Seed cones measure 4 to 7 inches (10 – 18 cm) long, larger and with thicker scales than those of other Douglas-firs, and have exserted tridentine bracts.
Seeds are large and heavy, measuring 0.4 inch (10 mm) long and 0.3 inch (8 mm) broad, with a short rounded wing, 0.5 inch (12 mm) long. The seeds may be bird- or mammal-dispersed as the wing is too small to be effective for wind dispersal. Trees start producing seeds at about 20 years of age.
The largest known individual of this species is 173 feet (53 m) tall and 91 inches (231 cm) in diameter in Angeles National Forest, California. This tree has been the species champion since the 1940's and has been named "Old Glory." It is estimated to be from 600 to 700 years of age.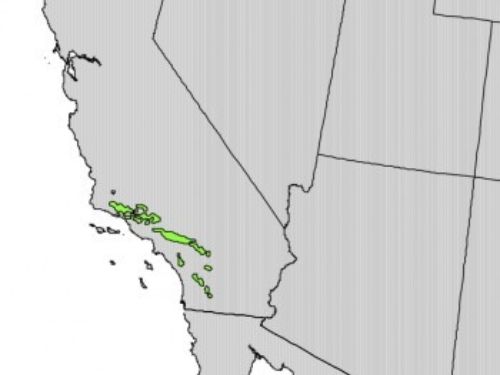 Distribution. This species is native to USA — restricted to the California montane chaparral, woodlands and coastal sage. It prefers a Mediterranean climate, characterized by hot dry summers and wet, mild winters. Annual rainfall over a 30-year period on a Bigcone Douglas-fir site in the San Gabriel Mountains averaged 30 inches (75 cm) and ranged from 10 to 50 inches (25 – 125 cm). One can find Bigcone Douglas-fir at elevations of 1,000 to 8,000 feet (300 - 2,700 m) above sea level. At lower elevations, it occurs near streams in moist, shaded canyons and draws where aspects are mostly north and east. At elevations of 4,440 to 5,600 feet (1,350 - 1,700 m), aspects include south- and east-facing slopes. At these elevations, it also grows on sloping hillsides, ridges, and benches. At higher elevations, it occurs on south and west aspects on all types of terrain. The average angle of slope on which it grows is 35 degrees, ranging from level to 90 degrees, although these extremes are uncommon.
Hardy to UDSA Zone 8 — cold hardiness limit between 10° and 20°F (-12.1° and -6.7°C).
Attribution from: Wikipedia, The Free Encyclopedia