Pinus yunnanensis / Yunnan pine
subgenus Pinus, section, Pinus, subsection Pinus. This is one of the "classic" old-world, 2-needled, hard pines.
Pinus yunnanensis, as described in 1899 by Adrien René Franchet (1834–1900), in Journal de Botanique (Morot), vol13(8), is commonly known as Yunnan pine; as well as 云南松 (yun nan song) in the Chinese language. This conifer is local to the mountainous regions of China's southwestern Yunnan province, hence the species name.
Ethnobotany. The timber is used for construction, railway sleepers, boards, furniture, and wood pulp. The trunk can be used as a source of resin, the roots for cultivating fungi, and the bark for producing tannin.
Description. Yunnan pine is an evergreen, coniferous species of tree that grows to mature heights of 100 feet (30 m), or shrub-like in areas where forest fires are frequent. Trunk diameter is up to 40 inches (1 m) wide, measured at breast height. Crown is dense and broadly conical, eventually flattening with age.
Bark is brown-gray in color, longitudinally fissured, and scaly
Branchlets are reddish brown, and thick, with a glabrous texture
Foliar buds are red-brown in color, large, ovoid, and not resinous.
Leaves (needles) are borne in fascicles of 2 (sometimes 3), and are flabellate-triangular or semiorbicular in cross section. Individual needles measure 2.8 to 12 inches (7 - 30 cm) long by 0.04 to 0.048 inch (1 - 1.2 mm) thick, light green in color with stomatal lines present on all surfaces, 4 or 5 resin canals, and base with a persistent foliar sheath.
Pollen cones measure 0.6 to 1.2 inches (15 - 30 mm) long and yellowish brown in color.
Seed cones are shortly pedunculate, green in color, maturing to brown or chestnut brown; with a conical-ovoid shape, measuring 2 to 4.4 inches (5 - 11 cm) long, dehiscent or indehiscent at maturity.
Seed scales have an oblong-ellipsoid shape, measuring circa 1.2 inch (3 cm) by 0.6 inch (1.5 cm). Apophyses are usually swollen, cross keeled, and rarely recurved Umbos are slightly sunken or slightly protruding, ending in a minute prickle.
Seeds are brown, and slightly appressed, with a nearly ovoid or obovoid shape. Seed body is 0.16 to 0.2 (4 - 5 mm) long with an attached wing 0.48 to 0.56 inch (1.2 - 1.4 cm) longer.
Pollination takes plance in April and May, seed maturity is October of the following year.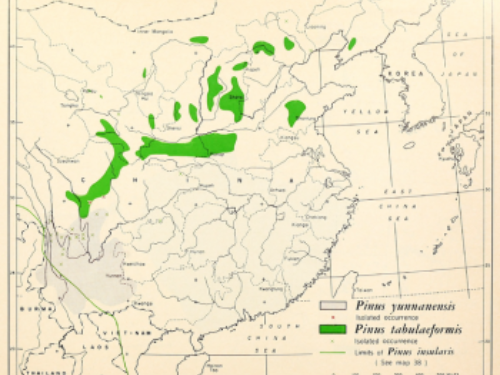 Distribution. This species is native to China, predominantly at elevations of 2,000 to 10,000 feet (600 - 3,000 m) above sea level on the high plateaus of Yunnan province, but extending north into Sichuan, where it intergrades with P. tabuliformis, and south into northern Burma, where it intergrades with P. kesiya. In recent times it has extended its range as competing broadleaf forests are logged.
Hardy to USDA Zone 8 — cold hardiness limit between 10° and 20°F (-12.1° and -6.7°C).
Attribution from: Wu Zheng-yi and Peter H. Raven (editors); Flora of China, Volume 4; ©1999, Science Press. Beijing, China.