Pinus wangii / Guangdong white pine
subgenus Strobus (Lemmon), section Quinquefoliae (Duhamel), subsection Strobus (Loudon).
Pinus wangii, as described in 1948, by Henri Hua (1861–1919), and Wan-chun Cheng (1904-1983), in Bulletin of the Fan Memorial Institute of Biology, new series 1; is commonly known as Guangdong white pine; as well as 毛枝五针松 (mao zhi wu zhen song) in the Chinese language. The species name honors Dr. Shao-Ping Wang.
Ethnobotany. Locally used for house building. This species is rare in cultivation; there are a few, mostly young, trees in botanic gardens in China, the UK and the USA. Logging is a continuing threat.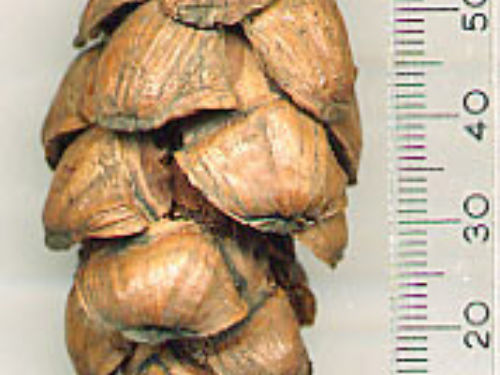 Description. Guangdong white pine is an evergreen, coniferous species of tree that grows to mature heights of 65 feet (20 m); with a trunk up to 24 inches (60 cm) in diameter, measured at breast height.
Branchlets are slender, dark red-brown in color when young; turning dark gray-brown, initially densely brown pubescent, becoming glabrous in the 2nd or 3rd year.
Foliar buds are colored brown and not resinous.
Leaves (needles) are borne 5 per fascicle. They are thick and stiff, growing slightly incurved, and triangular in cross section, measuring 1 to 2.4 inches (2.5 - 6 cm) long by 0.04 to 0.06 inch (1-1.5 mm). Foliar base includes an early deciduous sheath.
Seed cones are borne solitary or in bundles of 2 or 3 clustered at the base of branchlets, with a pedunculate attachment, measuring 0.6 to 0.8 inch (1.5-2 cm). Individual cones are yellowish brown, brown, or dark gray-brown in color at maturity, with an oblong-ellipsoid or cylindric-ovoid shape, measuring 1.8 to 3.6 inches (4.5 - 9 cm) long by 0.8 to 1.8 inches (2 - 4.5 cm) wide.
Seed scales subobovate shaped, measuring 0.8 to 1.2 inches (2 - 3 cm) by 0.6 to 0.8 inch (1.5 - 2 cm); apophyses have transversely rhombic outlines and thin margins; growing slightly incurved, rarely slightly recurved on middle or basal seed scales. Umbos are sunken, not swollen.
Seeds are pale brown in color, with an ellipsoid-ovoid shape, measuring 0.32 to 0.4 inch (8 - 10 mm) by circa 0.24 inch (6 mm), with an attached wing circa 064 inch (16 mm) long by 0.28 inch (7 mm) wide.
It has many characters in common with both
P. kwangtungensis
and
P. fenzeliana
, the principal differences are the length of the needles, size of the cones (slightly shorter and smaller than
P. kwangtungensis
or
P. fenzeliana)
and the color and degree of pubescence of the first year shoots.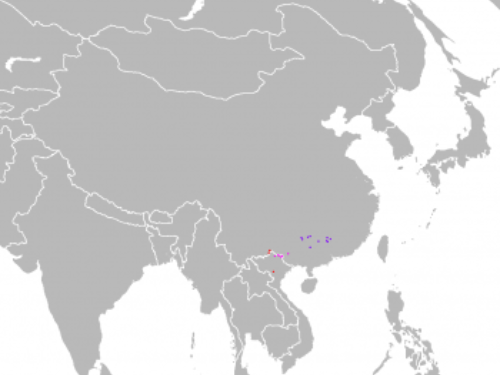 Distribution. This species is native to China — southeastern Yunnan province (Malipo, Xichou); probably also in Vietnam — Mai Chou; where it grows scattered in evergreen broad-leaved forests on limestone hillsides, where only fragmented populations remain on inaccessible cliffs. It is typically found at elevations of 1,600 to 5,800 feet (500 - 1,800 m) above sea level.
Hardy to USDA Zone 8 — cold hardiness limit between 10° and 20°F (-12.1° and -6.7°C).
Attribution from: Wu Zheng-yi and Peter H. Raven (editors); Flora of China, Volume 4; ©1999, Science Press. Beijing, China.