Pinus virginiana / Virginia pine
subgenus Pinus, section Trifoliae (Duhamel), subsection Contortae (Little et Critchfield)
Pinus virginiana, as described in 1768 by Philip Miller (1691–1771), in The Gardeners Dictionary: 8th edition, no. 9, is commonly known as Virginia pine, scrub pine, spruce pine, Jersey pine. It is a widely distributed pine in the American southeast, particularly in Virginia, hence the species name.
Ethnobotany. The indigenous Cherokee nation used P. virginiana medicinally. They used it for many symptoms like diarrhea, stiffness of the body, colds, fevers, hemorrhoids, tuberculosis, and constipation. They also used P. virginiana in different ways including bathing in water that had been soaked in the bark, steams and oils, root and needle infusions, and for tar. In addition, it was also used it in certain cultural rituals. In burial rituals, P. virginiana branches were burned and the ashes were used for a fire in their homes. Also, they would infuse needles in apple juice and they would drink it. The Cherokee basically did that as a toast to the wind. Lastly, they used the root infusions as a stimulant and the needles were used as a soap.
This pine is useful for reforesting and provides nourishment for wildlife. Its other main use is on Christmas tree farms despite having sharp-tipped needles and yellowish winter color. It also can provide wood pulp and lumber. Like some other southern yellow pines, Virginia Pine lumber case hardens. That is, it becomes very hard over time during wood drying. Wood from Virginia pine is not normally considered to resist rot unless treated with preservatives.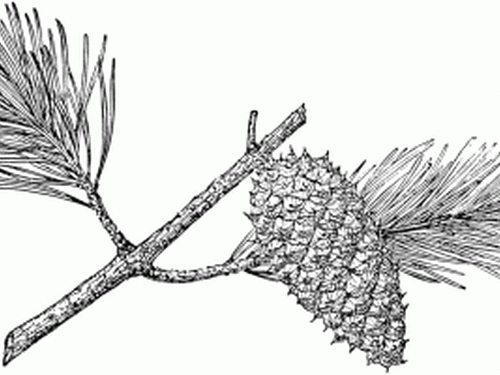 Description. Virginia pine is an evergreen coniferous species of tree that grows to mature heights of 30 to 60 feet (9 – 18 m), but can grow taller under optimum conditions. The inclined, twisted trunk can be as wide as 20 inches (0.5 m) in diameter, measured at breast height. The typical life span for an individual tree is 65 to 90 years. Trees develop irregular crown of long, spreading, ascending to descending branches.
Bark is smooth at first, later scaly, and reddish in color; finally thick, shaggy and gray-brown.
Branchlets are slender, reddish or purplish in color, often with glaucous texture, aging red-brown to gray, with rough texture.
Foliar buds have an ovoid to cylindrical shape, colored red-brown, measuring 0.24 to 0.4 inch (0.6 - 1 cm), sometimes resinous; with white, fringed scale margins.
Leaves (needles) are borne in fascicles of 2. Individual needles are short, measuring 1.6 to 3.2 inches (4 – 8 cm) long, colored yellow-green often growing with a twist. Needles persist for 3 to 4 years on the tree.
Pollen cones have an ellipsoid-cylindric shape, measuring 0.4 to 0.8 inch (10 - 20 mm) long, colored red-brown or yellow.
Seed cones are borne throughout the tree's crown, persisting for up to 5 years. They are symmetrically narrow-ovoid shaped, measuring 1.6 to 2.8 inches (4 - 7 cm) long when open, colored red-brown, attached nearly sessile or on peduncles up to 0.4 inch (1 cm) long.
Cone scales are rigid, with strong purple-red or purple-brown borders on distal adaxial surfaces. Aapophyses are slightly thickened, and slightly elongate. Umbos are centrally oriented, with a low-pyramidal outline, outfitted with a slender, stiff prickle.
Seeds measure 0.16 to 0.28 inch (4 - 7 mm) long, with a compressed-obovoid shape, mottled brown in color, with a narrow wing up to 0.8 inch (20 mm) long.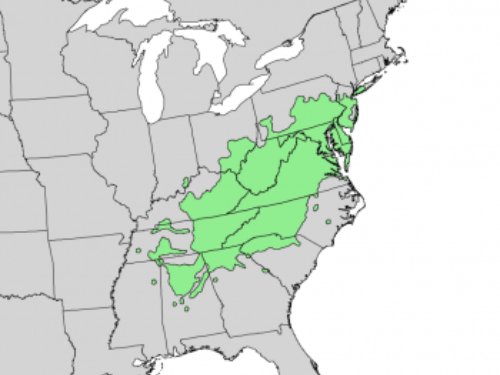 Distribution. This species is native to USA — New York, New Jersey, Pennsylvania, Ohio, Indiana, Kentucky, Tennessee, Mississippi, Alabama, Georgia, South Carolina, North Carolina, West Virgina, Virginia, Maryland and Delaware, growing at elevations from sea level to 2,000 feet (900 m) on dry uplands, sterile sandy or shaly barrens, old fields, and lower mountains. This tree prefers well-drained loam or clay, but will also grow on very poor, sandy soil, where it remains small and stunted.
Hardy to USDA Zone 6 — cold hardiness limit between -10° and 0°F (-23.2° and -17.8°C).