Pinus thunbergii / Japanese black pine
subgenus Pinus, section, Pinus, subsection Pinus. This is one of the "classic" old-world, 2-needled, hard pines.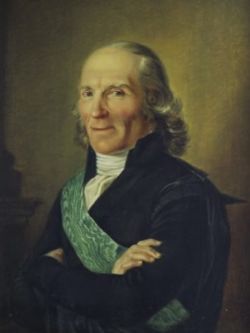 Pinus thunbergii, as described in 1867 by Filippo Parlatore (1816–1877), in Prodromus Systematis Naturalis Regni Vegetabilis 16(2), is commonly known as Japanese black pine; as well as クロマツ, 黒松 (kuro-matsu) in the Japanese language,곰 솔 (gomsol) in Korean, and (黑松 (hēisōng) in Chinese . The species name honors Pehr Thunberg (1743 - 1835), a Swedish botanist and student of Linnaeus who traveled in Japan and included the species in the first botanical flora of Japan that he wrote, incorrectly referring to it as Scots pine.
Ethnobotany. Historically, this has been one of the most important species used in Japanese architecture. The principal structural woods in most surviving structures of the Muromachi period (14th to 16th centuries) and the Edo period (1603 to 1867) are Pinus densiflora and P. thunbergii, although surviving structures also contain a great deal of Chamaecyparis obtusa.
Today it is widely used as an ornamental, and requisite of Japanese gardens, where it provides structural and symbolic counterpoint to the red pine P. densiflora.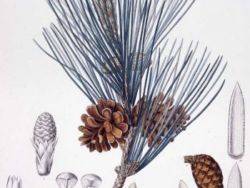 Description. Japanese black pine is an evergreen, coniferous species of tree that grows to mature heights of 125 feet (40 m) tall, with a trunk up to 40 to 80 inches (1 - 2 m) in diameter, measured at breast height, often seen divided in the wide, dense, dome-shaped or flattened crown.
Bark is dark gray or purple-gray in color, scaly, and longitudinally fissured.
Branches are light brown in color with many bracts, thereafter becoming glabrous, and often ridged.
Shoots, when young, are covered with a dense whitish tomentum that is highly distinctive among pines.
Foliar buds are white in color, slightly resinous, measuring 0.6 to 0.8 inch (1.5 - 2 cm) long, with an ovoid shape and pointed tips.
Needles are borne 2 per fascicle, each measuring 2.8 to 4.8 inches (7 - 12 cm) long by 0.028 to 0.048 inch (0.7 - 1.2 mm) thick, with acute tips, dark green color; and a scabrous texture with minute marginal teeth; often growing twisted, persisting 3 to 4 years on the tree.
Pollen cones are borne densely crowded, measuring 0.4 to 0.52 inch (10 - 13 mm) long and yellowish brown in color.
Seed cones have a short-pedunculate, conically-ovoid shape, measuring 1.6 to 2.8 inches (4 - 7 cm) long, and 1.4 to 2.6 inches (3.5 - 6.5 cm) wide, colored buff to brown-gray, opening in late winter. They may be borne signally, paired or (in selected cultivars where the pollen cones are replaced by seed cones) very numerous (20 or more) to a shoot.
Cone scales are numerous, measuring 0.72 to 1.12 inches (18 - 28 mm) long by 0.32 to 0.48 inch (8 - 12 mm) wide, with a cuneate shape. Apophyses are flattened, with a transversely rhomboidal outline. Umbos have a short-mucronate shape, colored pale brown to buff. The scale stem is colored dark purple-brown to blackish above and pale-brown below; opening to 60-80° wide.
Seeds are dark brown to black in color, measuring 0.24 inch (6 mm) long, with an articulate 0.48 to 0.64 inch (12 - 16 mm) long wing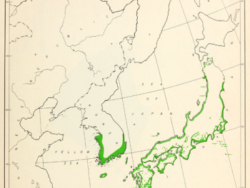 Distribution. This species is native to Japan — Honshu, Shikoku and Kyushu islands; and South Korea. It is the dominant pine from the coast to about 3,300 feet (1,000 m) elevation, where the climate is warm, temperate (with little or no frost) and moist. These regions would have had a predominantly deciduous angiosperm forest cover, with conifers mixed in especially on poor, water-logged soils and on dry slopes and mountain ridges.
Hardy to USDA Zone 6 — cold hardiness limit between -10° and 0°F (-23.2° and -17.8°C).
Attribution from: Aljos Farjon; 1984. Pines: drawings and descriptions of the genus Pinus; ©1984, Brill & Backhuys, Leiden, The Netherlands.