Pinus teocote / Aztec pine
subgenus Pinus, section Trifoliae (Duhamel), subsection Australes (Loudon).
Pinus teocote, as described in 1830 by Diederich Franz Leonhard von Schlechtendal (1794–1866) and Adelbert von Chamisso (1781–1838), in Linnaea 5:76, is commonly known as Aztec pine and Teocote pine; as well as Teocotl in the Nahuatl language. The common Mexican Spanish name for pines, in general, ocote, is derived from this name. The species name is the Spanish adaptation of the Aztec name, teocotl, meaning "stone pine."
Ethnobotany. Aztec Pine is of importance as a timber tree. Apparently due to its moderate size, especially in the southern part of its range, resin production may locally count as the more important mode of exploitation. The wood is used as sawn timber, mainly for railway sleepers, coarse construction work, containers and crates, particleboard, and also for pulp. Resin tapping is still an important industry, but it will fluctuate much with market prices for naval stores. In horticulture this species is hardly known, despite its wide range geographically and altitudinally, indicating hardiness of at least some provenances.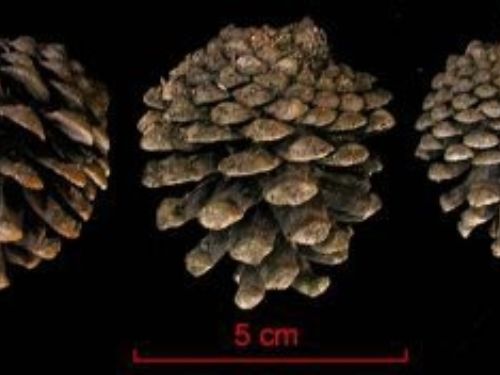 Description. Aztec pine is an evergreen, coniferous species of tree that grows to mature heights of 18 feet (5 m) with a single, fairly straight trunk, up to 30 inches (75 cm) in diameter, measured at breast height; and a pyramidal to rounded crown of horizontally spreading branches with slightly drooping terminal foliar units.
Bark is dark gray-brown in color, rough, scaly, thick, and longitudinally fissured.
Twigs are smooth in texture, and orange-brown in color.
Leaves (needles) are borne in fascicles of 3 with a persistent sheath initially 0.8 inch (20 mm) long, wearing down over time. Individual needles are light green in color, with bands of stomata on all faces, growing slightly stiff (not drooping), straight or slightly curved, measuring 5 to 6 inches (10 - 15 cm) long by 0.04 to 0.56 inch (1 - 1.4 mm) thick, with sharply acuminate apices. They persist for 2 to 3 years on the tree .
Pollen cones ovoid-oblong shaped, measuring 0.4 to 0.72 inch (10-18 mm) long by 0.2 inch (5 mm) wide, colored yellow-green.
Seed cones are numerous, persisting for several years after maturity. They have a variably asymmetrical ovoid shape with a broad, flattened base when open and measure 1.6 to 2.4 inches (4 - 6 cm) long by 0.8 to 1 inch (2 - 2.5 cm) wide when open.
Seed scales are woody and thick, with a more or less flat, light brown apophysis and dorsal, blunt pyramidal umbo with a tiny, deciduous prickle.
Seeds are dark brown in color, measuring 0.12 to 0.2 inches (3 - 5 mm) long with a translucent 0.48 to 0.72 inch (12 - 18 mm) wing.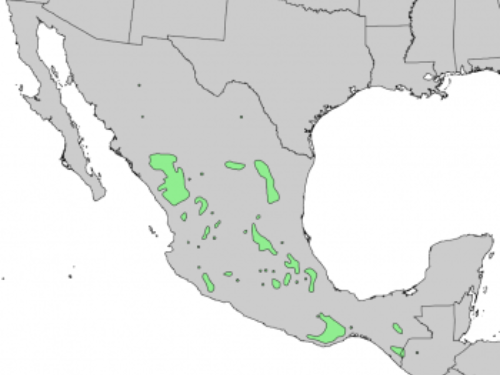 Distribution. This species is native to Mexico — Chihuahua, Coahuila, Nuevo Leon, Tamaulipas, Sinaloa, Durango, Zacatecas, San Luis Potosi, Nayarit, Aguascalientes, Jalisco, Guanajuato, Queretaro, Hidalgo, Michoacan, Mexico, Distrito Federal, Tlaxcala, Puebla, Veracruz, Guerrero, Oaxaca, Chiapas; as well as Guatemala. As such it is one of the most widespread Central American pines. It occurs at elevations of 3,200 to 11,000 feet (1,000 - 3,300 m) above sea level, often on thin and sometimes calcareous soils, usually with 20 to 40 inches (500 - 1,000 mm) of annual precipitation, and uncommon frost. With its extensive range, it occurs in quite a variety of habitats, but usually with Quercus species in woodland or open forest, and with a variety of pines such as P. arizonica, P. engelmannii, P. durangensis, P. leiophylla, P. montezumae, P. oocarpa, and P. patula.
Hardy to USDA Zone 8 — cold hardiness limit between 10° and 20°F (-12.1° and -6.7°C).
Attribution from: Aljos Farjon, Aljos; A Handbook of the World's Conifers' ©2010, Brill Academic Publishers, Leiden, The Netherlands.