Pinus tabuliformis / Chinese red pine
subgenus Pinus, section, Pinus, subsection Pinus. This is one of the "classic" old-world, 2-needled, hard pines.
Pinus tabuliformis, as described in 1867 by Elie-Abel Carrière (1818–1896), in Traité général des conifères, is commonly known as Chinese red pine; 油松 (yóu sōng) in the Chinese language. This tree's broadly dome-shaped to flattened crown is the source of the species name, meaning "table-shaped" in the Latin language.
Ethnobotany. The timber is used for construction, poles, mine timber, ship building, and furniture. The trunk can be used as a source of resin, the bark for tannin, and the needles for medicine.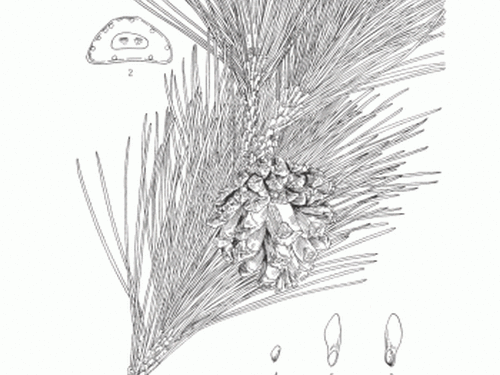 Description. Chinese red pine is an evergreen, coniferous species of tree that grows to mature heights of 80 feet (25 m) tall; with a trunk to over 3 feet (1 m) in diameter, measured at breast height; and a broadly dome-shaped to flattened crown.
Bark is scaly, and colored grayish brown or dark gray.
First-year branchlets are light grayish brown, light brown, or yellowish brown in color; thick, with a glabrous texture.
Foliar buds are oblong shaped and slightly resinous.
Leaves (needles) borne in fascicles of 2 (sometimes 3), colored dark green, semiorbicular in cross section, measuring 2.4 to 6 inches (6 - 15 cm) long by 0.04 to 0.06 inch (1 - 1.5 mm), and a base with persistent sheath that is initially 0.4 to 0.8 inch (1 - 2 cm) long.
Pollen cones measure 0.2 to 0.36 inch (5 - 9 mm) long and yellowish brown in color.
Seed cones are held on short peduncles, initially green, turning yellowish brown to brown at maturity. They are ovoid to ovoid-globose shaped, measuring 1 to 3.6 inches (2.5 - 9 cm) long by 1.6 to 3.6 inches (4 - 9 cm) broad and usually persistent for a few years on the tree.
Seed scales are suboblong-obovate shaped, measuring 0.64 to 0.8 inch (1.6 - 2 cm) by circa 0.56 inch (1.4 cm). Apophyses are swollen, with a broadly or irregularly rhombic outline, ridged or not, and cross keeled. Umbos protrude into a spine.
Seeds are pale brown in color and mottled; ovoid shaped or narrowly so; measuring 0.24 to 0.32 inch (6 - 8 mm) long by 0.16 to 0.2 inch (4 - 5 mm) wide with a 0.6 to 0.72 inch (1.5-1.8 cm) wing. Pollination takes place in Apr and May; seed maturity is in October of the second 2nd year.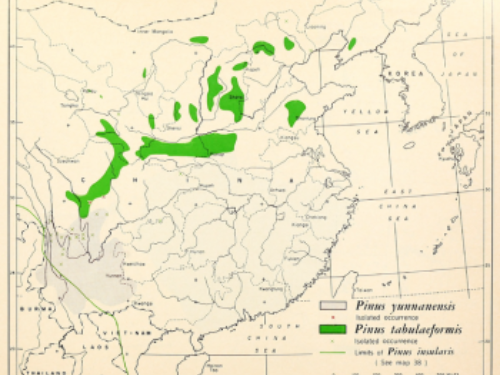 Distribution. This species is native to China and Korea. The type variety recorded from China — Gansu, Hebei, Liaoning, Ningxia, Beijing, Shanxi, and Shaanx provinces, growing in hills and mountains at elevations of 350 to 8,500 feet (100 - 2,600 m) above sea level.
Hardy to Zone 5 — cold hardiness limit between -20° and -10°F (-28.8°C and -23.3°C).
Attribution from: Wu Zheng-yi and Peter H. Raven (editors); Flora of China, Volume 4; ©1999, Science Press, Beijing; Missouri Botanical Garden, St. Louis.