Pinus × sondereggeri / Sonderegger's pine
Pinus × sondereggeri, as described by H.H. Chapman in 1922 in the article, A new hybrid pine (Pinus palustris × Pinus taeda), published in the Journal of Forestry vol.20, is commonly known as Sonderegger's pine, named in honor of its discoverer, V.H. Sonderegger, a state forester of Louisiana. Common names include Sonderegger's pine and bastard pine. It is a naturally occurring cross between Loblolly pine (P. taeda) and longleaf pine (P. palustris). two of the most economically important "southern" pines, members of subsection Australes, native to the southeastern United States.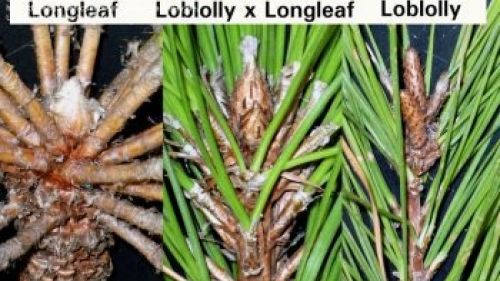 Description. Sonderegger's pine combines some features of each or the parent species as well as having many intermediate characteristics. In general they show more similarity with Loblolly pine than with longleaf pine. As seedlings, they are immediately distinguishable for the latter because they lack longleaf pine's "grass stage," rather growing at an expected rate when young.
Leaves (needles), measuring 4.8 to 8.8 inches (12 - 22 cm) long, are of intermediate length of the parents, shorter than the longest needles seen in P. palustris and longer than the typical needles of P. taeda.
Seed cones, measuring 4 to 8 inches (10 - 20 cm) long are also intermediate to the parent species.
The hybrids demonstrate no particular advantages in growth rate or quality of wood over the parent species, so they are not terribly important in plantation culture. However, the bypassing of the seedling grass stage may make back-crossing with these hybrids a potential means of speeding up the growth of longleaf pine, which is somewhat slowed by its grass stage when young.
Distribution. Natural hybrid Sonderegger's pines are scattered throughout the southeastern Coastal Plain wherever the two parent species occur together, but are not abundant, presumably in the portion of the ranges west of the Mississippi River in eastern Texas and western Louisiana. They also appear in plantations of one of the species grown in the vicinity of the other.
Hardy to USDA Zone 9 — cold hardiness limit between 20° and 30°F (-6.6° and -1.1°C).
Attribution from: James E. Eckenwalder; Conifers of the World: The Complete Reference; ©2009, Timber Press, Portland, OR.