Pinus sibirica / Siberian stone pine
subgenus Strobus (Lemmon), section Quinquefoliae (Duhamel), subsection Strobus (Loudon).
Pinus sibirica, as described in 1804 by Du Tour de Salvert, in Dictionnaire des Sciences Naturelles, 2nd edition, is commonly known as Siberian stone pine; as well as Сибирский кедр in the Russian language; the species refers to the high north country of Russia where the species was first discovered and described.
Ethnobotany. Its seeds are very tasty and nutritious, harvested and eaten by people for generations. The timber is used for construction and furniture.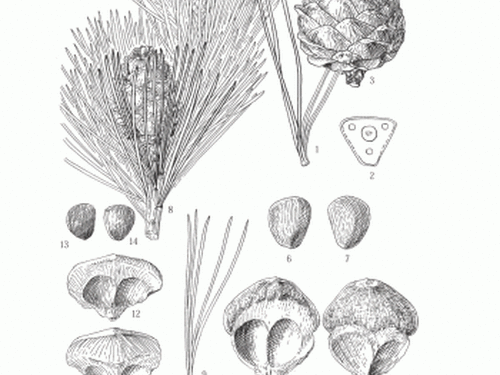 Description. Siberian stone pine is an evergreen coniferous species of tree that grows to mature heights of 100 feet (35 m) with a trunk up to 72 inches (1.8 m) diameter, measured at breast height; and a dense conical crown with young, becoming broad and deeply domed with age. Trees growing at the alpine tree-line are more shrubby and stunted in structure.
Bark is pale brown or gray-brown in color.
Branchlets are yellow or brownish yellow in color, thick, and densely pale yellow pubescent.
Foliar buds are red-brown in color and conical.
Leaves (needles) are borne 5 per fascicle, growing slightly curved and almost triangular in cross section. Individual needles are stiff, colored dark green with stomata on outer faces and gray-green with 3 to 5 lines of stomata along each abaxial surface, and serrulate margin. Needles measure 2.4 to 4.4 inches (6 - 11 cm) long by 0.02 to 0.064 inch (0.5 - 1.7 mm) thick, with .
Foliar sheaths measure 0.6 to 0.8 inch (15 - 20 mm) long and are quickly deciduous.
Pollen cones measure 0.4 to 0.8 inch (10 - 20 mm) long, and red in color.
Seed cones are held erect, and are conical-ovoid shaped, measuring 2 to 3.2 inches (5 - 8 cm) long by 1.2 to 2.2 inches (3 - 5.5 cm) wide, and shaped indehiscent or slightly dehiscent at maturity.
Seed scales number 50 - 60 per cone, with a widely cuneate outline, proximally, and thickened distally. Apophyses are purple-brown in color, and densely pilose, with a broadly rhombic or broadly triangular-semiorbicular outline. Umbos are yellow-brown, and quite obvious.
Seeds are yellow-brown in color, obovoid shaped, slightly ridged, measuring circa 0.4 inch (10 mm) long by 0.2 to 0.24 inch (5 - 6 mm) wide and wingless. Pollination takes place in April, seed maturity is September and October of the 2nd year. Pine nuts extracted from the cones are quite edible and are about the size of your small finger nail.
The species is closely related to
Pinus cembra
. Unlike most pine species both
cembra
and
sibirica
both do well in wet bog soil as well as heavy clay soils. The Siberian stone pine grows faster than Swiss stone pine and is generally of a light green color. The needles of P. cembra are longer at 2.8 to 6 inches (7 -15 cm) long.
P. sibirica
is often more open than
cembra
but sufficiently dense to still be considered of ornamental value. Unlike other pines
siberica
and
cembra
drop their needles mid-summer. Do not distress if your tree begins to turn shades of yellow from old needles dying in the summer. The needle drop is over after a few weeks.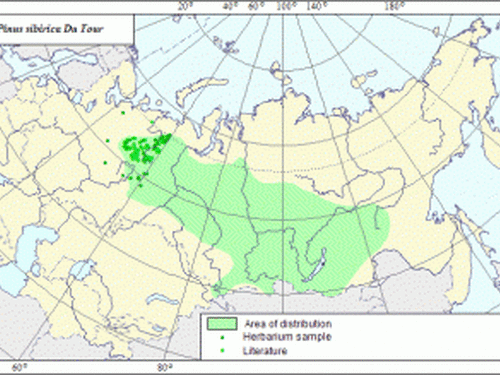 Distribution. This species is native to Russia — the Urals and Siberia, excepting most of Yakutia and east coastal areas; China — Heilongjiang, Nei Mongol, Xinjiang provinces; Kazakhstan; and northern Mongolia. Aljos Farjon makes the observations that Siberian stone pine, "grows on wet western slopes and on wet soils, in pure stands or in association with Picea obovata and Abies sibirica on black taiga."
Hardy to USDA Zone 3 — cold hardiness limit between -40° and -30°F (-39.9° and -34.4°C).
Attribution from: Zheng-yi Wu and Peter H. Raven (editors); Flora of China, Volume 4; ©1999, Science Press, Beijing, St. Louis, MO.