Pinus rzedowskii / Rzedowski's piñon pine
subgenus Strobus (Lemmon), section Parrya (Mayr), subsection Rzedowskiae (Carvajal); one from a "primitive" group of piñon pines.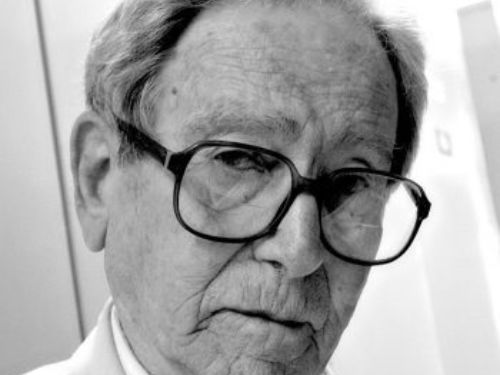 Pinus rzedowskii, as described in 1969 by Madrigal Sánchez and Caballero Deloya, in Boletin Tecnico [Instituto Nacional de Investigaciones Forestales], vol. 26:1, is commonly known as Rzedowski's piñon, or Coalcomán piñon; as will as Pino de Rzedowski in the Spanish language. The species name honors eminent Polish-born, Mexican botanist, Jerzy Rzedowski (b. 1926).
Ethnobotany. No uses are recorded of this species. It is a botanical rarity only present in a few botanic gardens and private collections. Its altitudinal range implies occasional light frosts, so it might prove hardy in mild regions and as an attractive tree should be worthy of cultivation, which would also help its conservation as a species.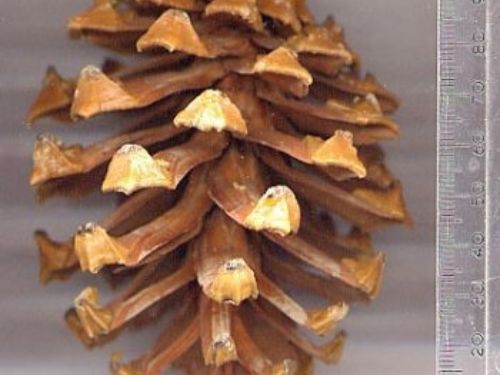 Description. Rzedowski's piñon pine is an evergreen, coniferous species of tree that grows to mature heights of 65 to 80 feeet (20 - 25 m) with a straight or curved trunk up to 12 to 24 inches (30 - 60 cm) in diameter, measured at breast height. Young trees are pyramidal with branches growing in regularly spaced whorls, but at maturity the crown is generally open and irregularly branched; often branching low.
Bark on young trees is thin and smooth, colored grayish green; turning scaly and flaking, colored red-brown with age; and still later turning thick and rough with deep horizontal and longitudinal fissures dividing the bark into rectangular plates that are rough, scaly and dark brown in color.
Branchlets are slender, gray, and smooth. Bases of the leaf bracts are not decurrent; the needles are borne along the entire branchlet, persisting 2-3 years on the tree.
Leaves (needles) are flexible and slender, borne in fascicles of 4 or 5 (sometimes 3), Individual needles measure 2.4 to 4 inches (6 - 10 cm) long by 0.024 to 0.032 inch (0.6 - 0.8 mm) thick, yellowish green in color, sometimes with a bluish wax, with finely serrate edges, and bands of stomata on the two inner surfaces only.
Fascicle sheaths form a rosette of recurved scales and are later deciduous.
Young seed cones are held erect on 0.6 to 0.8 inch (1.5 - 2.0 cm) long peduncles, with thick, wide, recurved scales. Mature cones are symmetrically oblong shaped, with a slight taper, pendent, borne singly and in whorls of 2 to 4. Each measures 4 to 6 inches (10 - 15 cm) long by 2.4 to 3.6 inches (6 - 9 cm) wide when open; colored yellowish brown to lustrous ochre when mature, ripening in the fall and soon deciduous.
Peduncle is slender and curved, 0.6 to 1.2 inches (1.5 - 3.0 cm) long, falling with the cone.
Cone scales number 80 to 120 per cone and are 0.6 to 0.88 inch (15 - 22 mm) wide. Apophyses are subpyramidal with a prominent, horizontal keel and an acutely angled apex. Umbos are oriented dorsally. They are small and depressed, colored dark brown, with a very small, downward-curved prickle. The apophyses and the umbos usually bear a small drop of clear amber resin.
The dark brown seeds are 0.32 inch (8 mm) long and 0.2 to 0.24 inch (5 - 6 mm) wide with an articulate wing 0.8 to 1.2 inches (20 - 30 mm) long and 0.32 to 0.52 (8 - 13 mm) wide.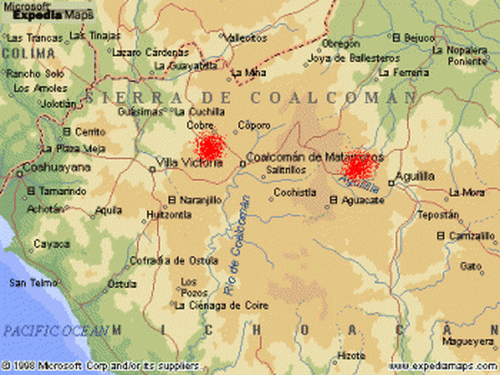 Distribution. This species is native to Mexico — Michoacán, growing at elevations of 6,800 to 8,000 feet (2,100 - 2480 m) above sea level in the Sierra Madre del Sur, District of Coalcomán, in three disjunct localities, one near the village of Dos Aguas and the others approximately 25 miles (40 km) to the west at Cerro de Chiqueritas, Cerro Ocotoso, and Puerto del Pinabete. Each location has from 1 to 4,000 trees, with the species as a whole comprised of 12 populations totaling 6,000 to 6,500 trees.
All populations occur on steep, very rocky limestone soils, where rainfall in the area is estimated to be 30 inches (1,500 mm) annually, almost all occurring during the period June to October, where temperature is estimated to range from a minimum of 23°F (-5°C) to a maximum of 86°F (30°C) in April just prior to the rainy season. On the best site, Puerto del Pinabete, the species was associated with P. pseudostrobus, P. herrerae, P. michoacana and P. oocarpa. At Cerro Chiqueritas and Cerro Octoso, both very rocky sites, no other pines were found with the small populations of P. rzedowskii.
Hardy to USDA Zone 10 — cold hardiness limit between 30° and 40°F (-1° and +4.4°C).
Attribution from: Jesse P. Perry; The pines of Mexico and Central America; ©1991, Timber Press, Portland, OR.