Pinus resinosa / red pine
subgenus Pinus, section, Pinus, subsection Pinus. This is one of the "classic" old-world, 2-needled, hard pines.
Pinus resinosa, as described in 1789 by William Aiton (1731–1793), in Hortus Kewensis, vol. 3:367, is commonly known as red pine, Norway pine or pin rouge in the French-Canadian language. It is the state tree of Minnesota and was called "Norway pine" for the homeland of the men who logged it there.
Ethnobotany. It was once the most important timber pine in the Great Lakes region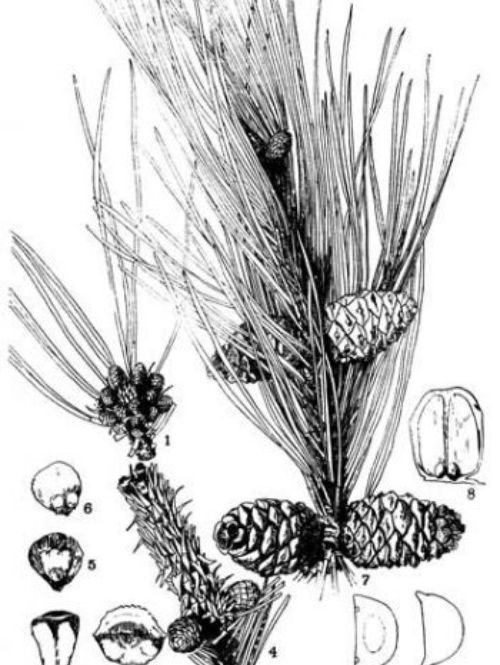 Description. Red pine is an evergreen coniferous species of tree which grows to mature heights of 120 feet (37 m) with a straight trunk up to 5 feet (1.5 m) in diameter, measured at breast height; and a narrowly rounded crown.
Bark is light red-brown incolor, furrowed and cross-checked into irregularly rectangular, scaly plates.
Branches grow spreading and ascending.
Twigs are moderately slender at 0.4 inch (1 cm) thick, colored orange- to red-brown in color at first, aging darker brown with a rough texture.
Foliar buds are ovoid-acuminate in shape, red-brown in color, and up to 0.8 inch (2 cm) long. They are resinous with fringed scale margins.
Leaves (needles) grow in bundles of 2 per fascicle. Each is straight to slightly twisted, measuring 4.8 to 7.2 inches (12 - 18 cm) long and quite brittle, breaking cleanly when bent. They are deep yellow-green in color with narrow bands of stomata on all surfaces.
Pollen cones are ellipsoid in shape, dark purple in color and circa 0.6 inch (15mm) in length.
Seed cones mature and open 2 years after pollination. They are spreading, symmetrically ovoid before opening, broadly ovoid to nearly globose when open, light red-brown in color and measuring 1.5 to 2.5 inches (3.5 - 6 cm) long.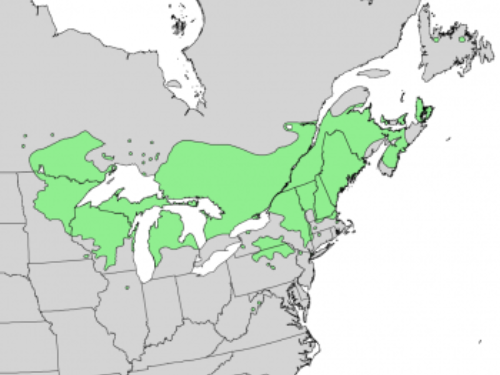 Distribution. This species is native to Canada — Manitoba, Ontario, Québec, Prince Edward Island, New Brunswick, Nova Scotia and Newfoundland; and USA — Minnesota, Wisconsin, Illinois, Michigan, West Virginia, Pennsylvania, New Jersey, New York, Connecticut, Massachusetts, Vermont, New Hampshire, and Maine. It naturally occurs naturally on sandy soils at elevations of 650 to 4,200 feet (200 - 1,300 m) above sea level, chiefly in boreal forests.
Hardy to USDA Zone 3 — cold hardiness limit between -40° and -30°F (-39.9° and -34.4°C).
Attribution from: Kral, R. 1993. Pinus. Flora of North America Editorial Committee (eds.): Flora of North America North of Mexico, Vol. 2. Oxford University Press.