Pinus remota / Texas piñon pine
subgenus Strobus (Lemmon), section Quinquefoliae (Duhamel), subsection Cembroides (Engelmann).
Pinus remota, as described in 1979 by Elbert Luther Little (1907–2004), Dana K. Bailey and Frank Goode Hawksworth in Phytologia, vol. 44(3):129, is commonly known as Texas piñon, paper-shell pinyon, or Catarina pine. In the Latin language, "remota" translates into "remote."
Texas piñon was previously included in Mexican piñon (P. cembroides), only being discovered as distinct in 1966 when Elbert L. Little noticed that the seed shells of some piñons in Texas were very thin compared to many others. He treated it as a variety of Mexican piñon, i.e., Pinus cembroides var. remota. Subsequent research found other differences, and it is now usually treated as a distinct species, probably more closely related to the Colorado piñon (P. edulis), which shares thin seed shells and needles mostly in pairs. Texas piñon differs from both Mexican and Colorado pinyons in the very small, recessed umbo on the cone scales (larger and knob-like on other pinyons).
Description. Texas piñon pine is an small, shrubby, evergreen, coniferous species of tree that grows to mature heights of 10 to 35 feet (3 – 10 m) with a trunk diameter of up to 16 inches (40 cm); and an open rounded crown.
Bark is thick, rough, and scaly.
Leaves (needles) are borne in mixed 2s and 3s (mostly pairs) to a fascicle; they are slender, measuring 1.2 to 2 inches (3 – 5 cm) long, and dull gray-green in color, with lines of stomata on both inner and outer surfaces.
Seed cones are squatly globose, measuring 1.2 to 2 inches (3 – 5 cm) long and broad when closed, colored green at first, ripening yellow-buff when 18 to 20 months old, with only a small number of thin scales, of which 5 to 12 are typically fertile.
Seeds measure 0.4 to 0.48 inch (10 – 12 mm) long, with a very thin shell, a white endosperm, and a vestigial 0.04 to 0.08 inch (1 – 2 mm) wing. They are dispersed by the Woodhouse's scrub jay, which plucks the seeds out of the open cones. The jay, which uses the seeds as a food resource, stores many of the seeds for later use, and some of these stored seeds are not used and able to grow into new trees.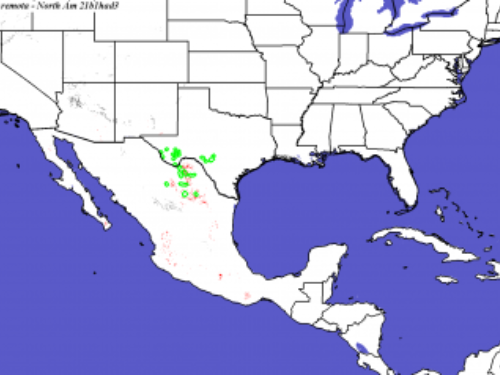 Distribution. This species is native to USA — Texas, on the Edwards Plateau and in the extreme west along the Rio Grande; and Mexico — Chihuahua, Coahuila and extreme western Nuevo León. The populations are all disjunct, found in isolated mountain ranges (a situation that certainly implies this species is more widespread during periods of reduced temperature and increased moisture availability, such as during the late Pleistocene). Although found at 1,500 feet (450 m) of elevation on the Edwards Plateau, in Mexico it occurs at elevations of 4,000 to 6,000 feet (1,200 - 1,850 m) above sea level, often on calcareous substrates, on particularly dry sites where it may assume shrub habit. As such, it is a typical piñon of the cold Chihuahuan desert.
Hardy to USDA Zone 8 — cold hardiness limit between 10° and 20°F (-12.1° and -6.7°C).
Attribution from: Aljos Farjon; "Pinus remota" The IUCN Red List of Threatened Species; ©2013 IUCN.