Pinus pungens / Table Mountain pine
subgenus Pinus, section Trifoliae (Duhamel), subsection Australes (Loudon).
Pinus pungens, as described in 1805 by Aylmer Bourke Lambert (1761–1842), in Annals of Botany, Oxford 2:198, is commonly known as Table Mountain pine or Hickory pine. The epithet, "pungens" refers to the rather prickly seed cones for which this species is known.
Ethnobotany. Used for pulpwood and firewood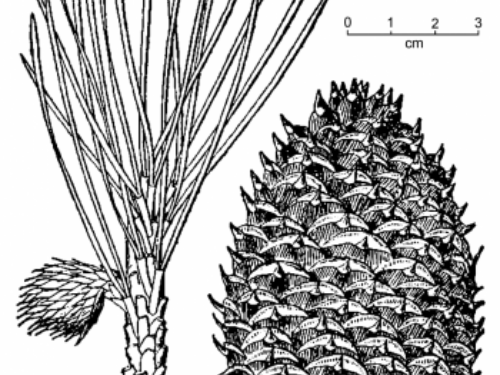 Description. Table Mountain pine is an evergreen coniferous species of tree which will grow to mature heights of 20 to 40 feet (6 – 12 m) tall with a straight to crooked trunk up to 24 inches (60 cm) in diameter, measuring at breast height; and a rounded, irregular crown.
Bark is red- to gray-brown in color, irregularly checked into scaly plates.
Foliar buds are ovoid to cylindric shape, red-brown in color, 0.24 to 0.36 inch (6 -9 mm) long, and resinous.
Leaves (needles) are borne in bundles of two, occasionally three, colored yellow-green to mid green, persisting 3 years on the tree. They are fairly stout, measuring 1.6 to 2.8 inches (4 – 7 cm) long.
Pollen cones are ellipsoid shaped, measuring circa 0.6 inch (15 mm) long and yellow in color. Pollen is released early compared to other pines in the area to minimize hybridization.
Seed cones are very short-stalked (almost sessile), ovoid shaped, pale pinkish to yellowish buff in color, and 1.6 to 3.6 inches (4 – 9 cm) long with each scale bearing a stout, sharp spine 0.16 to 0.4 inch (4 – 10 mm) long.
Seed scales include thickened, diamond-shaped, strongly keeled, elongate apophyses that are mammillate at cone base abaxially; umbo is centrally oriented with a stout, curved, sharp claw.
Seeds are deltoid-obovoid shaped and oblique; with a body measuring 0.24 inch (6 mm) long, colored deep purple-brown to black; with a wing, 0.4 to 0.8 inch (10 - 20 mm) long..
Sapling trees can bear cones in as little as 5 years.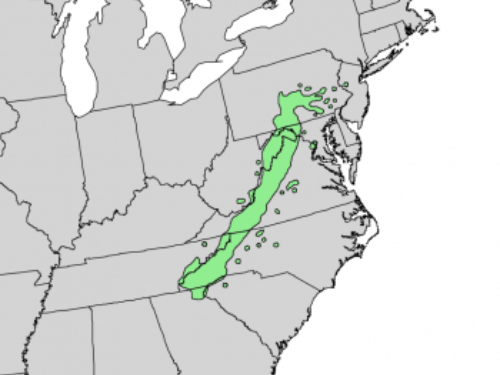 Distribution. This species is native to the central Appalachian Mountains of the United States — Pennsylvania, New Jersey, Delaware, Maryland, Virginia, West Virginia, North Carolina, Tennessee, South Carolina, and Georgia growing at elevations of 1,500 to 4,300 feet (500 - 1,350 m) above sea level, preferring to grow in dry, mostly sandy or shaly uplands.
Hardy to Zone 6 — cold hardiness limit between -10° to 0°F (-23.2° and -17.8°C).
Attribution from: R. Kral, Flora of North America Editorial Committee (editors); Flora of North America North of Mexico, Vol. 2; ©1993, Oxford University Press.