Pinus praetermissa / Mexican scrub pine
subgenus Pinus, section Trifoliae (Duhamel), subsection Australes (Loudon).
Pinus praetermissa, first described in 1990 by B.T. Styles and R. McVaugh in the article, "A Mexican pine promoted to specific status: Pinus praetermissa," published in Contributions from the University of Michigan Herbarium, volume 17, pages: 307-312. It is commonly known as Mexican scrub pine; as well as pino prieto in the Spanish language. This is a very local species of dry lower slopes that was included with Pinus oocarpa until 1990, hence the species name which translates into "overlooked" in the Latin language.
Description. Mexican scrub pine is an evergreen coniferous species of tree that grows to mature heights of 40 to 50 feet (12 - 15 m) with truck up to 12 inches (30 cm) in diameter, measured at breast height; and an open, rounded crown.
Bark is is grayish brown and thin, breaking up into irregular, scaly ridges, separated by shallow furrows.
Branchlets are slender, flexible, colored reddish brown, measuring 0.08 to 0.18 inches (2 - 4.5 mm) thick.
Leaves (needles) are borne in fascicles of 5, measuring 3.2 to 6.4 inches (8 - 16 cm) long, by 0.02 to 0.028 inch (0.5 - 0.7 mm) thick, colored light green, oriented ascending on the branchlets. Needles have minutely serrulate edges and bands of stomata on all faces.
Fascicle sheaths are persistent for the life of the foliage bundle, measuring 0.44 to 0.56 inch (11 - 14 mm) long, colored light reddish brown, graying with age.
Pollen cones measure 0.4 to 0.6 inch (10 - 15 mm) long, colored yellowish brown with a reddish blush.
Immature seed cones "almost exactly simulate those of Pinus oocarpa." They broadly ovoid and short-acute, symmetrical, light brown, smooth or sometimes with protuberant apophyses. Each measures 2.2 to 2.8 inches (5.5 - 7 cm) long on 1.2 to 1.4 inch (3-3.5 cm) long by 0.12 to 0.16 inch (3-4 mm thick) peduncles. Cones opening widely, so about as long as wide.
Cone scales are not crowded toward the base (as in P. oocarpa) but more uniformly spreading-ascending or recurved. Up to circa 25 of the small basal scales remain persistent on the peduncle when the cone falls, leaving a scar up to 1.2 inches (3 cm) across at the base of the cone.
Seed bodies measure 0.2 to 0.24 inch (5 - 6 mm) long.
Seed-wings are clasping and thickened, measuring 0.04 to 0.06 inch (1-1.5 mm) thick above the base.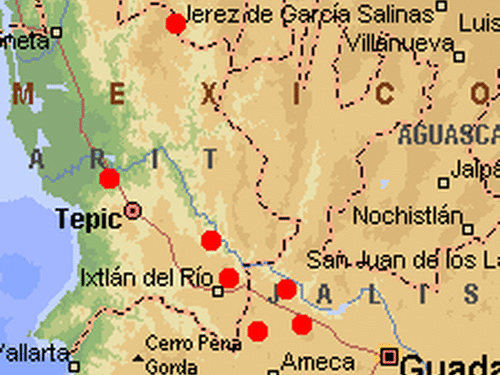 Distribution. This species is native to Mexico — Durango, Jalisco, Nayarit, and Sinaloa, occurring in open, dry pine-oak woodlands or tropical broad-leaved forests, often on rocky slopes at elevations of 3,000 to 9,000 feet (900-1,900 m) above sea level, where the the dry season is from November to May, and annual precipitation varies between 40 and 60 inches (1,000 - 1,500 mm). Associated species include P. devoniana, P. lumholtzii, P. pseudostrobus, and possibly P. oocarpa.
Hardy to USDA Zone 9 — cold hardiness limit between 20° and 30°F (-6.6° and -1.1°C).
Attribution from: B.T. Styles and R. McVaugh; A Mexican pine promoted to specific status: Pinus praetermissa. ©1990 Contr. Univ. Mich. Herb. 17: 307-312.