Pinus ponderosa / ponderosa pine
subgenus Pinus, section Trifoliae (Duhamel), subsection Ponderosae (Louden).
Pinus ponderosa, discovered in 1826 by David Douglas (1798–1834) near Spokane, Washington, USA and described in 1836 by George Lawson (1827–1895) is commonly known as ponderosa pine. Other common names include, yellow, western yellow, bull, Black Jack, western red, western pitch, big, heavy, Sierra brownbark, or western longleaf pine; or as pino real, pinabete in the Spanish language; or pin à bois lourd in French. The species name is derived from the Spanish word for "weighty" as the species produces some of Earth's largest pines.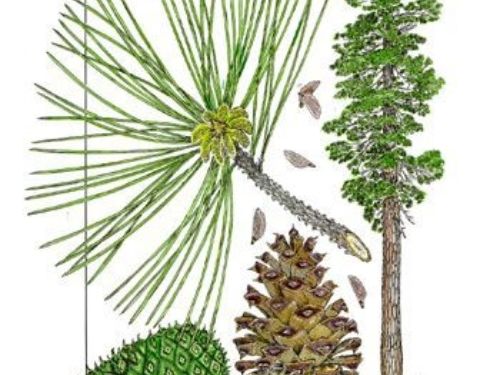 Description. Ponderosa pine is an evergreen coniferous species of tree that will grow to heights of 60 to 125 feet (18 - 39 m) with a straight, 32 to 48 inch (80 - 120 cm) diameter trunk, measured at breast height, and a broadly conic to rounded crown.
Bark is yellow- to red-brown in color, deeply irregularly furrowed, and cross-checked into broadly rectangular, scaly plates.
Branches grow descending to spreading-ascending with stout 0.8 inch (2 cm) thick, rough, orange-brown twigs that age to darker orange-brown.
Buds are ovoid in shape, grow to 0.8 inch (2 cm) long and 0.4 inch (1 cm) broad, red-brown in color, with very resinous, white-fringed scale margins.
Needles grow in bundles of 2 to 5 per fascicle and are spreading to erect in structure, generally persisting 2 to 7 years on the tree. They grow 2.8 to 10 inches (7 to 25 cm) long and 0.048 to 0.08 inch (1.2 - 2 mm) broad, with a slight twist, tufted at twig tips, pliant, and deep yellow-green in color. All surfaces bear evident lines of stomata, serrulate margins, with a narrowly acute or acuminate apex. Fascicles hold a persistent sheath, 0.6 to 1.2 inches (1.5 - 3 cm) long at the base.
Pollen cones ellipsoid-cylindric in shape, 0.6 to 1.4 inch (1.5 - 3.5 cm) long and yellow or red in color.
Seed cones mature in 2 years, shedding seeds soon thereafter, leaving rosettes of scales on branchlets. They occur solitary or rarely in pairs, spreading to reflexed in structure, symmetric to slightly asymmetric in nature, and conic-ovoid in shape before opening. They are broadly ovoid in shape when open, 2 to 6 inches (5 - 15 cm) long, mostly reddish brown in color, sessile to nearly sessile in texture. Scales grow in steep spirals (as compared to Pinus jeffreyi) of 5 to 7 scales per row as viewed from side, those of cones just prior to and after cone fall are spreading and reflexed, thus well separate from adjacent scales; apophyses are dull to lustrous, thickened and variously raised and transversely keeled, with a stout-based spur or prickle.
Seeds are ellipsoid-obovoid in shape with a 0.16 to 0.36 inch (4 - 9 mm) body, brown to yellow-brown in color, often mottled darker with a 0.6 to 1 inch (15 - 25 mm) wing.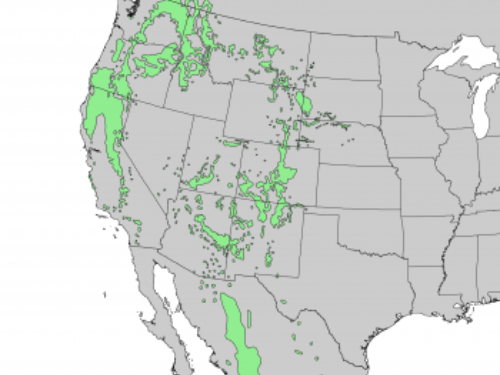 Distribution. This species is native to Canada: southern British Columbia. United States of America — from southwestern North Dakota, south to trans-Pecos Texas and west to southern California; as well as in Mexico — Baja California and Sonora where it grows mostly in the mountains, in pure stands or mixed conifer forests.
Hardy to USDA Zone 4, cold hardiness limit between -30º and -20ºF (-34.3° and -28.9°C).
Attribution from: Elbert L. Little, Jr; The Audubon Society field guide to North American trees; ©1980 Alfred A. Knopf, New York, NY.