Pinus pinceana / Pince piñon pine
subgenus Strobus (Lemmon), section Parrya (Mayr), subsection Rzedowskiae (Carvajal); one from a "primitive" group of piñon pines.
Pinus pinceana, first described in 1858 by George Gordon (1806–1879), is commonly known as Pince piñon pine, or weeping piñon; as well as pino piñonero-llorón in the Spanish language. The species name honors Robert T. Prince (ca. 1804 - 1871), a nurseryman specializing in fuchsias in Devon, United Kingdom; who has no apparent connection to this tree with the exception of it being named after him.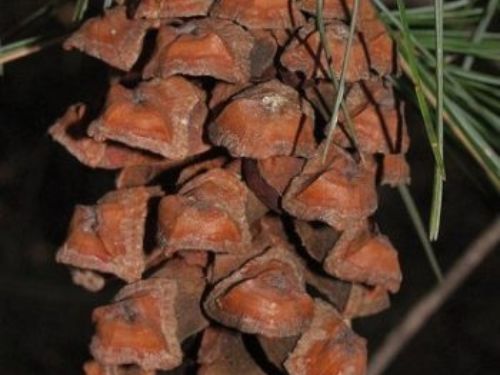 Description. Pince piñon pine is an small, evergreen, coniferous species of tree that grows to mature heights of 35 feet (10 m), though rarely more than 15 to 20 feet (5 - 6 m) tall with a trunk 10 inches (25 cm) in diameter, measured at breast height and a dense, rounded crown.
Bark is smooth, colored pale gray at first, becoming thinly scaly gray-brown at the bases of older trees.
Branching is irregular; branchlets are pendulous.
Leaves (needles ) are stiffly drooping, borne in fascicles of 3, and glossy, soft bright-green in color with inconspicuous bands of stomata. Each needle measures 2.4 to 4.8 inches (6 - 12 cm) and about 0.032 inch (0.8 mm) thick. Seedlings have only juvenile foliage for several years, with nodding white shoots and single, strongly glaucous, 1.2 inch (3 cm) long leaves.
Foliar sheaths are mostly deciduous, but smallest basal sheath scales often persist for the life of the foliar unit.
Seed cones are pendulous on slender peduncles, measuring 0.4 to 1.2 inches (1 - 3 cm) long and 0.12 inch (3 mm) thick; cylindric, 2.4 to 4.4 inches (6 - 11 cm) long, 1.6 to 2 inches (4 - 5 cm) broad, colored green when young, ripening bright orange and opening to 2 to 2.8 inches (5 - 7 cm) broad.
Cone scales are large, polygonal, smooth, and 0.8 to 1 inch (20 - 25 mm) broad. Apophyses are flat to weakly raised, with a flat 0.28 inch (7 mm) wide umbo.
Seeds are large, orange in color, each measuring 0.44 to 0.52 inch (11 - 13 mm) long with a vestigial wing, measuring 0.04 to 0.08 inch (1-2 mm) long, usually remaining attached to the scale when seed is removed. Seeds do not fall naturally from cone, but are dispersed by birds; after seed dispersal the cones fall with or without the peduncle. Cones mature in early November about 18-19 months after pollination.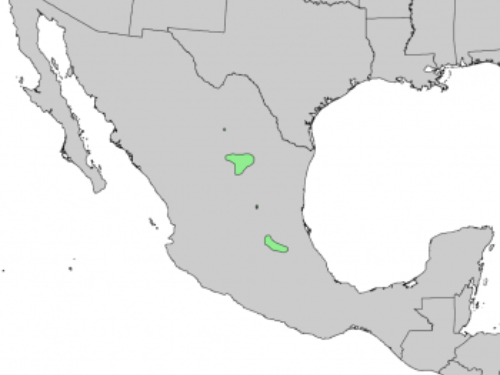 Distribution. This species is native to Mexico — Coahuila, northern Zacatecas, San Luís Potosí, Querétaro and Hidalgo, fouind at elevations of 5,000 to 7,500 feet (1,500 - 2,300 m) above sea level. It is scarce and scattered in its natural habitat, in very open scrubland in very dry areas; usually growing mixed with P. cembroides and mixed xerophytic low scrub vegetation including cacti and agaves.
Hardy to USDA Zone 9 — cold hardiness limit between 20° and 30°F (-6.6° and -1.1°C).
Attribution from: Jesse P. Perry; The Pines of Mexico and Central America; ©1991, Timber Press, Portland, Oregon.