Pinus parviflora / Japanese white pine
subgenus Strobus (Lemmon), section Quinquefoliae (Duhamel), subsection Strobus (Loudon).
Pinus parviflora, first described in 1842 by Philipp Franz von Siebold (1796–1866) et Joseph Gerhard Zuccarini (1790–1848), is commonly known as Japanese white pine; as well as ゴヨウマツ (Hime ko matsu, or Goyo matsu) in the Japanese language. The species is named for its unusually small seed cones; parviflora is Latin for "small flower."
Ethnobotany. It is a common ornamental, and a popular tree for bonsai. It was introduced to England in 1861 by John Gould Veitch and has become quite popular in English gardens.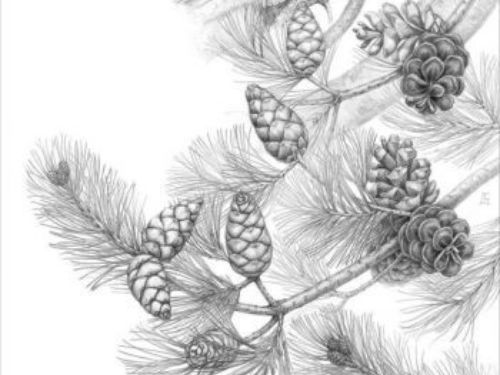 Description. Japanese white pine is an evergreen, coniferous species of tree that grows to mature heights of 80 feet (25 m) with a massive, straight (sometimes split into two or more stems), trunk up to 40 inches (100 cm) in diameter, measured at breast height; and an irregular crown that flattens in old trees.
Bark is smooth and gray when young, aging to a dull gray, rough textured, longitudinally fissured, and peeling off into scales.
Branchlets are gray-green to yellow-brown in color and puberulent (glabrous). The scale leaves are alternate on long shoots and at base of short shoots, colored red-brown, acutely lanceolate, measuring 0.2 to 0.6 inch (5 - 15 mm) long, 0.08 inch (2 mm) wide, and deciduous.
Leaves (needles) borne 5 per fascicle (fascicle sheaths are deciduous in their second year). Each measures 1.2 to 2.4 inches (3 - 6 cm) long and 0.32 inch (0.8 mm) thick, with an acute apex, growing twisted and triangular in transverse section, colored dark green on dorsal face, with the two ventral faces colored pale green from stomatal bands. Foliar units are densely whorled, giving branches a tufted appearance.
Pollen cones are borne in clusters of 20 to 30, crowded on lower part of new shoots. They are cylindric, red-brown in color, meauring 0.2 to 0.24 inch (5 - 6 mm long) and 0.12 inch (3 mm) wide, with numerous stamens.
Seed cones are small for a tree of subgenus Strobus, growing in clusters of 1 to 10, crowded on the upper part of new shoots, ovoid or elliptic-ovoid shapes, maturing at 2.4 to 3.2 inches (6 - 8 cm) long and 1.2 to 1.4 inches (3 - 3.5 cm) wide.
Seed scales are resinous, loosely overlapping at maturity, widely obovate, gradually narrowing to base, measuring 0.8 to 1 inch (2 - 2.5 cm) long, and 0.8 to 0.92 inch (2 - 2.3 cm) wide, with a rounded apex, a blackish spiny boss. The cones persist on the tree for many years.
Seeds are obovoid, blackish in color, 0.32 to 0.4 inch (8 - 10 mm) long, and 0.24 to 0.28 inch (6 - 7 mm) wide. Attached wings are short, 0.12 to 0.28 inch (3 - 7 mm) long by 0.32 inch (8 mm) wide, as long as, or shorter than seed.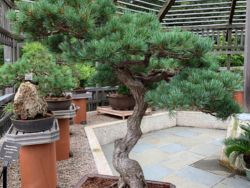 Pinus parviflora has been used in the art of Bonsai for centuries, particularly plants selected with shorter-than-typical needles. The specimen on the left is on display at the Arnold Arboretum, Boston, Massachusetts. It has been in training 1899 and shipped to the U.S. from Japan in 1913 to the Honorable Larz Anderson, who purchased a collection of bonsai while serving as US ambassador to Japan. The entire collection was donated to the Arnold Arboretum; this one was accessioned in July of 1949.
This conifer's origin was Yokohama Nursery Company, Yokohama, Japan via Mr. Larz Anderson, Brookline, MA, United States.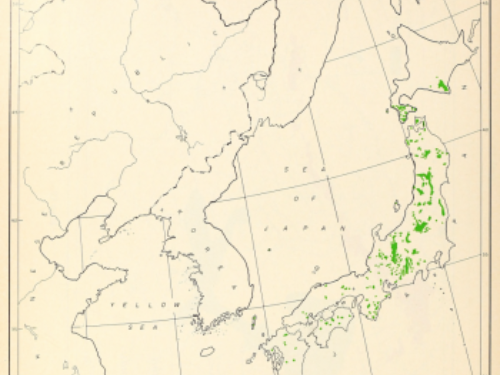 Distribution. This species is native to Korea (Ullung island) and Japan. Type variety is in west-central Honshu (southward from Fukushima Prefecture, mainly on Pacific Ocean side), Shikoku and Kyushu, growing at elevations of 750 to 6,000 feet (200 - 1800 m) above sea level. Var. pentaphylla is in southern Hokkaido and north to central Honshu (in central Honshu mainly on Japan Sea side), growing on sunny rocky slopes at elevations of 200 to 2,500 feet (60 - 800 m) above sea level in Hokkaido, and 1,000 to 8,000 feet (300 - 2500 m) in Honshu. This and P. koraiensis are the characteristic pines of subalpine areas of Japan; these two conifers probably covered much of the Honshu coastal area during the Pleistocene.
Hardy to Zone 5 — cold hardiness limit between -20° and -10°F (-28.8°C and -23.3°C).
Attribution from: K. Iwatsuki, T. Yamazaki, D.E. Boufford, and H. Ohba (editors); Flora of Japan, Volume 1. Pteridophyta and Gymnospermae. ©1995, KodanshaTokyo, Japan.