Pinus nigra / Austrian pine
subgenus Pinus, section, Pinus, subsection Pinus. This is one of the "classic" old-world, 2-needled, hard pines.
Pinus nigra, as described in 1785 by Johann Franz Xaver Arnold (1730 - 1801), in Reise Mariazell, 8th edition, is commonly known as European black pine, Austrian pine, or as Crimean pine; as well as Schwarzkiefer, or Schwarzföhre in the German language; as Cheren Bor in Bulgarian; as Crni Bor in Serbian; and as Karaçam in Turkish. The species name, nigra translates into "black" from the Latin language, describing the very dark colored bark on mature trees.
Ethnobotany. Widely used in Europe and the U.S. as an ornamental, and in forestry for shelterbelts, and for timber production in areas too cold for the faster- growing subsp. salzmannii. Very tolerant of chalk and limestone, and also of urban pollution - perhaps the most pollution-tolerant of any pine.
Description. Austrian pine is an evergreen, coniferous species of tree that grows to mature heights of 80 to 150 feet (25 - 45 m) with a straight trunk up to 40 to 72 inches (1 - 1.8 m) in diameter, measured at breast height; and a broad crown with stout level branches with up-swept tips; dense ovoid-conic when young and becoming rounded to flat-topped with age.
Bark on entire trunk is thick, scaly-plated, gray-brown, to pinkish in color on some very old trees.
Branching is uninodal. Shoots are green at first, becoming orange-buff by the end of the first summer, and are densely leaved.
Foliar buds are ovoid-acuminate shaped, colored red-brownish with whitish fringes to scales, usually with some patchy grey-white resin.
Leaves borne in fascicles of two. They are stout, measuring 2.4 to 6 inches (8 - 15 cm) long, stout, and 0.06 to 0.08 inch (1.5 - 2 mm) thick; dark-green in color, often curved and slightly twisted, with finely serrulate margins. They persist for 4 to 7 years on the tree.
Foliar sheaths are blackish-gray, and 0.4 to 0.6 inch (10 - 15 mm) long.
Male cones are yellow and 0.4 to 0.6 inch (10 - 15 mm) long.
Seed cones measure 2 to 4 inches (5 - 10 cm) long. They are symmetrically conic, nearly so; colored green when young, ripening gray-buff to shiny yellow-buff. Cones mature in October to December, 20 months after pollination, opening ovoid-conic from February to April, and falling soon after seed shed or a year or two later.
Seed scales are rounded, flat to protuberant, with a transverse ridge and a minutely mucronate dorsal umbo.
Seeds are dark gray in color, 0.2 to 0.24 inch (5 - 6 mm), with a 0.6 to 0.88 inch (15 - 22 mm) wing.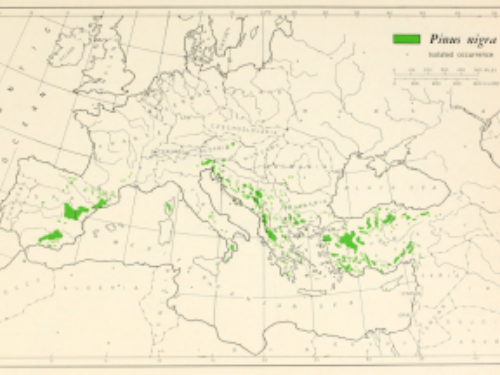 Distribution. This species is native to the mountains of the northeastern Mediterranean region. Its constituent varieties are distributed as follows:
Var. nigra occurs in Austria, Romania, Slovenia, Croatia, Yugoslavia, Macedonia, Albania and Bulgaria, at low to moderate elevations 650 to 5,000 feet (200 - 1200 m) above sea level, in southeast European continental climates with some summer rainfall; intergrading with var. caramanica in the south.
Var. caramanica occurs in Greece, Turkey (southern or possibly all), and Cyprus, at moderate to high elevations of 2,500 to 6,500 feet (800 - 2000 m) above sea level in strictly Mediterranean climates with no summer rainfall.
Var. pallasiana occurs in the Crimea and the Black Sea coast of the Caucasus, at low to moderate elevations of 650 to 5,000 feet (200 - 1200 m), with some summer rainfall; northern Turkish populations may belong here.
The species is also naturalized in Canada — Alberta, British Columbia, Ontario, and Québec; as well as USA — Illinois, Maine, Massachusetts, Michigan, Missouri, New Jersey, New York, Ohio, and Pennsylvania.
Hardy to Zone 5 — cold hardiness limit between -20° and -10°F (-28.8°C and -23.3°C).
Attribution from: M. Vidakovic; Genetics of European Black Pine (Pinus nigra Arnold); ©1974, Annales Forestales 6/3: 57-86.