Pinus monticola / western white pine
subgenus Strobus (Lemmon), section Quinquefoliae (Duhamel), subsection Strobus (Loudon).
Pinus monticola, as partially described by David Douglas (1798–1834) and completed by David Don (1799–1841) in Description of the genus Pinus, 2nd edition by A.B. Lambert in 1828 is commonly known as western white pine; silver, soft, fingercone, mountain, Idaho, or little sugar pine; and as pin argenté in the Spanish language. The epithet, "monticola" translates into "living in the mountains" in the Latin language. It is the most prevalent 5-needled pine of Western America.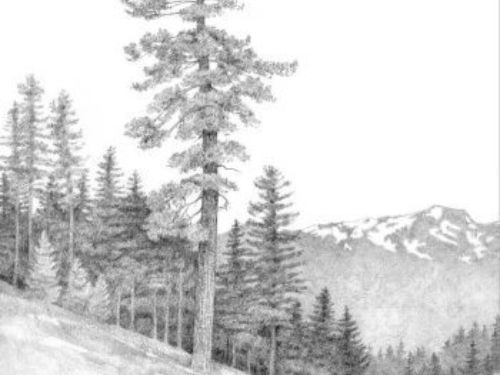 Description. Western white pine is an evergreen coniferous species of tree that grows to mature heights of 100 feet (30 m) tall and with a straight trunk up to 3 feet (100 cm) in diameter at breast height, with a narrowly conic crown that becomes broad and flattened with age.
Bark is gray, thin, and smooth, becoming furrowed into distinctive rectangular to hexagonal scaly plates in older individuals.
Branches are whorled, spreading-ascending; twigs slender, pale red-brown, aging purple-brown or gray, smooth.
Buds are ellipsoid or cylindric in shape, rust-colored, 0.16 to 0.2 inch (0.4 - 0.5 cm) in diameter and slightly resinous.
Needles are borne in fascicles of 5, spreading to ascending, persisting 3-4 years on the branch. They are 1.6 to 4 inches (4 - 10 cm) long and 0.04 inch (1 mm) broad, growing straight or slightly twisted, pliant, Blue-green in color, without evident stomatal lines. Needles are shed early in the season.
Pollen cones are ellipsoid in shape, 0.4 to 0.6 inch (10 - 15 mm) long and yellow in color.
Seed cones mature in 2 years, shedding seeds and falling soon thereafter. They grow clustered and pendent on the tree. Their shape is symmetric, lance-cylindric to ellipsoid-cylindric before opening, broadly lanceoloid to ellipsoid-cylindric when open. Their size is 4 to 5 inches (10 - 25 cm) long, creamy brown to yellowish in color, without any purple or gray tints.
Seeds are compressed, broadly obovoid-deltoid shaped with a 0.2 to 0.28 inch (5 - 7 mm) -long; body, red-brown in color with a 0.8 to 1 inch (2 - 2.5 cm) long wing .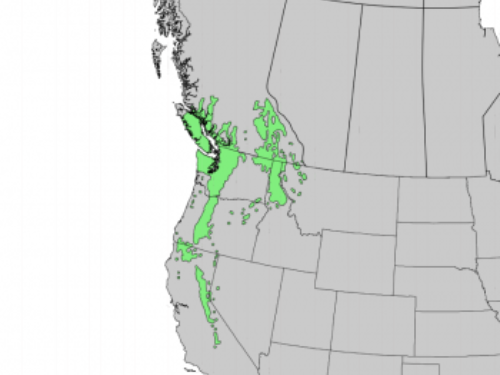 Distribution. This species is native to Western USA: Washington, Montana, Idaho, Nevada, Oregon, California; and Canada: Alberta, British Columbia at elevations of 3,200 feet (1,000 m) above sea level in the north, and at 6,000 to 10,000 feet (1,900 - 3,000 m) in the south. Its natural habitat is in lowland fog forests or on moist mountain soils, occasionally in forested bogs. Usually in mixed conifer forests, occasionally in pure stands.
Hardy to USDA Zone 4, cold hardiness limit between -30º and -20ºF (-34.3° -28.9°C).