Pinus montezumae / Montezuma pine
subgenus Pinus, section Trifoliae (Duhamel), subsection Ponderosae (Louden).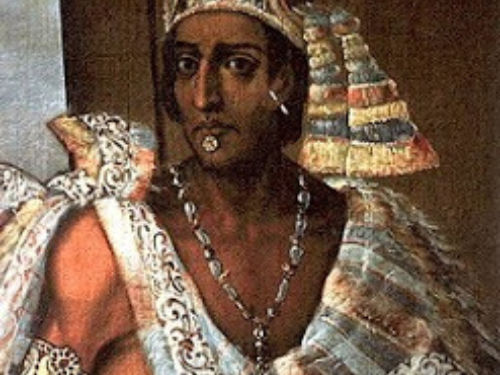 Pinus montezumae, first described in 1832 by Aylmer Bourke Lambert (1761–1842), is commonly known as Montezuma pine; as well as Ocote hembra in the Spanish language. The species name honors Motecuhzoma Xocoyotzin ("Montezuma," 1368 - 1420), the Aztec emperor who first encountered the Spanish conquistadors.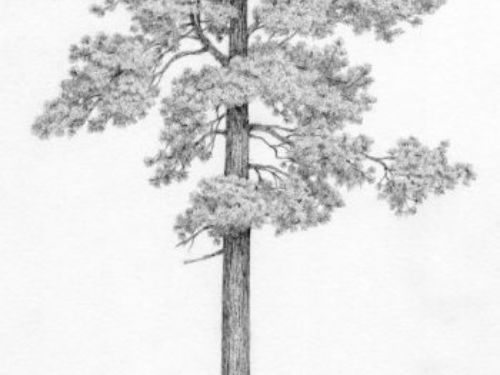 Description. Montezuma pine is an evergreen coniferous species of tree that grows to mature heights of 75 to 120 feet (20 - 35 m) with a trunk up to 20 to 32 inches (50 - 80 cm) in diameter, measured at breast height; occasionally it may reach a height of 135 feet (40 m) with a 40-inch (1 m) trunk diameter. The branches are large, mostly horizontal, forming a thick, rounded crown. Young trees have a dense pyramidal crown.
Bark on mature trees is thick, dark grayish brown in color, divided by deep vertical and horizontal fissures into rough, scaly plates. In young trees the bark is reddish brown, rough and scaly.
Branchlets are thick, stiff, scaly and rough; colored reddish brown; bases of the leaf bracts are prominent and decurrent.
Leaves (needles) are mostly borne in fascicles of 5, occasionally 4 or 6, variable from thick and erect to slender and slightly drooping. Each measuring 6 to 10 inches (15 - 25 cm) long, occasionally to 12 inches (30 cm). The needle margins are finely serrate with stomata present on the dorsal and ventral surfaces. Fascicle sheaths are brown in color, about 0.6 inch (15 mm) long and persistent for the life of the foliar bundle.
Conelets are ovoid-conical shape, with thick scales, bearing a small erect prickle. They are borne in groups of 2 or 3 on stiff, scaly, erect peduncles.
Seed cones like the leaves, cones are also variable, from long-ovoid to ovoid or conoid. They are usually slightly curved, measuring 4.8 to 6 inches (12 - 15 cm) long and 2.8 to 4 inches (7 - 10 cm) wide when open. Cone color is light brown and often lustrous; they are borne in groups of 2 and 3 on short (about 0.4 inch/10 mm), stout peduncles that remain attached to the branchlet with a few basal cone scales when the cone falls. The cones open at maturity (during the winter months) and are deciduous.
Cone scales are thick, hard, stiff; the apophyses raised to sub-pyramidal, and transversely keeled; the umbo dorsal, slightly raised, colored grayish brown, bearing a small prickle that is usually deciduous.
Seeds are small, dark brown in color, 0.24 to 0.28 inch (6 - 7 mm) long with an articulate seed wing about 0.8 inch (20 mm) long and 0.28 inch (7 mm) wide.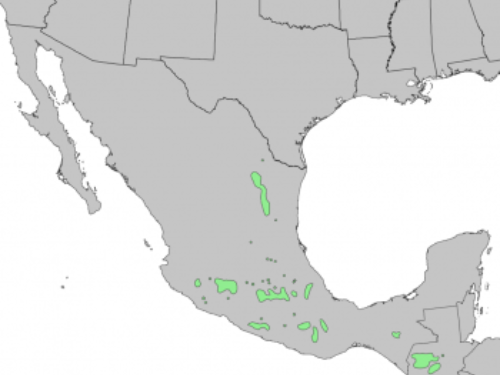 Distribution. This species is native to Mexico — Nuevo León, Coahuila, Tamaulipas, Hidalgo, Tlaxcala, Puebla, Veracruz, Mexico, Morelos, Distrito Federal, Michoacán, Jalisco, Guerrero, Oaxaca and Chiapas; and Guatemala — departments of Huehuetenango, Quiché, San Marcos, Quezaltenango, Totonicapán, Sololá, Chimaltenango, Guatemala and Jalapa. This distribution places it in the mountains of the Great Cross Range, with extensions north along the Sierra Madre Oriental and south into Guatemala.
P. montezumae grows under a variety of conditions ranging from warm-temperate to cold-temperate and altitudes from 6,600 feet (2,000 m) (rarely less) to 10,500 (3,200 m) above sea level. Annual rainfall over its range also varies from 32 to 50 inches (800 to 1,000 mm) or more. At the higher altitudes snow, sleet and frosts occur during the winter months, while most of the rain occurs during June to September. The species attains its best development on well-drained soils of the high mesas and lower slopes of the mountains. Although it also grows on dry to arid sites, under those conditions growth is slow and the trees are often low and very well-branched
Hardy to USDA Zone 9 — cold hardiness limit between 20° and 30°F (-6.6° and -1.1°C).
Attribution from: Jesse P. Perry; The pines of Mexico and Central America; ©1991, Timber Press, Portland, OR.