Pinus monophylla / singleleaf Piñon pine
subgenus Strobus (Lemmon), section Quinquefoliae (Duhamel), subsection Cembroides (Engelmann).
Pinus monophylla, as described in 1845 by John Torrey (1796 - 1873) and John C. Frémont (1813 – 1890), is commonly known as singleleaf piñon (pinyon) pine.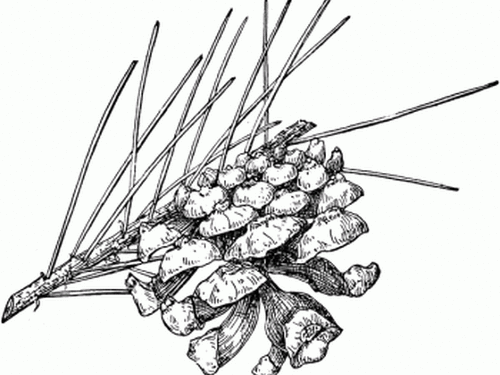 Description. Singleleaf piñon pine is an evergreen coniferous species of tree that grows to mature heights of 15 to 30 feet (5 - 10 m); with a strongly tapered trunk up to 18 inches (45 cm) in diameter, measured at breast height; and a much-branched crown that is typically rounded and dense.
Bark is red-brown, irregularly furrowed or cross-checked, and scaly.
Branches are spreading and ascending, persistent to near the base of the trunk; twigs are stout, colored orange-brown, aging brown to gray, sometimes sparsely puberulent.
Leaves (needles) are borne in bundles of 1 (rarely 2) per fascicle, ascending, normally persisting for 4 to 6 and up to 10 years. Each measures 0.8 to 2.4 inches (2 - 6 cm) long and 0.052 to 0.1 inch (1.3 - 2.5 mm) thick, stout, curved, gray-green in color with stomatal lines over all surfaces.
Pollen cones are ellipsoid in shape, circa 0.4 inch (10 mm) long and yellow in color.
Seed cones mature 2 years after pollination, shedding seeds and falling soon thereafter. Cones are spreading, symmetrically ovoid before opening, broadly depressed-ovoid to nearly globose when open. They measure 1.6 to 3.2 inches (4 - 8 cm) long and are pale yellow-brown in color. As with other piñons, the seeds rest in a deep cone-scale declivity and upper cone scale tissue holds the seeds in place, so seeds do not readily fall out and are readily available to avian dispersers.
Seeds are cylindric-ellipsoid shaped, with bodies are 0.6 to 0.8 inch (15 - 20 mm) long, colored gray-brown to brown in color. They are wingless and edible.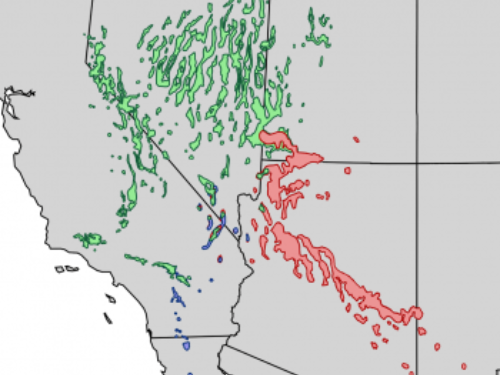 Distribution. This species is native to U.S.A.— the desert southwest where it is fairly widespread and easy to find in the wild. Because it is fairly tolerant of wet climates Pinus monophylla can also be found in arboreta and gardens worldwide. Singleleaf piñon is the state tree of Nevada and is the only-known single-needled pine.
Hardy to USDA Zone 6 cold hardiness limit between -10° and 0°F (-23.2° and -17.8°C).
Attribution from: R. Kral, Flora of North America Editorial Committee (editors); Flora of North America North of Mexico, Vol. 2; ©1993, Oxford University Press.