Pinus merkusii / Sumatran pine
subgenus Pinus, section, Pinus, subsection Pinus. This is one of the "classic" old-world, 2-needled, hard pines.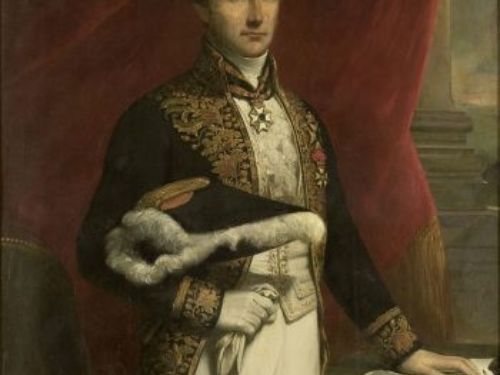 Pinus merkusii, first described in 1845 by (Friedrich) Franz Wilhelm Junghuhn (1809–1864), et Willem Hendrik de Vriese (1806–1862), is commonly known as Sumatran pine; as well as Thông nhua or Thông hai lá in the Vietnamese language; and Tusam Sumatera in Indonesian. The species name honors Pieter Merkus (1787 – 1844), the colonial governor of the Dutch East Indies at the time it was described.
Ethnobotany. According to the Forest Inventory and Planning Institute, the wood is heavy (density of 0.88 to 0.96). It is used in construction, matches, paper pulp, common furniture, pit props, electronic poles, ships and vehicle-building. There is a high content of resin, each tree giving 6.5 to 9 pounds (3 - 4 kg) of resin per year; this is a precious raw material used in medicine, paints, printing, and the perfume industry.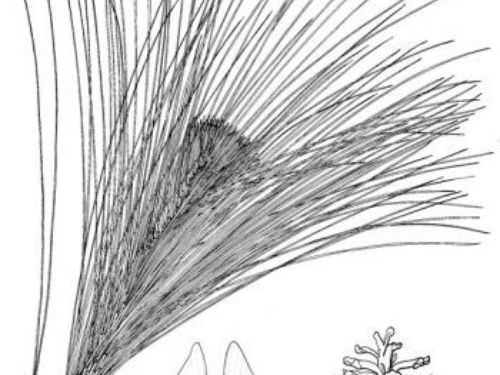 Description. Sumatran pine is an evergreen, coniferous species of tree that grows to mature heights of 100 to 165 feet (30 - 50 m) with and a straight trunk up to 24 to 32 inches (60 - 80 cm) in diameter, measured at breast height. Branches grow level to upcurved and the tree's crown is open, changing from conical to rounded as the tree ages.
Bark is thick, rough, gray-brown or reddish-brown in color, deeply fissured, forming small rounded plates on the lower part of the trunk; thin and flaky in upper crown; all bark is thin on trees growing at higher altitudes (i.e. Tapanuli provence, Sumatra) where grass fires are infrequent.
Branches are mostly multinodal. First-year branches are brownish and glabrous.
Leaves (needles) are dark green in color, borne 2 per fascicle, measuring 6 to 10 inches (15 - 25 cm) long. Each needle is slender, rigid, and persist 2 years on the tree; foliar sheaths are persistent for the life of the foliar unit.
Seed cones are borne singly or in pairs with short peduncles. Single cones measure 1.8 to 3.6 inches (4.5 - 9 cm) long, with a rounded base, colored green when young, ripening orange-brown, maturing 2 years after pollination. Scales of the first year cone are spineless. Mature cones are cylindrical or long-ovate shaped, with peduncle about 0.4 inch (1cm) long.
Seed scales are rhomboid in outline, with a thick, glossy, sometimes furrowed apophysis, a prominent transverse keel, and a slightly concave umbo.
Seeds are small, ovate, and slightly flat; bearing a thin wing, 0.6 inch (7.5 mm) long. Seed body plus wing measures 0.6 to 0.8 inch (15 - 20 mm) long.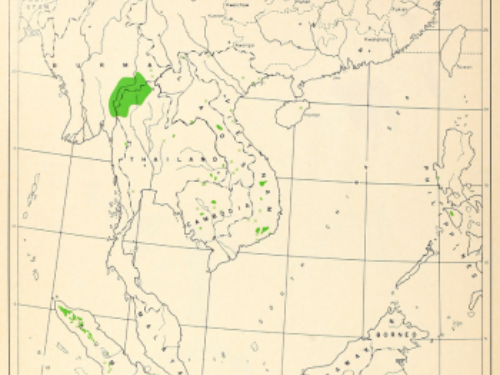 Distribution. This species is native to Vietnam, Laos, Cambodia, Philippines, Malaysia and Indonesia. In Malesia, it is found in norther and central Sumatra, and in the Philippines, on Mindoro island. and Zambales province, Luzon island. In Vietnam it is found in large stands or in small groups at Lai Chau, Son La, Lang Son, Bac Thai, Ha Bac, Quang Ninh, Thanh Hoa, Nghe An, Ha Tinh, Quang Binh and Thua Thien Hue provinces, but mainly in Kon Tum and Lam Dong provinces. It has the most southerly distribution of any pine and is the only pine occurring south of the Equator, to 2.10°S in the Barisian Range of Sumatra. It is found at elevations of 2,600 to 6,500 feet (800 - 2,000 m) above sea level, usually in open, savannah-like areas that are frequently burned by native peoples, but also in tropical broadleaf forest.
According to the Forest Inventory and Planning Institute, this is a light-demanding, heat- and drought-tolerant tree, growing well on sandy and red soils. In northern Vietnam, this species is one of the principal tree species planted on bare or bushy hills, having the function of protecting against erosion and land-deformation. Young trees are slow-growing during the first five years, later rather fast-growing. From 15 years onward, the resin can be harvested. Natural regeneration is good, especially on open lands.
Hardy to USDA Zone 10 — cold hardiness limit between 30° and 40°F (-1° and +4.4°C).