Pinus luchuensis / Luchu pine
subgenus Pinus, section, Pinus, subsection Pinus. This is one of the "classic" old-world, 2-needled, hard pines.
Pinus luchuensis, was first described in 1894 by H. Mayr in Über die Kiefern des japanischen Reiches. © Beihefte zum Botanischen Centralblatt vol. 58. It is commonly known as Luchu pine, or Ryukyu Island pine; as well as リュウキュウマツ in the Japanese language. This is the dominant pine in Japan's Ryuku islands, which are locally known as the Luchu islands, hence the species and common names.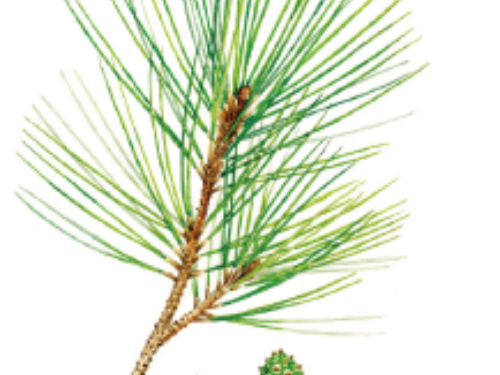 Description. Luchu pine is an evergreen coniferous species of tree that grows to mature heights of 50 to 80 feet (15 - 25 m); with a trunk up to 40 inches (1 m) in diameter, measured at breast height; and a flat-topped, open crown with numerous long, slender, upwardly angled branches, heavily clothed with foliage at the tips.
Bark is gray, almost perpetually smooth, eventually beginning to flake while darkening to grayish black, breaking up into irregular plates.
Twigs are colored yellowish brown with tufts of tiny hears, rough with the bases of scale leaves.
Foliar buds are 0.4 to 0.8 inch (1 - 2 cm) long, colored reddish brown and resinous.
Leaves (needles) are borne in fascicles of 2, each measuring 4.8 to 7.2 inches (12 - 16 cm) long, slender, stiff and straight and are retained for 2 to 3 years on the tree. Individual needles are dark green in color with lines of stomata on both faces.
Foliar sheaths measure 0.4 to 0.6 inch (10 - 15 mm) long, weathering to 0.2 to 0.4 inch (5 - 10 mm), persisting for the life of the foliar bundle.
Pollen cones are borne densely crowded at the shoot tips, measure 0.48 to 0.8 inch (12 - 20 mm) long and are reddish brown in color.
Seed cones measure 1.2 to 1.6 inches (3 - 4 cm) long. They are ovoid shaped, comprised of 60 to 80 seed scales, colored green when young, maturing to dull, yellowish brown. They persist for some time on the tree before falling along with their 0.4 inch (1 cm) long peduncle.
Seed scales are paddle-shaped with a irregularly fan-shaped, flat exposed face, crossed by a low ridge, topped by a small, slightly protruding umbo.
Seeds measure 0.12 to 0.16 inch (3 - 4 mm) long with an easily detachable wing, 0.36 to 0.48 inch (9 - 12 mm) long.
P. luchuensis
, when compared to
P. taiwanensis
, has longer needles, 4.8 to 7.2 inches (12 - 16 cm) versus 3.2 to 4.4 inches (8 - 11 cm), fewer resin ducts (2 to 3 versus 4 to 7); shorter cones, 1.6 to 2 inches (4 - 5 cm) versus 2.4 to 2.8 inches (6 - 7 cm); thinner bark; and different inner bark coloration (pale yellow-white vs. pale red-white).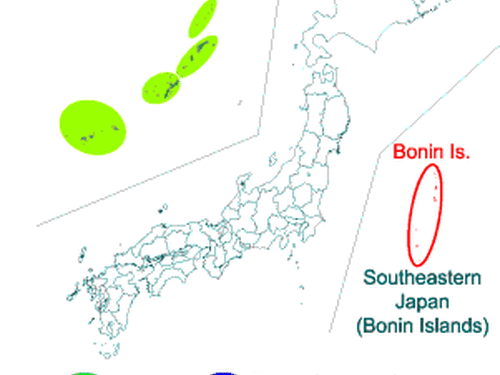 Distribution. This species is native to Japan — Okinawa and Ryukyu Island, growing near sea level, in habitats ranging from large pure stands to broadleaf-conifer forest to subalpine meadow.
Hardy to USDA Zone 9 — cold hardiness limit between 20° and 30°F (-6.6° and -1.1°C).
Attribution from: James E. Eckenwalder; Conifers of the World; ©2009, Timber Press, Portland, Oregon.