Pinus koraiensis / Korean pine
subgenus Strobus (Lemmon), section Quinquefoliae (Duhamel), subsection Strobus (Loudon).
Pinus koraiensis, as described in 1842 by Philipp Franz von Siebold (1796–1866) and Joseph Gerhard Zuccarini (1790–1848) in Flora Japonica, 2nd edition, is commonly known as Korean pine; as well as 잣나무 (jasnamu / pine tree) in the Korean language; as チョウセンゴヨウ (Chosen goyo, Chosen-matsu) in Japanese; as 红松 (Hóng sōng) in Chinese; and as Корейский кедр (Koreyskiy kedr) in Russian. Its seeds are extensively harvested and sold as pine nuts, particularly in northeastern China; it is the most widely traded pine nut in international commerce. The nut oil contains 11.5% of the unusual fatty acid pinolenic acid.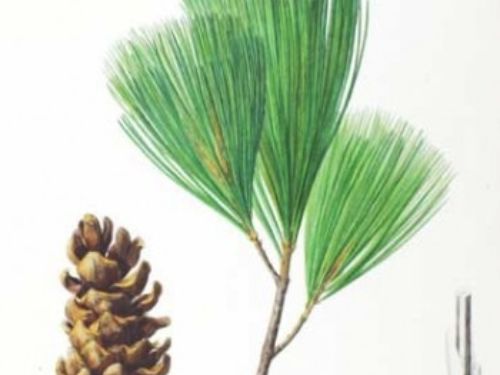 Description. Korean pine is an evergreen, coniferous species of tree which grows to mature heights of 100 feet (30 m) tall with a trunk up to 60 inches (150 cm) in diameter at breast height.
Bark is gray-brown and smooth, becoming gray-black, scaly, and peeling on larger trees.
Shoots are red-brown, and densely puberulent.
Needles are borne in fascicles of 5 at the end of a short shoot, 2.5 to 5 inches (6 - 13 cm) long and 0.06 inch (1 mm) wide, triangular in transverse section, dark green on outer face, with two inner faces that are whitish green with stomata.
Pollen cones are ellipsoid in shape and develop crowded at base of new shoots.
Seed cones are crowded near the ends of new shoots in groups of 1 to 5; conelets are green in color and ovoid in shape. They develop on a short peduncle and are green in color ovoid or cylindrical-ovoid in shape, 3.5 to 4.5 inches (9 - 11 cm) long and 2 to 2.5 inches (5 - 6 cm) broad with woody scales.
Seeds are large, thickly triangular-obovoid in shape, wingless, and circa 0.9 inch (15 mm) long, 0.6 inch (10 mm) across, and 0.4 inch (7 mm) thick. Trees flower in May, with cones maturing in October of the following year.
Distribution. This species is native to northeastern Korea and Japan — central Honshu island southward from Tochigi prefecture and northward from Gifu prefecture and Shikoku island — the Ussuri River basin; to China — Heilongjiang and Russia. It's native habitat is in subalpine forests at elevations of 4,200 to 8,000 feet (1,300 - 2,500 m) above sea level.
Hardy to USDA Zone 3 — cold hardiness limit between -40° and -30°F (-39.9° and -34.4°C).
Attribution from: Iwatsuki K., Yamazaki T., Boufford, D.E., and Ohba H. (eds.). 1995. Flora of Japan, Volume 1. Pteridophyta and Gymnospermae. Tokyo, Japan: Kodansha. Pp. xv and 263-288.