Pinus kesiya / Khasi pine
subgenus Pinus, section, Pinus, subsection Pinus. This is one of the "classic" old-world, 2-needled, hard pines.
Pinus kesiya, first described in 1840 by John Forbes Royle (1798–1858) ex George Gordon (1806–1879), is commonly known as Khasi pine, as well as Thông ba lá in the Vietnamese language; as well as 思茅松 (ka xi song) in Chinese. The species and common names are derived from the Khasi Hills of Meghalaya state in India, at the northernmost limit of this pine's natural range.
Ethnobotany. According to Forest Inventory and Planning Institute, its timber is soft and light and can be used for housing implements, boxes, matches, paper pulp and temporary electric poles. Resin good but not abundant, therefore not yet much exploited. In the Philippines, the resin provided an important commercial source of turpentine during the Spanish colonial period.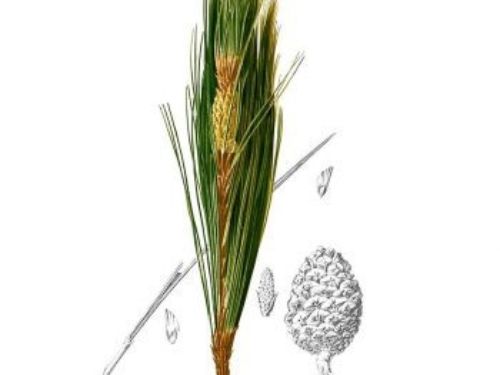 Description. Khasi pine is an evergreen coniferous species of tree that grows to mature heights of 100 feet (30 m); with a staight, cylindrical trunk up to 3 feet (1 m) wide, measured at breast height; and an open, narrowly dome-shaped crown that flattens with age.
Bark is thick, reddish brown to grayish brown in color with reddish highlights. With age, breaking up into interrupted, plate-like ridges, separated by narrow, deep furrows.
Twigs are yellowish brown to rich, bright-brown, hairless, and rough with the bases of scale leaves until they peel away in their second or third year.
Foliar buds are 0.6 to 0.8 inch (15 - 20 mm) long, and not resinous.
Leaves (needles) are borne in bundles of 3 (sometimes 2 or 4), each measuring 4.8 to 8.8 inches (12 - 22 cm) long, very slender and flexible, retained on the tree for 2 years, colored light- to grayish green. Fascicle sheaths measure 0.32 to 0.56 inch (8 - 18 mm) long, weathering to 0.2 to 0.4 inch (5 - 10 mm), persisting for the life of the foliar bundle.
Pollen cones are borne densely crowded and are 1 to 1.2 inches (25 - 30 mm) long and yellowish brown in color.
Seed cones are ovoid, symmetrical to slightly asymmetrical, measuring 2 to 3 inches (5 - 7.5 cm) long and comprised of 55 to 110 seed scales. They are colored green when young, ripening medium brown, opening widely to shed seed, then persist several years before falling with a 0.4 inch (1 cm) attached peduncle.
Seed scales are paddle shaped; the exposed face horizontally diamond-shaped, distinctly projecting, crossed by a strong ridge, topped by a large, low umbo bearing a fragile, blunt prickle.
Seeds are 0.2 to 0.24 inch (5 - 6 mm) long, with an easily detached wing that measures 0.48 to 0.64 inch (12 - 16 mm) long.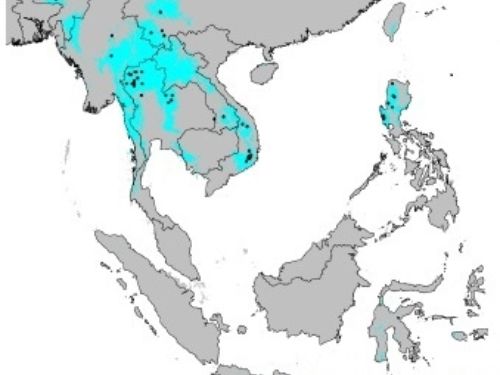 Distribution. This species is native to India; Thailand; Myanmar; Laos; in China — Xizang, and Yunnan provinces; in Vietnam — Lai Chau, Lang Son, Cao Bang, and Quang Ninh; and in Philippines. Usually grows pure stands or mixed with broad-leaved trees, but does not form open pine forests. It is shade intolerant. Native climate is wet, subtropical, with a distinct dry and rainy season, humidity not less than 70%. Can grow on poor soils if well-drained. Natural regeneration strongest on mineral soils.
In the Philippines, it is the dominant species of the Luzon Tropical Pine Forests. This very wet area with over 100 inches (2,500 mm) of rain per year. Nonetheless has a November-April dry season during which fire is common, maintaining pine dominance in the forest.
Hardy to USDA Zone 9 — cold hardiness limit between 20° and 30°F (-6.6° and -1.1°C).
Attribution from: James E. Eckenwalder; Conifers of the World; ©2009, Timber Press, Portland, Oregon.