Pinus jeffreyi / Jeffrey pine
subgenus Pinus, section Trifoliae (Duhamel), subsection Ponderosae (Louden).
Pinus jefferyi, first described in 1853 by Robert Kaye Greville (1794–1866) and John Hutton Balfour (1808–1884) in Andrew Dickson Murray (1812–1878), is commonly know as Jeffrey pine as well as bull, western black, Truckee or sapwood pine. The species name honors Scottish gardener, John Jeffrey (1826 - 1854), who collected the type specimen in California's Shasta Valley, for the Oregon Botanical Association in Edinburgh, before he disappeared in Arizona.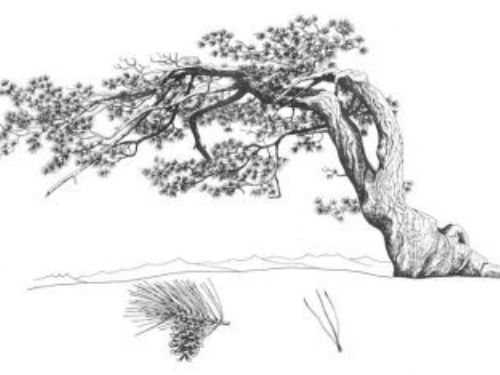 Description. Jeffrey pine is an evergreen coniferous species of tree that grows to mature heights of 80 to 120 feet (24 - 39 m) tall with a straight trunk up to 24 to 48 inches (60 - 120 cm) in diameter, measured at breast height; and conic to rounded crown.
Bark is colored yellow-brown to cinnamon, thick, deeply furrowed and cross-checked, forming large irregular scaly plates, with odor of lemon and vanilla during the growing season.
Branches grow spreading-ascending; twigs are stout, to 0.8 inch (2 cm), colored purple-brown, often glaucous, aging rough.
Foliar buds are ovoid shaped, colored tan to pale red-brown, 0.8 to 0.12 inch (2 - 3 cm) long, not resinous, with conspicuously fringed scale margins.
Leaves (needles) grow in bundles of 3 per fascicle, spreading and ascending from their point of origin, persisting 4 to 6 years on the tree. The needles measure 4.8 to 8.8 inches (12 - 22 cm) long by circa 0.06 to 0.08 inch (1.5 - 2 mm) thick, grow slightly twisted, colored gray- to yellow-green. All surfaces bear fine stomatal lines, finely serrulate margins, and acute to acuminate apices. Foliar sheaths measure 0.06 to 0.1 inch (1.5 - 2.5 cm) with a persistent base.
Pollen cones are lance-cylindric shaped, 0.8 to 1.4 inches (20 - 35 mm) long, colored yellow to yellow- or purple-brown or yellow.
Seed cones mature 2 years after pollination, shedding seeds and falling soon thereafter. They are borne nearly terminal on the branch, spreading, slightly asymmetric at base, ovoid-conic before opening, cylindro-ovoid when open. They measure 6 to 12 inches (15 - 30 cm) long, colored light red-brown, nearly sessile or on peduncles up to 0.2 inch (0.5 cm) long. Abaxial surface of scales are not darker than, or sharply contrasting in color with adaxial surface, developing in low spirals (as compared to Pinus ponderosa) of 8 scales or more per row as viewed from side, those of cones just prior to and after cone fall not so spreading and deflexed, thus not so much separated from adjacent scales. Apophyses are slightly thickened and raised, not keeled; umbo is central, slightly raised, with a short, slender, reflexed prickle.
Seeds are ellipsoid-obovoid with a circa 0.4 inch (1 cm) long body, colored brown or gray-brown, mottled darker with a wing up to 1 inch (2.5 cm) long.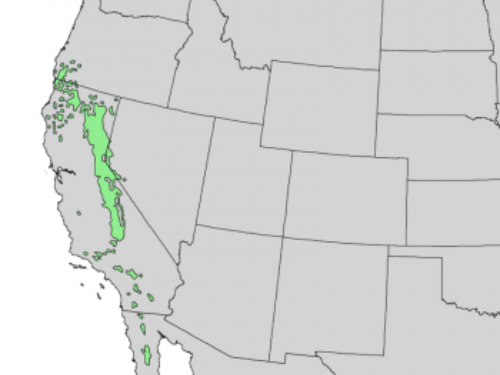 Distribution. This species is native to USA — southwestern Oregon, south through the Klamath Mountains and Sierra Nevada of California and far western Nevada, south into Mexico — northern Baja California Norte, growing at elevations of 6,500 to 11,000 feet (2,000 - 3,100 m) on dry mountain slopes. It is characteristic species of serpentine and other nutrient-poor soils, environments in which it grows slowly but out-competes other trees.
Hardy to USDA Zone 8 — cold hardiness limit between 10 to 20ºF (-12.1°C to -6.7°C).
Attribution from: Elbert L Little Jr; The Audubon Society field guide to North American trees; ©1980, Alfred A. Knopf, New York.