Pinus hwangshanensis / Huangshan pine
subgenus Pinus, section, Pinus, subsection Pinus. This is one of the "classic" old-world, 2-needled, hard pines.
Pinus hwangshanensis, first described in 1936 by W.Y. Hsia, is commonly known as Huangshan pine, as well as 黄山松 (huangshan song) in the Chinese language. Variant spellings of "Huangshan" occur; it means "Yellow Mountains," which are in Anhui, where the species was first described.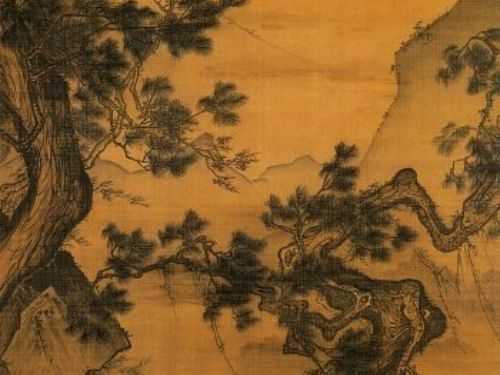 Description. Huangshan pine is an evergreen, coniferous species of tree that grows to mature heights of 80 to 100 feet (25 - 35 m) with a straight trunk and level branches with dense upcurved branchlets, old trees develop a flattened crown.
Bark is dark- or purple-gray in color, scaly, and longitudinally fissured.
Branches are gray-brown, rough, and scaly.
Shoots are chestnut-brown to dark brown in color, glabrous, with prominent scale-leaf bases.
Foliar buds are ovoid-acute shaped, colored chestnut-brown (not whitish as in P. thunbergii), slightly resinous, with adpressed scales.
Leaves (needles) grow in bundles of 2 per fascicle, measure 2 to 3.2 inches (5 - 8 cm) long by 0.32 to 0.4 inch (0.8 - 1 mm) wide, colored dark-green, persisting 3-4 years on the tree. Needles are acute and scabrous with minute marginal teeth; resin canals at the medial aspect (as in P. thunbergii).
Foliar sheaths are persistent, (0.4 inch (1 cm) long and chestnut-brown colored.
Seed cones are subsessile to the branch, broadly squat-ovoid shaped, measure 1.6 to 2.6 inches (4 - 6.5 cm) long, yellow-brown in color, opening when mature in late winter to 2 to 2.8 inches (5 - 7 cm) broad, often long persistent on the tree after opening.
Cone scales are 0.72 to 1.2 inches (18 - 30 mm) long by 0.4 to 0.72 inch (10 - 18 mm) wide at the base narrowing to 0.32 to 0.56 inch (8 - 14 mm) wide just below apophysis, then slightly wider again, to 0.4 to 0.6 inch (10 - 15 mm), at the apophysis. Scale stems are blackish to dark purple-brown on upper side, mid brown on seed side. Apophyses are lustrous yellow-brown, rounded, slightly swollen, with the small mucronate umbo often slightly recessed (particularly on basal scales). On open cones, scales open very widely, to 90° or even reflexed — an unusual feature in subsection Pinus.
Seeds are dark brown, ovoid shaped, 0.24 inch (6 mm) long, with an articulate wing 0.48 to 0.72 inch (12 - 18 mm) long and 0.16 to 0.24 to (4 - 6 mm) broad.
It resembles
Pinus thunbergii
closely in form and many foliage, bark and cone characters, differing most obviously in its brown buds, slightly slenderer needles and squat, broader cones. It is also similar to
P. nigra
.
P. hwangshanensis differs from P. taiwanensis as follows: needle sheaths 0.2 to 0.4 inch (0.5 - 1 cm), not 0.4 to 0.56 inch (1 - 1.4 cm); middle part of the needle margin with 43 to 57 teeth per cm, not 26 to 35; pollen cones reddish brown, not yellowish brown; umbo of seed scales depressed, with a minute but distinct and persistent, mucronate prickle, not flat, with a tiny, deciduous prickle or unarmed.
Distribution. This species is native to China — Anhui, Fujian, central Guangxi, Guizhou, southern Henan, Hubei, Hunan, Jiangsu, Jiangxi, southeastern Yunnan, and Zhejiang provinces, where it occurs at elevations of 2,000 to 12,000 feet (600 - 3,400 m) above sea level in mixed warm-temperate and montane forests, open areas and sunny ridges on sandy, acidic mountains It is co-dominant with species of Fagaceae.
Hardy to USDA Zone 7 — cold hardiness limit between 0° and 10°F (-17.7° and -12.2°C).
Attribution from: Zheng-yi Wu and Peter H. Raven (editors); Flora of China, Volume 4; ©1999, Science Press, Beijing, St. Louis