Pinus heldreichii / Bosnian pine
subgenus Pinus, section Pinus, subsection Pinaster (Mayr ex Koehne)
Pinus heldreichii, first described in 1863 by Konrad H. Christ (1833–1933), is commonly known as Bosnian pine or Heldreich's pine; other names include munika, or cherna mura (translating into black pine) in the Bulgarian and Serbian languages, Panzerkiefer in German; pin d'ecorce blanche in French; il pino loricato in Italian; and as robolo in Greek. The species name honors Theodor von Heldreich (1822 - 1902), a German-born botanist who spend most of his life in Greece and was director of the botanical garden and natural history museum in Athens. Heldreich first found it in the mountains of northern Greece on July 31, 1851.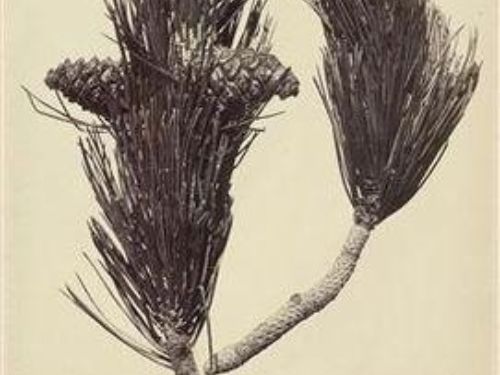 Description. Bosnian pine is an evergreen, coniferous species of tree or shrub that grows to mature heights of 65 to 100 feet (20 - 35 m) with a trunk sometimes exceeding 80 inches (2 m) in diameter, measured at breast height, and a pyramidal to oval crown.
Bark is very thick, colored ash-gray, flaking to leave yellow patches, breaking into large plates.
Branches grow whorled, and upward-curving, especially on young trees.
Twigs are glaucous, turning brown at end of their first year.
Foliar buds brown, not resinous, and 0.6 inch (15 mm) in diameter.
Leaves (needles) are borne in fascicles of 2. They are thick, stiff, and sharp, green in color, growing in whorls about twigs, and retained for 2 to 6 years. Needles measure 2.4 to 4.4 inches (6 - 11 cm) long, by 0.06 inch (1.5 mm).
Pollen cones are bright yellow, growing in dense clusters at the base of the shoot.
Seed cones grow in clusters of 2 to 4 on short peduncles, measure 2.8 to 3.6 inches (7 - 9 cm) long by 1 inch (2.5 cm) wide with a flat base and thin, weak scales, opening when ripe. Umbos are very short, often missing. Flowers from May to June, cones ripening in September and October of the second year.
Seeds are 0.28 inch (7 mm) long, with a 1 inch (25 cm) long wing.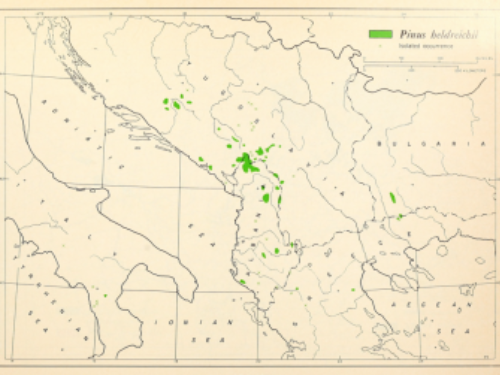 Distribution. This species is native to Albania, Bosnia, Bulgaria, Greece, Macedonia and Serbia.
The type variety is found in the western Balkan Peninsula, including Albania, Bulgaria, Greece and Yugoslavia, where is usually is found in mixed stands at elevations of 3.200 to 8,000 feet (1,000 - 2,500 m) above sea level, reaching the alpine timberline amidst Pinus mugo. Common associates include Pinus sylvestris, P. peuce and P. nigra. This conifer typically occur on soils derived from calcareous (limestone, dolomite) or occasionally ultramafic parent materials. Together with Pinus mugo and P. uncinata, P. heldreichii is one of the high-elevation pines of the Mediterranean basin.
Hardy to USDA Zone 5 — cold hardiness limit between -20° and -10°F (-28.8° and -23.3°C).