Pinus hartwegii / Mexican mountain pine
subgenus Pinus, section Trifoliae (Duhamel), subsection Ponderosae (Louden).
Pinus hartwegii, first described in 1839 by John Lindley (1799–1865), is commonly known as Mexican mountain pine, Mesoamerican subalpine pine or Hartweg's pine; as well as Pino de México, ocote, pino, pino escobetón, or pino negro in the Spanish dialects of Mexico. The species name honors Karl Hartweg (1812 -1871), a German botanist who collected the type specimen in the mountains of eastern Michoacán, Mexico where he traveled extensively.
Ethnobotany. This tree is commonly scarred for resin collection. Such resin collection is typically performed on a non-industrial scale, marking isolated trees, with the resin used for caulk and other purposes not requiring refinement or distillation.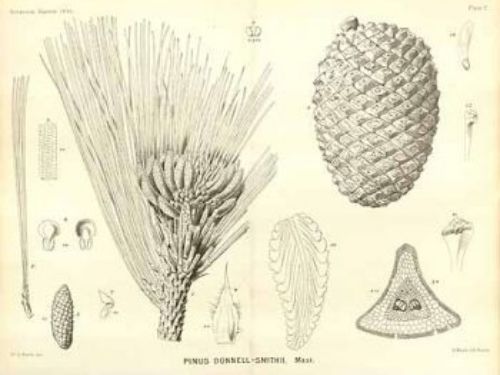 Description. Mexican mountain pine is an evergreen coniferous species of tree that grows to mature heights of 100 feet (30 cm) with a trunk up to 50 inches (128 cm) in diameter, measured at breast height and is always tree-form even at the alpine timberline. A tree's crown is conical when young, becoming more cylindrical with age.
Bark is thick, rough and scaly, divided into small to large plates, deeply furrowed, colored dark brown to gray.
Branches are numerous, slender and upwardly arranged, densely clothed with foliage.
Branchlets stout, stiff, curving upwards, purple-brown in color, turning dark brown or grey, with persistent leaf bases.
Foliar buds measure 0.48 to 0.6 inch (12 - 15 mm) and not resinous.
Leaves (needles) are borne in fascicles of 3 to 6, usually 5 but mostly 3 in some areas (e.g. Popocatepetl). They are colored shiny dark-green and measure 4 to 6.8 inches (10 - 17 cm) long by 0.048 to 0.06 inch (1.2 - 1.5 mm) wide, and are stiff and prickly, as well as straight or curved; retained on the tree for 5 to 6 years.
Foliar sheaths measure 0.48 to 0.8 inch (12 - 20 mm) long and are persistent for the life of the needle fascicle.
Pollen cones are densely clustered, about 0.4 inch (1 cm) long, colored bright yellow.
Seed cones are borne in whorls of 2 to 6, comprised of 80 to 100 seed scales, appearing sessile on the branch, obliquely ovoid, measuring 3.2 to 4.8 inches (8 - 12 cm) by 2 to 3.2 inches (5 - 8 cm) when open. They are shed soon after maturity.
Cones scales open soon after maturity, bearing a slightly raised apophysis, and are weakly transversely keeled, brown or purple-brown in color with a black, flat umbo.
Seeds are 0.2 to 0.24 inch (5 - 6 mm) long, often with black spots and an articulate seed wing, 0.48 to 0.8 inch (12 - 20 mm) long by 0.28 to 0.48 inch (7 - 12 mm) broad.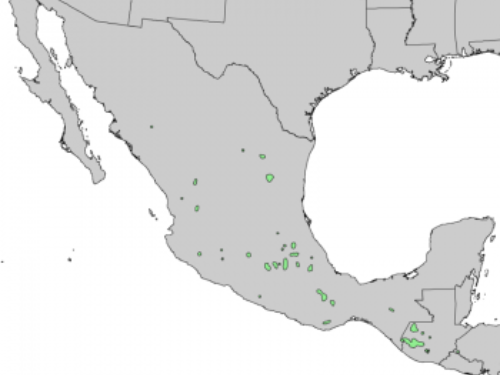 Distribution. This species is native to Guatemala — departments of Chimaltenango, El Quiché, Guatemala, Huehuetenano, Quezaltenango, Sacatepequez, San Marcos, Sololá, and Totonicapán; in Honduras, it is found on Cerro Santa Bárbara; in Mexico — states of Chiapas, Chihuahua, Coahuila, Colima, Distrito Federal, Durango, Guerrero, Hidalgo, Jalisco, México, Michoacán, Morelos, Nuevo León, Oaxaca, Puebla, Tamaulipas, Tlaxcala, and Veracruz.
This conifer is found at elevations of 8,000 to 13,000 feet (2,500 - 4,000m) above sea level. Jesse Perry writes in his 1991 book, The pines of Mexico and Central America, that it's also reported from El Salvador, asserting that "there are still many relatively unexplored high mountains along the Honduras-El Salvador border and P. hartwegii, along with other unreported species, may occur on those mountain peaks."
Hardy to USDA Zone 8 — cold hardiness limit between 10° and 20°F (-12.1° and -6.7°C).
Attribution from: Aljos Farjon, J.A. Perez de la Rosa and B.T. Styles; A Field Guide to the Pines of Mexico and Central America; ©1997, The Royal Botanic Gardens, Kew.