Pinus halepensis / Aleppo pine
subgenus Pinus, section Pinus, subsection Pinaster (Mayr ex Koehne)
Pinus halepensis, first described in 1768 by Philip Miller (1691–1771), is commonly known as Aleppo pine as well as الصنوبر الحلبي in the Arabic language; Pin d'Alep in French; pino d'Aleppo in Italian; Alepski bor in Croatian; Halep çamı in Turkish; אורן ירושלים in Hebrew; and as pino carrasco Spanish. The species and common name honors Aleppo and the surrounding province of Haleb, Syria, where the species was first described.
Ethnobotany. In the eastern Mediterranean, Pinus halepensis forests are important for resin, fuel wood and forest honey production and also for livestock grazing.
"Resin collection activities in Mediterranean countries had always played a significant role in the welfare of forest communities, some of which lived marginally at the edge of subsistence. In some low-income areas, resin collection was (and continue to be) the only reliable source of labor. In addition, many of the resin producing forests are community forests and production benefits go to resin community co-operatives. Another important aspect of these forests is that multiple purpose forestry is applied and other activities other than resin collection co-exist, such as apiculture ... Income from the wood of a Pinus halepensis tree, for example, is only 2% of the income generated from resin throughout the lifetime of the tree (an average size tree can produce 3 to 4 kilograms of resin per year). Moreover, it has been observed that forests that have active resin production have lower incidence of forest fires. This results from the fact that adjacent communities have an active interest in preserving the integrity of the forest ecosystems." (from Yorgos Moussouris and Pedro Regato's 1999 book, Forest Harvest: An Overview of Non Timber Forest Products in the Mediterranean Region.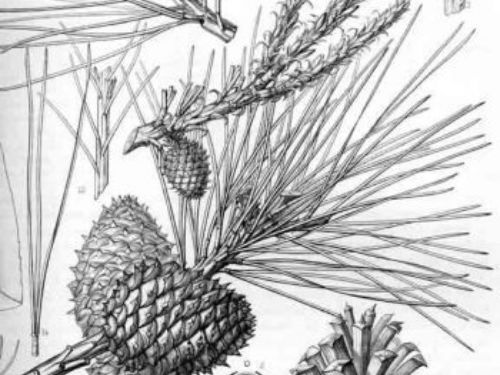 Description. Aleppo pine is an evergreen coniferous species of tree that grows to mature heights of 50 to 80 feet (15 – 25 m) with a single round trunk up to 4.5 feet (1.5 m) in diameter, measured at breast height and a rounded to flat-topped crown of slender, irregular horizontal, upturned branches; a crown form often shaped by wind, especially near the sea.
Bark at first smooth, colored silvery gray, later becoming purple-brown, longitudinally grooved and fissured into scaly plates.
Branchlets are smooth, slightly ridged, and colored gray-green.
Winter buds are conic, 0.32 inch (8 mm) long, with fringed and often reflexed scales.
Needles are borne in fascicles of 2 (sometimes 3), twisted, with minutely serrate edges, stomata on all surfaces, and measure 2 to 4.8 inches (5 – 12 cm) long and 0.04 inch (1 mm) wide. They are dark- to bright-green and are rather sparsely arrayed along the branchlets.
Fascicle sheaths are persistent but fragile.
Pollen cones are densely clustered, measure about 0.28 to 0.4 inch (7 - 10 mm) long, colored yellowish brown with a reddish flush.
Seed cones grow on thick, scaly peduncles, solitary or in whorls of 2 to 3, comprised of 70 - 90 seed scales. They are ovoid at maturity, pendant, symmetrical, colored red- to purple-brown, and measure 2.4 to 4.8 inches (6 – 12 cm) long by 1.6 to 2.8 inches (4 – 7 cm) wide. Cones take 3 years to mature after pollination and remain on branches for long thereafter.
Cone scales are shiny, colored yellow- or red-brown, and measure circa 1 inch (2.5 cm) wide by 0.6 inch (1.5 cm) wide. Apophyses have a rhomboid outline, are flat or slightly raised and keeled, without a prickle.
Seeds are 0.2 to 0.24 inch (5 - 6 mm) long with a 1 inch (2.5 cm) long wing.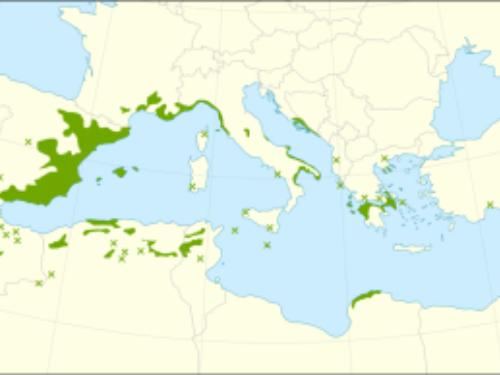 Distribution. This species is native to countries surrounding the Mediterranean sea and western Asia: Morocco, Algeria, Tunisia, Libya, Israel, Jordan, Syria, Lebanon, Turkey, Greece, Albania, Montenegro, Bosnia & Herzegovina, Croatia, Italy, Malta, France, and Spain. In South Africa, where it is cultivated for shelter poles and firewood, it has naturalized and invaded grassland and fynbos, particularly on dry soils, and has become widespread in the Eastern Cape and the Western Cape. It is also locally naturalized in California, USA.
Hardy to USDA Zone 8 — cold hardiness limit between 10° and 20°F (-12.1° and -6.7°C).
Attribution from: William Dallimore, Albert Bruce Jackson, and S.G. Harrison; A handbook of Coniferae and Ginkgoaceae, 4th edition; ©1967, St. Martin's Press New York, NY.