Pinus greggii / Gregg's pine
subgenus Pinus, section Trifoliae (Duhamel), subsection Australes (Loudon).
Pinus greggii, first described in 1867 by Georg Engelmann (1809–1884) ex Filippo Parlatore (1816–1877), is commonly known as Gregg's pine, as well as ocote, ocote chino, pino garabatillo, pino garabato, or pino prieto in the Spanish language. The species name honors Josiah Gregg (1806 - 1850), who collected the type specimen near Coahuila, Mexico and died during a subsequent collecting trip.
Description. Gregg's pine is an evergreen coniferous species of tree that grows to mature heights of 80 feet (25 m) with a single straight trunk up to 32 inches (80 cm) in diatmeter, measured at breast height and a rounded, open to dense crown.
Bark first smooth, scaly, colored gray-brown, becoming darker gray-brown with age, comprised of rough plates separated by deep longitudinal fissures.
Branchlets are smooth, with a ridge, colored reddish brown to gray-brown.
Foliar units form stiff, spreading tufts.
Fascicle sheaths measure circa 0.4 inch (10 mm) long, with chartaceous, pale brown scales. They are persistent but are reduced to 0.12 to 0.2 inch (3 - 5 mm) in mature fascicles; exfoliating and weathering blackish brown.
Leaves (needles) are borne in fascicles of 3, persisting up to 4 years on the tree. They are stiff and straight, bright lustrous green, 3.6 to 5.2 inches (9 - 13 cm) long and 0.04 to 0.048 inch (1 - 1.2 mm) wide with an acute apex. Stomata occur in 6 to 8 lines on the outer leaf face and 3 to 4 lines on each inner face.
Pollen cones are densely clustered, ovoid-oblong to cylindrical, 0.6 to 0.8 inch (15 - 20 mm) long and 0.2 to 0.24 inch (5 -6 mm) wide, yellowish in color, turning yellowish brown.
Seed cones grow in whorls of 3 to 8, comprised of 80-120 seed scales, appearing sessile. They are long-persistent on the branch, serotinous, narrow ovoid-attenuate in shape, usually curved with an oblique base. Cones measure 3.2 to 5.2 inches (8 - 13 cm) long and 1.4 to 2 inches (3.5 - 5 cm) wide when closed, as one will find most cones.
Seed scales are purplish brown in color, with light brown marks of seed scales. Apophyses are lustrous light brown in color weathering gray, flat or slightly raised with a rhombic to trullate outline, an undulate or crenate upper margin, and (weakly) transversely keeled. Umbos are dorsal, depressed or flat with a rhombic outline, light brown to gray in color, and 0.12 to 0.16 inch (3 - 4 mm) wide, with a minute, deciduous prickle.
Seeds are obliquely obovoid, flattened, measuring 0.2 to 0.32 inch (5 - 8 mm) long and 0.12 to 0.16 inch (3 - 4 mm) wide, gray-brown to blackish brown in color, with a 0.6 to 0.8 inch (15 - 20 mm) long yellowish to gray-brown wing.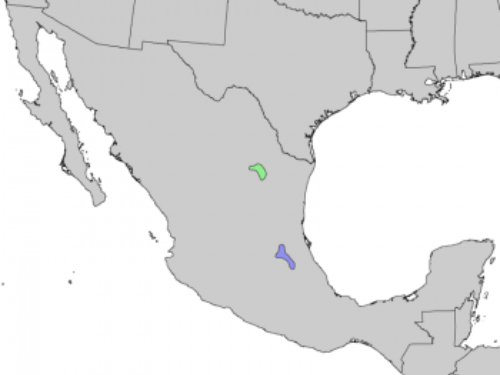 Distribution. This species is native to Mexico — extreme southeastern Coahuila, southern Nuevo Leon, southeastern San Luis Potosi, Queretaro, Hidalgo, and northern Puebla, growing at elevations of 7,500 to 9,000 feet (2,300 - 2,700 m) above sea level, with annual precipitation of 24 to 32 inches (600 - 800 mm), often on slightly alkaline soils (pH 7 to 8). It always occurs mixed with hardwoods such as Quercus, Platanus, Liquidambar, and Fraxinus, as well as with various pines, e.g. Pinus patula, P. pseudostrobus, P. teocote, P. montezumae, P. arizonica var. stormiae; and on dry sites, with P. cembroides and Juniperus flaccida. At higher elevations it can be found with Abies vejarii, Pseudotsuga menziesii, and Cupressus lusitanica.
Hardy to USDA Zone 8 — cold hardiness limit between 10° and 20°F (-12.1° and -6.7°C).
Attribution from: Aljos Farjon and B.T. Styles; Pinus (Pinaceae) — Flora Neotropica Monograph #75; ©1997, The New York Botanical Garden, New York, NY.