Pinus gerardiana / chilgoza pine
subgenus Strobus (Lemmon), section Quinquefoliae (Duhamel), subsection Gerardianae (Loudon).
Pinus gerardiana, as described in 1832 by Nathaniel Wallich (1786–1854) ex David Don (1799–1841) in Aylmer Bourke Lambert (1761–1842), is commonly known as chilgoza or Gerard pine, as well as چلغوزا پائن (a transliteration of "chilgoza pine") in the Urdu language. In Urdu, "chilgoza" means "pine nut." They are similar to Italian pignoli or pine nuts; the edible seeds are a food crop that are used in local cuisine.
The species name honors Captain Alexander Gerard (1792 - 1839), a surveyor with the Bengal Native Infantry who encountered this tree during explorations in the Koonawur district in the Himalayas in 1821.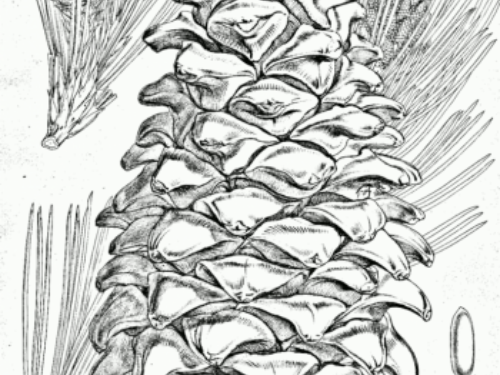 Description. Chilgoza pine is an evergreen coniferous species of tree that grows to mature heights of 32 to 65 feet (10 - 20 m) with with a trunk up to 40 inches (1 m) wide, measured at breast height and a deep, wide and open crown, but narrower and shallower in dense forest.
Branches are upward growing, numerous, long and sinuous.
Twigs are smooth, colored grayish green to yellowish green and hairless.
Bark very flaky, peeling to reveal light grayish-green patches, similar to Pinus bungeana.
Foliar buds measure circa (6 - 10 mm) long and are slightly resinous.
Leaves (needles) are borne in fascicles of 3 and are dark-green in color. They measure 2.4 to 4 inches (6 - 10 cm) long, and are finer in texture than those of P. bungeana, spreading stiffly from their point of origin. Needles are held 2 to 3 years on the tree.
Foliage sheaths, measure 0.4 to 0.8 inch (1 - 2 cm) long and are retained until the second year.
Pollen cones measure 0.3 0.6 inch to (7.5 - 15 mm) long and are yellowish brown in color.
Female cones measure 4.8 to 8 inches (12 - 20 cm) long, and 4 inches (10 cm) wide when open, with wrinkled, reflexed apophyses and a umbo curved inward at the base.
Seeds measure circa 0.8 inch (2 cm) long with a rudimentary wing. The seeds are not shed but are retained by the wing adhering to the base of the scale above.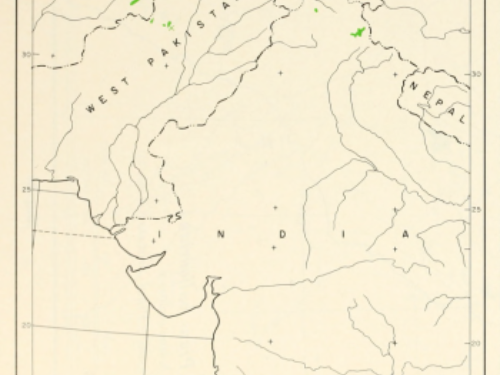 Distribution. This species is native to the Himalayan mountains — eastern Afghanistan, northern Pakistan, India — Jammu-Kashmir, Tibet. Mostly grows in valleys at elevations of 6,500 to 11,000 feet (2,000 - 3,350 m) above sea level, in the dry temperate forest of the inner ranges of the Himalaya, where the summer monsoon is weak and precipitation, mostly in the form of snow, rarely exceeds 40 inches (1,000 mm) per year.
This pine is hardy to USDA Zone 7, cold hardiness limit between 0° and 10°F (-17.7° and -12.2°C).
Attribution from: Aljos Farjon; World Checklist and Bibliography of Conifers; ©1998, Royal Botanical Gardens at Kew, Richmond, U.K.