Pinus engelmannii / Apache pine
subgenus Pinus, section Trifoliae (Duhamel), subsection Ponderosae (Louden).
Pinus engelmannii, first described in 1854 by Elie-Abel Carrière (1818–1896), is commonly known as Apache pine, Arizona longleaf pine. The species name honors Georg Engelmann (1809 - 1884), botanist at the Missouri Botanical Garden in St. Louis, who first described the species under a name that later proved to be unavailable.
Description. Apache pine is an evergreen coniferous species of tree that grows to mature heights of 120 feet (35 m) with a straight trunk up to 24 inches (0.6 m) in diameter, measured at breast height, and an irregularly rounded, rather thin crown.
Bark is dark brown in color, deeply furrowed at maturity, comprised of narrow, elongated, scaly plates with ridges becoming yellowish in color.
Branches grow straight to ascending.
Twigs are stout and rough, measuring circa 0.4 to 0.8 inch (1 - 2 cm) thick, colored pale gray-brown, aging darker brown.
Foliar buds are ovoid-conic shaped and resinous, measuring up to 0.8 (2 cm) long with pale, fringed scale margins.
Leaves (needles) are borne in bundles of 3 (occasionally up to 5) per fascicle, spreading and ascending from their point of origin, often drooping, forming a brush at twig tips. Needles persist 2 years on the tree. They are quite long, measuring 10 to 18 inches (25 - 45cm) long and 0.08 inch (2 mm), and colored dull green. All surfaces bear fine stomatal lines, with coarsely serrulate margins, and conic-subulate apices.
Foliar sheaths measure 1.2 to 1.6 inches (3 - 4 cm) long with a persistent base.
Pollen cones are cylindric, circa 1 inch (25 mm) long, colored yellow to yellow-brown.
Seed cones mature 2 years after pollination, shedding seeds and falling soon thereafter. They grow at the branch terminals, are sometimes curved, often asymmetric, lance-ovoid before opening, ovoid when open. Cones measure 4.4 to 5.6 inches (11 - 14 cm) long, colored light dull-brown, and nearly sessile or short-stalked. Apophyses have a rhombic outline, somewhat to quite elongated, strongly raised toward outer cone base, sometimes curved, strongly cross-keeled, and narrowed to a thick, curved, broadly triangular-based umbo, this often producing and outcurved claw.
Seeds are obovoid shaped with a circa 0.32 to 0.36 inch (8 - 9 mm) body. They are dark brown in color, with an attached wing up to 0.8 inch (20 mm).
In general appearance
Pinus engelmannii
much resembles
P. palustris
with its short-persistent, long leaves (but in this species drooping) and in its tendency to form a grass stage. It has a deep taproot as do
P. palustris
and
P. ponderosa.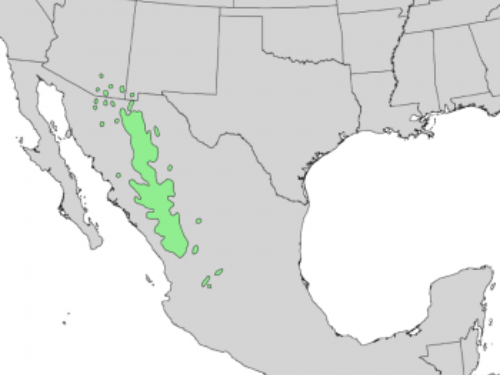 Distribution. This species is native to USA — southeastern Arizona and southwestern New Mexico and in Mexico — Sonora, Chihuahua, northeastern Sinaloa, Durango, Zacatecas, Nuevo Leon. It grows at elevations of 4,500 to 9,000 feet (1,500 - 2700 m) above sea level, in high and dry mountain ranges, valleys, and plateaus.
Hardy to USDA Zone 8 — cold hardiness limit between 10° and 20°F (-12.1° and -6.7°C).
Attribution from: R. Kral, Flora of North America Editorial Committee (editors); Flora of North America North of Mexico, Vol. 2; ©1993, Oxford University Press.