Pinus edulis / piñon pine
subgenus Strobus (Lemmon), section Quinquefoliae (Duhamel), subsection Cembroides (Engelmann).
Pinus edulis, first described in 1848 by Georg Engelmann (1809–1884), is commonly known as piñon pine; New Mexican, Colorado, mesa, two-leaved, or common piñon (or pinyon) pine. The species name is derived from the Latin work for "edible," pertaining to the tasty and nutritious seeds. This pine is the state tree of New Mexico.
Ethnobotany. The seeds are much eaten and traded by indigenous Americans, and by others who are lucky enough to partake of the harvest. The wood was formerly used in construction by Native Americans, and is still often used for fence posts and firewood. Due to their ecological importance, management of Pinus edulis woodlands is a major concern throughout their area of distribution. Principal management themes include wildfire control, grazing, invasion by weedy forbs and shrubs, and "grassland invasion" due to fire suppression. The literature on this subject is immense; search for "pinyon-juniper management" to see some examples.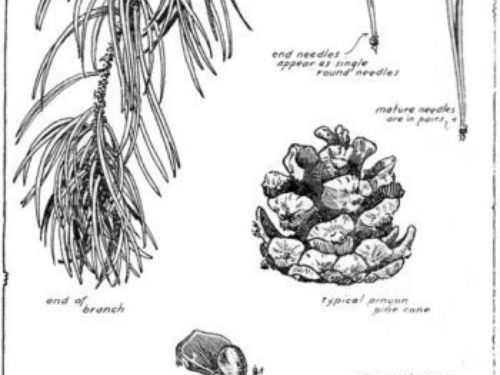 Description. Piñon pine is an evergreen coniferous species of shrub or tree that grows to mature heights of 65 feet (21 m) with a strongly tapering trunk up to 24 inches (60 cm) in diameter, measured at breast height, and an dense, conic, rounded crown.
Bark is red-brown in color, shallowly and irregularly furrowed, with rounded, scaly ridges.
Branches are persistent nearly to the base of the trunk.
Twigs are colored pale red-brown to tan, rarely glaucous, aging gray-brown to gray, glabrous to papillose-puberulent.
Foliar buds are ovoid to ellipsoid shaped, resinous, colored red-brown, and measure 0.2 to 0.4 inch (0.5 - 1 cm).
Leaves (needles) are borne in bundles of 2 ( but occasionally 1 or 3) per fascicle, upcurved, persisting 4 to 6 years on the tree. They measure 0.8 to 1.6 inches (20 - 40 mm) long and 0.04 to 0.06 inch (1 - 1.5 mm), are connivent, 2-sided (1-leaved fascicles with leaves 2-grooved, 3-leaved fascicles with leaves 3-sided), Blue-green in color with all surfaces marked with pale stomatal bands, particularly the adaxial aspect. Margins are entire or finely serrulate with a narrowly acute to subulate apex.
Foliar sheaths measure 0.2 to 0.28 inch (5 - 7 mm) long, with scales recurving soon after needles extend, forming a rosette, shedding soon thereafter.
Pollen cones are ellipsoid shaped, yellowish to red-brown colored and measure circa 0.28 inch (7 mm).
Seed cones mature 2 years after pollination, shedding seeds and falling soon thereafter. Their form is symmetrically spreading and ovoid before opening, becoming depressed-ovoid to nearly globose when open. Cones are resinous, measuring 1.4 to 2 inches (3.5 - 5 cm) long, colored pale yellow- to pale red-brown, nearly sessile to short-stalked. Apophyses are thickened, raised, and angulate. Umbos are subcentral, slightly raised or depressed, truncate or umbilicate. As with other piñons, the seeds rest in a deep cone-scale declivity and upper cone scale tissue holds the seeds in place, so seeds do not readily fall out and are readily available to avian dispersers.
Seeds are mostly ellipsoid to obovoid shaped, brown in color with a 0.4 to 0.6 inch (10-15 mm) long body. They are wingless.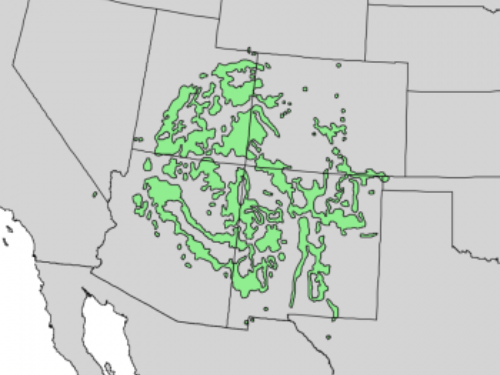 Distribution. This species is native to USA — widespread in Arizona, Utah, Colorado, and New Mexico, with small outlier populations in extreme eastern Nevada, southern Wyoming, extreme western Oklahoma, trans-Pecos Texas. Also native to Mexico — Chihuahua. Grows at elevations of 4,500 to 6,500 feet (1,500 - 2,100 m) above sea level on dry mountain slopes, mesas, and plateaus .
Although Americans tend to see piñon-juniper as a hot desert vegetation type, Pinus edulis in particular, occupies a relatively cold, relatively mesic niche within the piñon-juniper type. Annual precipitation varies with geography and elevation from about 10 to 27 inches (250 - 560 mm), and varies from summer-wet to winter-wet, though some summer rainfall occurs throughout the species' range. Pinus edulis tends to give way to junipers or desert shrubs on dry sites, and to forest trees such as Pinus ponderosa on wet sites. Temperatures in the species' range vary from January means of 14° to 42°F (-10 - 6°C) and July means of 68° and 80°F (20 - 27°C).
Hardy to USDA Zone 5 — cold hardiness limit between -20° and -10°F (-28.8° and -23.3°C).
Attribution from: R. Kral, Flora of North America Editorial Committee (editors.); Flora of North America North of Mexico, Vol. 2; ©1993, Oxford University Press.