Pinus densata / Chinese mountain pine
subgenus Pinus, section, Pinus, subsection Pinus. This is one of the "classic" old-world, 2-needled, hard pines.
Pinus densata, first described in 1906 by Maxwell Tylden Masters (1833–1907), is commonly known as Chinese mountain pines as well as Sikang pine, or 高山松 (gaoshan song) / high-mountain pine in the Chinese language. The species names is derived from the Latin term, densatus, meaning dense, which directly describes this conifer's short branch internodes and needle structure.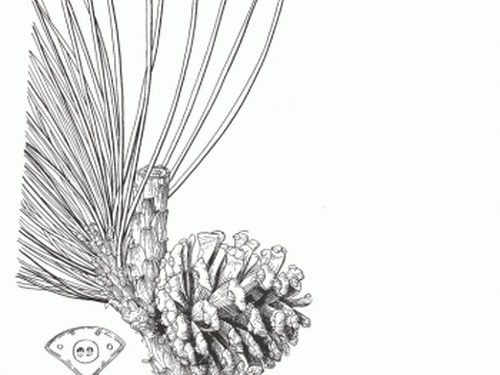 Description. Chinese mountain pine is an evergreen coniferous species of tree that grows to mature heights of 100 feet (30 m) tall with a trunk up to 52 inches (130 cm) in diameter, measured at breast height. The tree's crown is ovoid-conical shaped, spreading in old trees.
Bark is colored red-brown, scaly and plated when young, turning dark gray-brown with irregular square, thick plates. First-year branchlets are stout, colored shiny yellow-brown, turning reddish in their second and third year.
Foliar buds brown in color, slightly resinous, shaped ovoid-conical, measuring 0.6 inch (15 mm) long and 0.24 inch (6 mm) wide, with white-fringed scales at the margin and acuminate apices.
Leaves (needles) persist for 3 years on the tree, growing in bundles of 2 (sometimes 3) per fascicle. They are straight, slightly twisted, bright- to dark-green in color, measuring 3.2 to 5.6 inches (8 - 14 cm) long and 0.04 to 0.06 inch (1 - 1.5 mm) wide. Stomatal lines are found on all surfaces, along with 3 or 4 resin canals on the margins and occasionally 1 or 2 on the medial apect. The fascicle base has persistent sheath, initially 0.2 to 0.4 inch (5 - 10 mm) long with a finely serrulate margin and acute apex.
Pollen cones are yellow-brown color, shaped cylindric and measure 0.4 to 0.72 inch (10 - 18 mm) long and 0.12 to 0.18 inch (3 - 4.5 mm) broad.
Seed cones are borne solitary or in pairs. They are pendulous, sessile or shortly pedunculate, colored shiny dark-brown at maturity, narrowly ovoid shaped before opening, ovoid or broadly ovoid when open. Cones measure 1.6 to 2.4 inches (4 - 6 cm) long and 1.6 to 2.8 inches (4 - 7 cm) They are long persistent on the branches.
Seed scales have prominent, rhombic apophyses, measuring 0.16 to 0.28 inch 4 - 7 mm) thick, with a sharply transverse keel, a dorsal umbo, and a short prickle.
Seeds are light gray-brown in color, ellipsoid-ovoid shaped. They measure 0.16 to 0.24 inch (4 - 6 mm) long with a 0.6 to 0.8 inch (15-20 mm) wing. Pollination takes place in May; cones mature in October of the second year.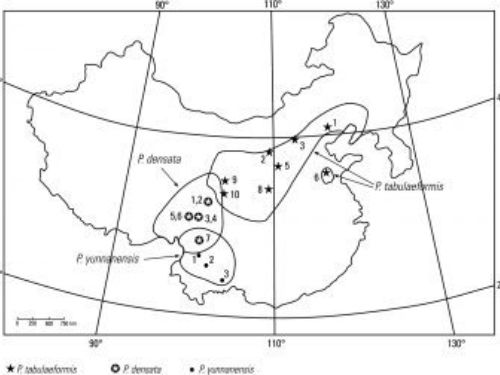 Distribution. This species is native to China — Qinghai, western Sichuan, Yunnan; and southeastern Tibet, growing at elevations of 8,500 to 11,500 feet (2,600 - 3,500 m), occasionally to 13,800 feet (4,200 m). It forms pure stands at high elevations and found mixed with Pinus armandii and P. yunnanensis below 10,000 feet (3,000 m). Among the Chinese hard pines, P. densata grows at the highest elevations.
Hardy to USDA Zone 6 — cold hardiness limit between -10° and 0°F (-23.2° and -17.8°C).
Attribution from: Zheng-yi Wu and Peter H. Raven (editors.); Flora of China, Volume 4; ©1999, Science Press, Beijing, China.