Pinus dalatensis / Vietnamese white pine
subgenus Strobus (Lemmon), section Quinquefoliae (Duhamel), subsection Strobus (Loudon).
Pinus dalatensis, first described in 1960 by Yvette de Ferré (1915–2003), is commonly known as Vietnamese white pine, or Thông Nam Dà lá lat in the Vietnamese language. This very rare pine species was first described from a locality in the central highlands near the resort town of Dalat (hence the species name).
Ethnobotany. Due to its rarity, it is chiefly useful as an ornamental. Regardless, this pine is not known in cultivation outside of Vietnam.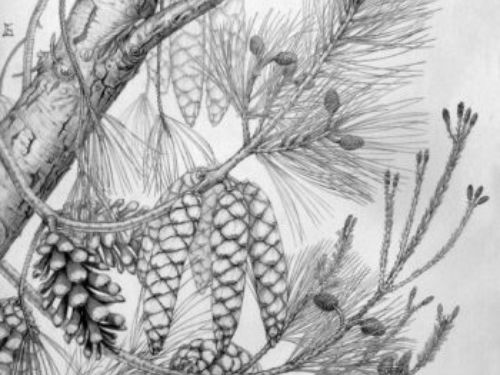 Description. Vietnamese white pine is an evergreen coniferous species of tree that grows to mature heights of 50 to 80 feet (15 - 25 m), occasionally to 150 feet (45 m) tall with a trunk up 24 to 40 inches (60-100 cm) in diameter, measured at breast height. The tree's crown is conical, somewhat open.
Branching is mainly horizontal with sparse foliage concentrated toward the tips. Twigs are reddish brown in color, hairless to densely hairy, with a waxy coating.
Bark. is light gray in color, flaking in reddish brown scales, becoming shallowly furrowed between small blocks. Young trees have resinous, longitudinally fissured bark.
Leaves (needles) are borne in fascicles of 5, Blue green in color, thin and flexible, measuring 1.6 to 4 inches (4 - 10 cm) long. Individual needles have lines of stomata only on the inner faces, an undivided mid-vein, two resin canals touching the epidermis of the outer face and occasionally a third resin canal touching the epidermis of one or the other inner face near the needle juncture. They are held on the tree for 2 to 3 years. Sheaths measure 0.4 to 0.6 inch and shed early after needle push.
Pollen cones measure around 0.8 inch (20 mm) long, colored purple.
Seed cones, comprised of around 75 seed scales are colored green before maturing to light brown. Cones measure 4.2 to 6.4 inches (10.5 - 16 cm) long, cylindrical shaped and tapering toward the apex. Once mature, they open widely, shedding seed then falling soon thereafter with stout 2 inch (5 cm) long peduncle attached. Cones begin to mature in February and March and reach maturity in October to December.
Seed scales are thin, straight, flexible and paddle-shaped, thickening somewhat toward the exposed part. They are somewhat cupped, ending in a narrow, diamond-shaped umbo.
Seeds ovate, brown, 0.24 to 0.32 inch (6 - 8 mm) long with an attached wing measuring 0.6 to 0.8 inch(15 - 20 mm) long.
This pine resembles
Pinus wallichiana
and
P. strobus
, but according to Dr. Ferré, its pollen characteristics are different and it has been collected in only two localities, far away from both other pines. Aljos Farjon adds, "due to the scant material available to botanists, this species still awaits verification of its taxonomic status"
Distribution. This species is native to the highlands of central Vietnam — Thua Thien Hue (Phu Loc), Kon Tum (Ngoc Linh), Gia Lai (Kon Ka Kinh NR), Dac Lac (Chu Yang Sing and other massifs), Lam Dong, (BiDoup mountain), Ninh Thuan (Phuoc Binh); also found in Laos — the southern part of the Nakai Nam Theun protected area, growing on shallow, infertile soils at elevations of 5,000 to 8,000 feet (1,500 to 2,500 m) above sea level. This conifer is typically found in either pure stands or, more commonly in mixed confer-hardwood forests. Hardy to USDA Zone 9, cold hardiness limit between 20° and 30°F (-6.6° and -1.1°C).
Attribution from: James E. Eckenwalder; Conifers of the World; ©2009, Timber Press, Portland, Oregon.