Pinus brutia / Calabrian pine
Subgenus Pinus, section Pinus, subsection Pinaster (Mayr ex Koehne).
Pinus brutia, first described in 1811 by Michele Tenore (1780–1861), is commonly known as Calabrian pine. Although "Calabrian" is the most-common English name, the species is not native there. In the Turkish language, it's known as Kızılçam, meaning "red pine" which may very well be the most common name for a pine in the world, applied to a host of different species. Other common names include Τραχεία πεύκη in the Greek language; Eldar şamı in Azerbaijani; and as Сосна пицундская in Russian.
The species was early introduced to the Italian province of Calabria, known in Roman times as Brutia, the origin of the species name.
Ethnobotany. Known as "pitys" to the ancient Greeks, this is the most important forest tree in the north-eastern Mediterranean area. A sap-sucking insect Marchalina hellenica produces large amounts of honey-dew, harvested by honeybees and sold as 'pine honey'. Pinus brutia was planted outside its native range in Greece from early times for this harvest.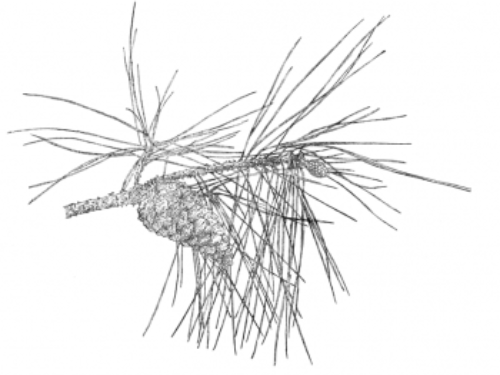 Description. Calabrian pine is an evergreen species of tree which grows to mature heights of 90 to 115 feet (27 - 35 m), with a usually open crown of irregular branches.
Bark on the lower trunk is thick, scaly, fissured, patterned red-brown and buff in color. Higher in the crown, bark is thin, flaky and orange-red.
Shoots are slender, 0.12 to 0.28 inch (3 - 7 mm) thick, rough, gray-buff in color, with persistent small decurrent scale-leaf bases.
Buds are ovoid-acute shaped, with red-brown scales with long, revolute, free tips, fringed with white hairs.
Adult foliage (needles) are retained on the tree for 1.5 to 2.5 years. They have a persistent 0.4 to 0.6 inch (1 - 1.5 cm) sheath. On most trees they are held in fascicles of two, measuring 5 to 7.2 inches (10 - 18 cm) long. They are bright green to yellow-green and slender, about 0.04 inch (1 mm) thick, with serrulate margins, fine lines of stomata on both faces, and several marginal resin canals.
Juvenile foliage is glaucous, 0.6 to 1.6 inches (1.5 - 4 cm) long, and continue to grown for a tree's first 2 to 4 years, mixed with the first adult foliage that begins to grow from 9 months from seed.
Seed cones are erect to forward pointing on short stout peduncles. They are symmetrical, broadly conic, 2.4 to 4 inches (6 - 10) cm long, 1.6 to 2 inches (4 - 5 cm) broad when closed. Cones are green when young, ripening shiny red-brown in April two years after pollination. They open the same summer or 1 to 2 years later, to 2 to 3.2 inches (5 - 8 cm) broad, though the seeds are often not shed till winter rain softens the scales.
Seed scales are short, broad, thick, woody, and very stiff. The apophysis is 0.4 to 0.6 inch (10 - 15 mm) long and 0.6 to 0.8 inch (15 - 20 mm) wide. They are smoothly rounded, with a slight to moderate transverse ridge. The umbo is dorsal, flat to slightly raised, measuring 0.2 to 0.28 inch (5 - 7mm) wide, colored gray-buff.
Seeds are colored gray-brown, measuring 0.28 to 0.32 inch (7 - 8 mm) long and 0.2 inch (5 mm) wide with a broad, auricled wing yellow-buff colored streaked darker brown, measuring 0.6 to 0.8 inch (15 - 20 mm) long and 0.4 inch (10 mm) wide.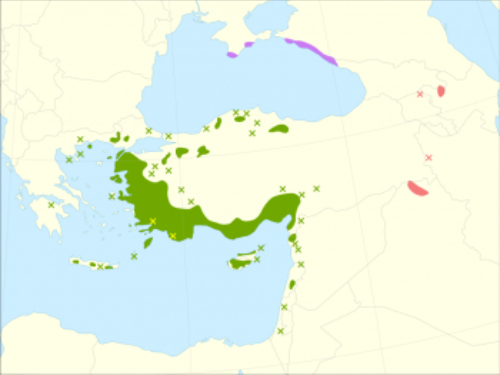 Distribution. This species is native to Turkey and far eastern Greece, secondarily in the Crimea, Caucasus coast, Azerbaijan, Iran, Iraq, Syria, Lebanon, Crete and Cyprus; growing primarily near coasts, in areas with a strongly Mediterranean climate. It grows at elevations from sea level to 5,000 feet (0 - 1,525 m), lower in elevation that the other indigenous pines of the area. Hardy to USDA Zone 7 — cold hardiness limit between 0° and 10°F (-17.7° and -12.2°C).
The species forms extensive, fairly open stands of pure composition, or with Cupressus sempervirens and Juniperus excelsa. It also forms pine-oak woodlands with drought-tolerant species including Quercus coccifera, Q. calliprinos, and Pistacio lentiscus. Natural regeneration is mostly by windblown seed dispersal after fire.
The type occurs in Turkey, Iraq, Syria, Lebanon, Cyprus, Crete, eastern Aegean islands, and possibly the extreme NE of the Greek mainland.
Attribution from: M. P. Frankis; 1993. Morphology and affinities of Pinus brutia. pp. 11-18 in O. Tashkin (editor); ©1993, Papers International Symposium Pinus brutia. Marmaris / Ankara.