Pinus bhutanica / Bhutan white pine
subgenus Strobus (Lemmon), section Quinquefoliae (Duhamel), subsection Strobus (Loudon)
Pinus bhutanica, first described in 1980 by A.J.C. Grierson, D.G. Long & C.N. Page is commonly known as Bhutan pine, Bhutan white pine; as well as Budan Song in the Chinese language. It is closely related to P. wallichiana, and is described by many as a variety of that species. It grows in western and eastern Bhutan, hence the species name.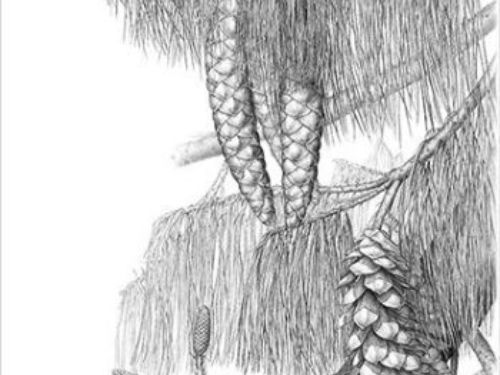 Description. Bhutan white pine is an evergreen coniferous species of tree that grows to mature heights of 80 feet (25 m) tall or more, with an open crown of spreading, drooping, sinuous branches.
Bark has not yet been described.
Branchlets are glandular and pubescent with a whitish bloom. In their second year, they develope a thin, pale gray-green bark.
Leaves (needles) are very slender, curved, pendulous, growing in bundles of 5 per fascicle. They are shed during their second year. Needles are very long, measuring 6 to 10 inches (15 - 25 cm) long. They are triangular in cross section, bear stomata only on the 2 abaxial surfaces, each with 4-7 stomatal lines.
Seed cones are elongate-cylindric shaped, 4.8 to 8 inches (12 - 20 cm) long and 1.2 to 1.6 inch (3 - 4 cm) wide on a 1.8 to 2.4 inch (4.5 - 6 cm) peduncle.
Seed scales are elongated, thinly woody, with a cuneate base, Apophyses are rhombic in shape, measuring 0.4 to 0.6 inch (1 - 1.5 cm) long and 0.6 to 1 inch 1.5 - 2.5 cm) broad. They are keeled with a subacute apex.
Seeds are brown in color, obovoid shaped, compressed, measuring 0.24 to 0.32 inch (6 - 8 mm) long and 0.16 to 0.2 inch (4 - 5 mm) wide, with a persistent wing that measures 0.8 inch (2 cm) long and 0.28 to 0.4 inch (0.7-1 cm) wide.
Debreczy and Racz
make these notes, making distinction between
P. bhutanica
and
wallichiana
in,
Conifers Around the World
. Vols. 1-2, "
P. bhutanica
, however, is easily distinguished by its thin, pruinose, dark brown, finely glandular branchlets and vertically drooping, finer needles with long, golden sheaths while
P. wallichiana
has thick, succulent, grayish-green, evenly wide branchlets and partially outspreading needles with shorter, grayish sheaths"
Distribution. This species is native to Bhutan; China's Yunnan provence; and India's Arunachal Pradesh. Its distribution is still not well known; data from labeled herbarium specimens indicate that it occurs at elevations of 2,400 to 9,000 feet (729 to 2,750 m) above sea level in mixed pine forest, mixed oak-pine forest, mixed broad-leaved forest, and secondary forests of these types, including thinned (managed?) forest. Hardy to USDA Zone 9 — cold hardiness limit between 20° and 30°F (-6.6° and -1.1°C).
Attribution from: Zheng-yi Wu and Peter H. Raven (editors); Flora of China, Volume 4; ©1999, Science Press, Beijing, China.